Poppin' Bubbles: St. John's among teams keeping hopes alive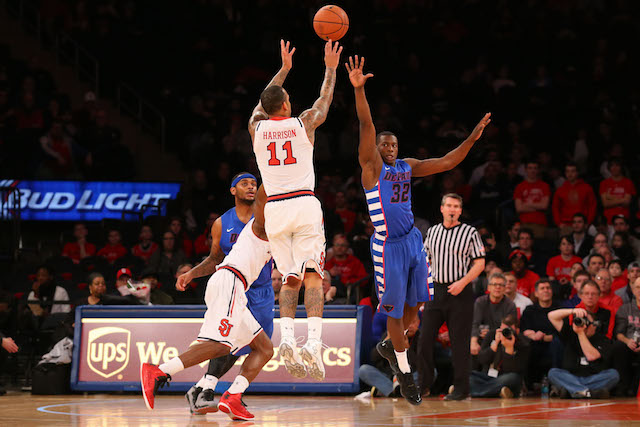 Saturday saw a long list of bubble teams enhance their resumes, led by Oklahoma State and Xavier beating top-10 teams and coming close to punching their ticket to the NCAA tournament.
It will be a different story on Sunday, as most of the bubble teams playing are just looking to keep their hopes alive heading into the final week of the regular season.
Here was Saturday's complete breakdown of the bubble action.
Winners
St. John's: The Red Storm's loss to Xavier during the week was crippling for their at-large hopes, but they bounced back with a closer-than-expected home win over DePaul on Sunday. They now head to Marquette in the season finale, in a game that could be big for both teams. St. John's can't afford a loss there -- and might need to get to the conference tournament title game to have a good chance at an at-large bid. The Red Storm have just one win against the top 50 of the RPI, with a 5-9 record against the top 100. A run to the Big East title game would likely include a win over Villanova or Creighton, which could be a huge boost.
Southern Miss: If the Golden Eagles are in the mix come Selection Sunday, it's going to be a result of their computer numbers and gaudy record. As a result, they can't afford bad losses -- so beating Florida Atlantic was necessary on Sunday. It's not going to improve the resume at all, but it would have killed it with a loss. Southern Miss has won four in a row since a two-game losing streak, and the Golden Eagles are still in the mix for at least a share of the regular-season title in Conference-USA. They have a top-40 RPI, although it includes bad SOS numbers. They are 11-5 away from home, but just 3-3 against the top 100. The best win for Southern Miss is over North Dakota State -- not exactly an eye-opener. They need to keep winning games and hope for the best.
Florida State: The Seminoles registered a pulse last weekend after winning at Pittsburgh, and are continuing to keep their faint at-large hopes alive. They beat Georgia Tech on Sunday to move to 8-8 in the ACC. Florida State finishes the season at Boston College and then at home against Syracuse -- and the 'Noles might need both. They are just 5-10 against the top 100, although there are a couple of quality non-conference wins over VCU and Massachusetts. The computer numbers aren't terrible, but they need to improve. A win over the Orange in the season finale would be huge.
Indiana: Got a few questions about the Hoosiers, and while they're not on the bubble yet, beating Ohio State without Noah Vonleh moved them closer to the outskirts of the conversation. There is still a ton of work to do. I think they need to beat Nebraska and Michigan this week to get in the mix, or if they lose to Michigan, win at least two games in the Big Ten tournament. Indiana isn't dead just yet, something that we couldn't have said before they won three of four. The Hoosiers have wins over Wisconsin, Michigan, Ohio State and Iowa, but the computer numbers are very bad, they are 3-8 away from home, and have four sub-100 losses. Keep winning, and we'll talk.
Losers
Marquette: This was a team that had played itself into the periphery of the at-large discussion by winning five of its last six -- but the Golden Eagles likely needed to beat Villanova on Sunday to really get in the mix. And they lost pretty convincingly. The defeat drops Marquette to 2-10 against teams in the top 50, and 5-11 against teams in the top 100. Combine that with 12 overall losses, poor computer numbers, a bad non-conference SOS, and the Golden Eagles probably will need the automatic bid. They have Providence and St. John's to finish the season, and could play spoiler on those teams' at-large hopes.
Stanford: The Cardinal struck out in both road opportunities this week, losing by double-digits to both Arizona State and Arizona, with the latter coming on Sunday. Stanford was likely in the 9-seed range heading into the weekend, so it's still pretty comfortably in the field -- but the Cardinal will have to take care of business at home this week, against Colorado and Utah. Winning both games would leave Stanford feeling pretty good going into the Pac-12 tournament. The computer numbers are solid and they have four top-35 wins. However, the Cardinal are just 6-9 against the top 100, so the final two games do have importance.