Viewer's Guide: Oregon, Baylor look to solidify tournament standing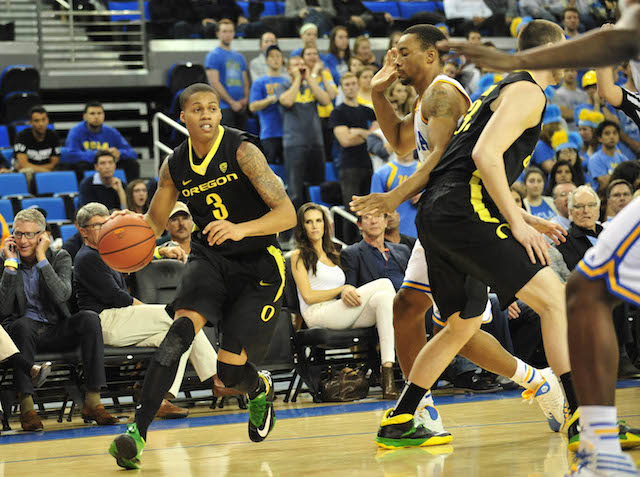 Latest in hoops: Top 25 (and one) | Bracketology | Bubble Watch
A light Monday leads into a very interesting slate of Tuesday games. There are multiple bubble teams looking to solidify their spot in the NCAA tournament, and three of them have big chances to boost their resumes. Meanwhile, two more conference tournaments tip off.
Note: All times are Eastern, and the rankings are according to the AP Poll.
Best game: Arizona State at Oregon (11 p.m., FOX Sports 1). The Pac-12 bubble scene has turned into a wild scene, with Oregon, Colorado and California all right on the cutline. The Ducks have won five in a row, including last week's road double at UCLA and USC. Closing out with a split against Arizona State and Arizona at home could leave the Ducks feeling OK heading into the Pac-12 tournament. Meanwhile, the Sun Devils are likely fine for the NCAA tournament after its sweep of Stanford and California last week. Tuesday should feature some good guard matchups, with a transfer battle between Joseph Young and Jermaine Marshall – can Oregon guard Jahii Carson? The Ducks slowed him down in the first meeting, but let big man Jordan Bachynski get 26 points.
Second-best game: No. 16 Iowa State at Baylor (7 p.m., ESPN2). After starting 2-8 in the Big 12, Baylor has played its way into the NCAA tournament field with wins in five of its last six games. Beating Iowa State could be the ticket-punching win the Bears need. The Cyclones are in a four-way tie for second place in the Big 12, and would like to avoid Kansas' side of the bracket in the conference tournament. Iowa State has to keep Baylor off the offensive glass, as the Bears have the size and athleticism inside to crash effectively. At the other end, Baylor has to guard the perimeter and limit Iowa State's ability to spread the floor and attack.
Another one to watch: No. 13 Creighton at Georgetown (7 p.m., FOX Sports 1). This is essentially a must-win for Georgetown. The Hoyas have lost three of their last four to drop in the bubble pecking order – and now they have Creighton and Villanova to finish out the regular-season. They likely need at least a split to stay in the mix, and Tuesday is their better opportunity. Creighton dropped a game behind Villanova in the Big East title hunt with its weekend loss to Xavier. The Bluejays won the first meeting between these two teams, and that was with Doug McDermott scoring just 14 points. Georgetown will have to knock down shots from the perimeter to win.
Guaranteed win: Georgia Tech at No. 7 Syracuse (7 p.m., ESPN3). It feels a little risky making this pick considering the Orange have lost three of four, but I think they'll get past Georgia Tech. The Yellow Jackets have been something of a disappointment this season, losing four in a row to drop to 4-12 in the ACC. The question going forward for Syracuse will be the availability of Jerami Grant. Grant has played just 22 minutes total in his last two games, sidelined by a sore back. He's day-to-day.
Potential upset: No. 12 Michigan at Illinois (7 p.m., ESPN). Illinois was one of the more disappointing power-conference teams in mid-February, as the Fighting Illini had lost 10 of 11 to drop to 3-10 in the Big Ten. Since then, though, they have won three in a row, including road games at Minnesota and Michigan State. They haven't allowed a team to hit the 50-point mark since Feb. 12 – can they clamp down on Michigan? The Wolverines can clinch the outright Big Ten regular-season championship with a victory.
Three things to keep an eye on:
A couple of bubble teams are in action on Tuesday. Florida State visits Boston College (9 p.m., ESPNU), while Providence hosts Marquette (9 p.m., FOX Sports 1).
No. 25 Kentucky will look to bounce back from its two-game losing streak against Alabama (9 p.m., ESPN).
No. 1 Florida has won 21 games in a row, and the Gators head to South Carolina fresh off the Gamecocks' home win over Kentucky (7 p.m., ESPNU).
BONUS: Two conference tournaments get going on Tuesday – the Atlantic Sun and the Horizon League.