Scouting Title Contenders: Second-tier threats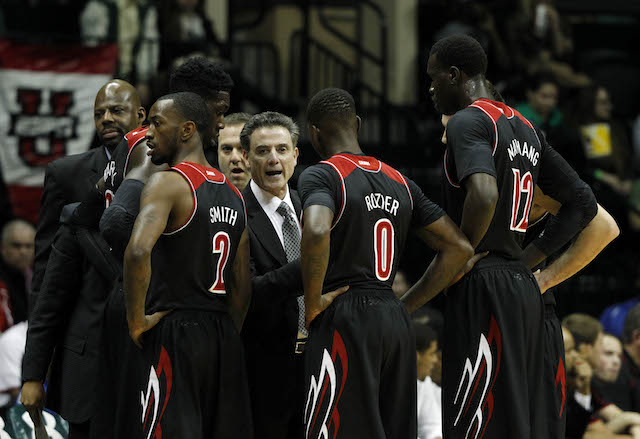 Latest in hoops: Top 25 (and one) | Bracketology | Bubble Watch
When watching a game or looking at statistical trends, we might figure out one or two ways to slow down Wisconsin's half-court offense or score against Florida's multiple defenses. But that's obviously not the whole story. But what about the guys who get paid to break down that stuff; what are they thinking?
Over the next eight weeks, I will go through each of the national championship contenders and attempt to address the key preparation points when facing each team. I will talk to four or five coaches who played those teams this season, and get in-depth insight into each team. How do you score on Arizona? How can you stop Syracuse in transition? What's Michigan State's biggest weakness? We'll find answers to each of those questions, and much more.
Previous scouting reports:
With the prime candidates out of the way – and this being the final installment of the series – we're going to look at the next tier of contenders. We will quickly go through the next five or six teams with a chance to cut down the nets in Dallas.
Louisville
Why a title contender: "They've got a great coach, that's one thing. They are lightning fast, that's the other thing. Offensively, with the three-guard combination, it's as good as anybody in the country, with [Chris] Jones, Russ Smith and [Terry] Rozier. They all have shooting ability. And then [Montrezl] Harrell, that's your guy inside. They're pretty tough to stop. Defensively, their pressure and their quickness, their ability to turn you over at any point in time. It's a difference-maker in close games. We lost games because we turned it over against them. With their combination of guards, they're so fast and they run a lot of ball-screens, so your decision to switch it, trap it, ice it, whatever – that's the biggest decision you make defensively. There's not one thing that works the best.
"Russ Smith is as quick as any guard in the country, Jones can go by anybody, Rozier can shoot and go by anybody. That's three guards. And then you add a guy like [Luke] Hancock, who can really shoot and guy like Harrell can catch around the rim. If you play behind Harrell, he's going to score. He's so strong and just beast you. You better have some guys that can body him up. His strength is tremendous. He's got that pro, power strength. He's a factor, you have to game plan against him on the block. You have to be concerned with him now.
"When [Wayne] Blackshear is out there at the four, it's a nightmare for teams that have two big guys. You're screwed. You have four perimeter guys who can shoot, drive or run the pick and roll. When you're not switching or hedging the pick and roll, you're going to get stretched out. They're great at finding the extra guy. They make the right pass. It's trouble."
Why not a title contender: "For Louisville, it's about making the right pass and not turning the ball over. Russ having a great floor game is important for them. When he plays Russdiculous, they're in trouble. This year, he's done a great job. And as good as Jones and Rozier are, losing Peyton Siva is important. He was the heart and soul of that team.
"And the fifth scorer. When Chane [Behanan] was out there, you had five guys out there that could hurt you. A lot of teams like to have two or three threats on offense, they have four. Their fifth guy is not a scorer, he's more of a layup maker. That's why they are so hard to guard, they have four guys who can make baskets. Those big guys can defend, so you can't take advantage that way though. But defensively, you don't have to concern yourself with them."
Key to beating the Cardinals: "They didn't press us as much the second game as much as they did the first game. If you play conservative and bring a lot of people into the backcourt, they make it a nightmare. Clear it out so it's harder to trap. Teams that have really good point guards where you can get it to and get it out of the way. All it takes is one or two times where the guy gets lazy and they lay it in on you. That's the difference between and losing. Defensively, you have to have guys who will stay in front of the ball, that you can switch multiple positions. If you switch, you can force them into take a semi-contested jumpshot. If you hedge and they attack you and lay it up, they are great at rebounding the ball. Don't let Russ get to the basket. If they turn the corner, it's almost impossible to guard them. Their offensive is built to force help."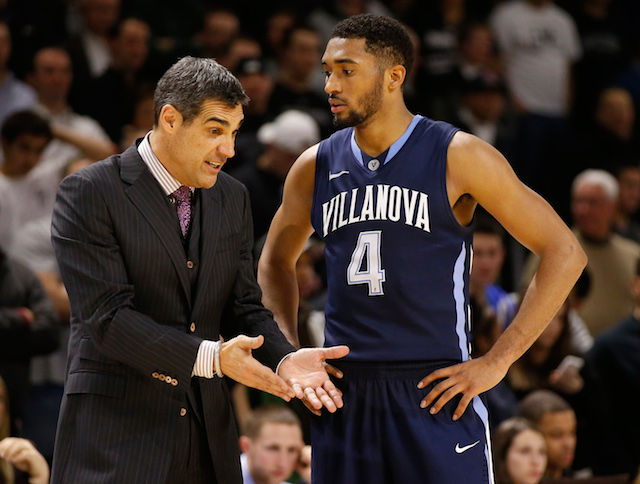 Villanova
Why a title contender: "When you look at their personnel, they have a bunch of guys on the court that can score – and score in a lot of different ways. Most of their guys are not just capable of making shots, but they're very good shooters, both percentage-wise and the amount that they take. [Darrun] Hilliard is playing at a really high level right now. All those guys can put the ball in the hole. Conversely, they're a physical defensive team. They have occasional traps, but for the most part, they're a hard man-to-man team, they take you out of their stuff.
"You just have to prepare for their ball-screen action, because they can create for themselves and their teammates. Ball screens, you end up in a 4-on-3, when you hedge. Make sure your rotations are good. They find open guys."
Why not a title contender: "Creighton, who beat them twice, they got 3s in transition, which not everyone is capable of. That's a way you can attack them a little bit. If you have the guys that are capable of pushing it and scoring. A team like Michigan, a loose, care-free style, with guys that can shoot the ball. It will be a challenge for them [against bigger teams]. But there's not a lot of teams that just pound it inside. And if their opponent is scoring on the inside, that team has to watch out for trading 2s for 3s."
Key to beating the Wildcats: "Knowing you have to take away their 3-point shot, and still contain dribble penetration. It's a complete defensive effort. You have to have good closeouts, but you have to not over-rotate. Not giving up layups."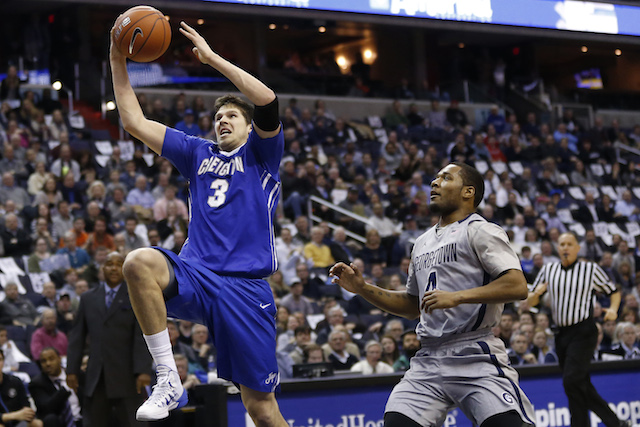 Creighton
Why a title contender: "Their ability to score. [Doug] McDermott is the best scorer in the country, he can score in every way possible. And the other guys are really good at filling their roles. When you key on McDermott, you leave [Ethan] Wragge open for a second, he makes every shot. [Jahenns] Manigat shoots it at a very high percentage. Guys fill their roles pretty well. They can make a shot, they are getting to the basket. McDermott is constantly moving. We always talk about going to the ball defensively, but he's, offensively, always moving toward the ball. Those guys do a good job of setting screens for him. Conceptually when you go right or left, you're harder to guard. He can cut, he can curl, he can pop, he can do whatever he wants off the screens.
"You have to make him work for every shot. He's still going to get points because he's so talented, but you can't let him get layups or wide open 3s off their offense."
Why not a title contender: "Those guards are fast and they can do a good job, but their interior defense – and I'm talking both inside and the big guys on the perimeter – that's where they struggle. Wragge can get physical with you, but they don't go for shot blocks. They get underneath you, so if you have a strong post player, you can score on them inside. When handling ball-screeens, I don't think they're great at it. Put those guys in positions where they have to step out and guard.
"I don't think [the role guys are good enough] for a national title, to be honest. Manigat is a senior, [Grant] Gibbs is a senior, so they won't be shook by anything, but as far as going on a big-time run . . . it will be interesting."
Key to beating the Bluejays: "You can't just go into a game and say you're going to wipe out McDermott, because that's impossible. Against Georgetown, Wragge went 3-for-3, [Austin] Chatman is shooting a good percentage. Those guys are capable of burning you if you go to too Dougie. But you also don't want to let him go off for 40. You have to do a little bit of both."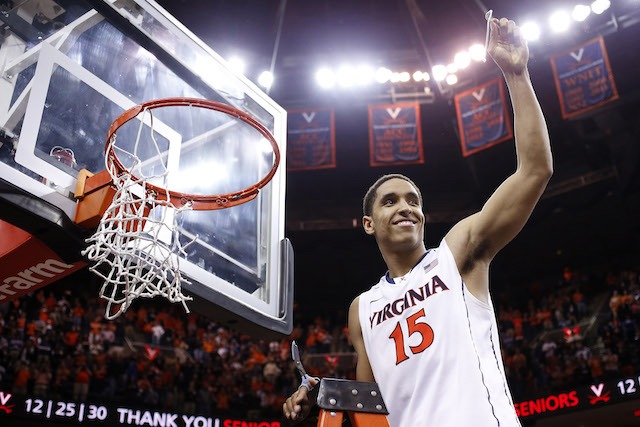 Virginia
Why a title contender: "They're the best defensive team in the country. You look at the numbers and the chemistry on the defensive end. And then their style of play on the offensive end. They're a very complete team at both ends of the floor. It's the pack-line defense, but they apply good pressure on the ball. They have great size at all positions. They have their X-factor defensively when [Justin] Anderson comes in. He's 6-5, 6-6, good length, and he guarded the handler. When [London] Perrantes goes out, they go 6-5 and above. Plus their presence on the backboard; they're not giving up anything.
"I'm a huge fan of [Malcolm] Brogdon. He should be in discussion for ACC Player of the Year. His emergence has allowed Virginia to be in position to be a Final Four contender. His presence, he can beat you off the dribble, has the mid-range game. His 3-point shot has improved. He sat out last year with the injury. He's an older guy, a mature, physical dude. He's the best player on the best team in the league.
"It's deflating [when you look at their balance]. We did a good job on [Joe] Harris and Brogdon, and then [Akil] Mitchell, Perrantes and Anderson come in. They can beat you inside, beat you outside. It's like pick your poison with how you guard them. Their offense wears you down. It's like a mental game. They control tempo, but it's a bitch to guard them. Our perimeter guys said we don't want to guard them man to man because it's such a workout. It really affects teams on the offensive end. It wears you down, because then you have to go score against them. It's very taxing, it wears on you. Going into some games, we decided to just zone. That blocker move or motion, you're asking your perimeter guys to just chase off screens all the time. Four-five screens, every possession. After a while, you can't get through it.
"One of the keys for them has been Perrantes. He's experienced beyond his years. He's a key guy. They probably didn't know he would be this good, this early. His poise, presence, ability to control a game. And now he's more confident, has made shots. He has really helped them get great balance on the offensive end."
Why not a title contender: "They're as a complete a team as there is in the country. They can have some lapses scoring the ball, but their defense will always give them a chance. A second round or Sweet 16 game when they're not making shots, and teams are forcing them to make jump shots, could give them trouble. They don't make a ton of 3s, and they have nice balance inside and outside. When they played VCU, it was all chaotic.
"If they play a team that makes shots, get rolling offensively, knocking down some 3s, you can beat them. They'll make you take contested shots, so a team that gets hot on a given night. A Michigan team, a Duke team. Teams can beat them knocking in jump shots. Their offensive style and system really wears defenses down. Zoning can be a philosophy, but teams that are committed to man-to-man have to take Harris away, take Brogdon away."
Key to beating the Cavaliers: "You just have to be really efficient offensively and taking care of the basketball. That was our focus. We turned it over so many times in the first game, allows them to get easy stuff in transition. They generate offense from defense, double the post sometimes. So work it offensively, get big guys in ball-screen situations, create an angle or mismatch. And then awareness of Harris and Brogdon. Their team chemistry is through the roof. They know who they are."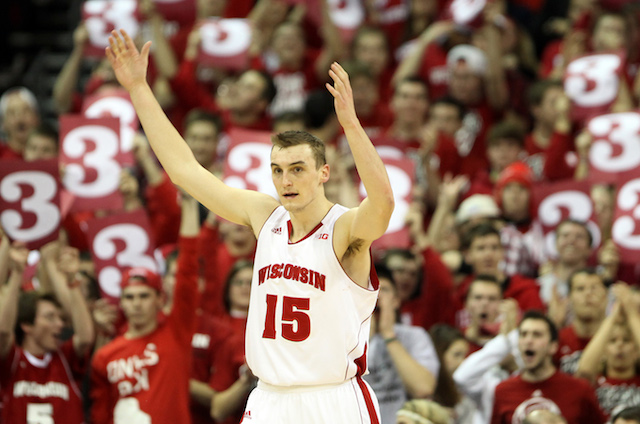 Wisconsin
Why a title contender: "I like their team chemistry. They really don't care who scores. They play very well together. They're very patient, with the way they run the shot clock down. They're very good in the last 12 seconds of the shot clock. This year as opposed to years past, they play a little freer. They transition more, but if they don't have it, they run their stuff. And they're great in shot clock situations. Last couple of years, they've gotten away from the swing offense. When they shoot the ball well, they're very good. But there's been games this year, when they struggle to make 3s. I really like [Frank] Kaminsky. He's an inside-out threat. When he's making shots, they draw your five-man away from the basket. [Sam] Dekker is their most talented player. They're always going to defend. If you have a jump-shooting team, you have a good chance to beat them. They give up a lot of jump shots, in the mid-range, 15-17 feet. They force you off the 3-point line. They guard how they guard, they don't hard hedge. The way they guard, you'll have open jump shots.
"On the offensive end, when they make shots, they're really good. They have multiple guys who can make shots. Traevon Jackson isn't a great shooter, but he's great in late clock. [Ben] Brust is a streaky shooter. Dekker is a streaky shooter. You can spread them out. They do a very good job of limiting offensive rebounds. If not, you're going to get one shot and they're going the other way. It's easy to get frustrated. It's a slower-paced team."
Why not a title contender: "It's two things. Depth is one thing, I don't think their depth is very good. And the post defensively is a weakness. If you have a post guy you can throw the basketball to, once they get in foul trouble, they're thin on the front line. Nigel [Hayes] has given them a boost, but he's a poor free-throw shooter. He's playing with a lot of confidence, and they're playing with confidence in him. He's their best low-post player. I don't think they're invincible. Their scores are close, any team they play, they're going to be in the game."
Key to beating the Badgers: "Defensively, you have to take away the quick strike in transition. They transition more than they have in the past, you have to make them run their stuff. Lock in the last 10-15 seconds of the shot clock, because they're really good in low clock situations. Second thing, probably offensively, if you can attack them off the drive and have a lost-post presence."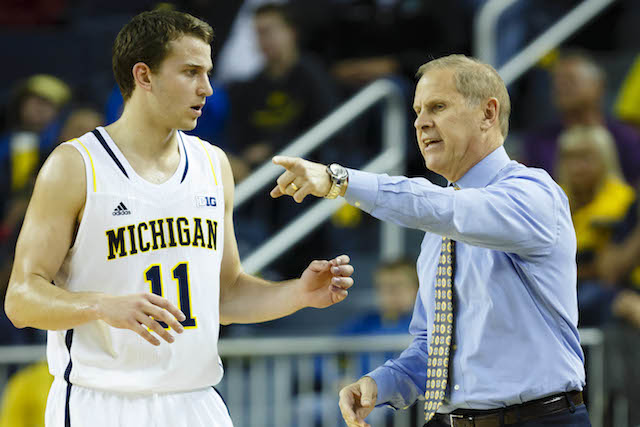 Michigan
Why a title contender: "They're playing with great chemistry right now. They're a team who has multiple threats on the perimeter. They don't have a low-post presence, but their bigs do a very good job of playing their role. When Glenn Robinson III plays well, they play a lot better. Their ability to shoot the basketball is their biggest strength. If they have a cold night, they could be in trouble. They do a good job of putting their guys in position to make 3-point shots. They're not playing the 1-3-1 nearly as much, they play it situationally. They do it to change the pace up or change the tempo up. The way they run their system, it's tough for a short turnaround. If you haven't seen what they do, that can be problematic. It's their ability to shoot the basketball with multiple people.
"I think [Nik] Stauskas is doing more. Last year they had Trey Burke who dominated the basketball, and Tim Hardaway. Stauskas had to do one thing, and that was shoot the corner 3. But now they have a freshman point guard, they need him to do more. He's expanded his game, taking people off the dribble, he doesn't force a whole lot, takes what's given to him. The way Derrick Walton Jr. is playing, he's solid. He's getting the ball to guys who need the ball, not turning it over much. When you have a system in place, the point guard doesn't need to do a whole lot with the guys around him.
"[Caris] LeVert brings another ball-handler, someone who takes the pressure off Walton, and can create his own shot. Sometimes he over-dibbles, but it's because he's trying to make a play. He's a capable 3-point shooter, gives them another threat."
Why not a title contender: "They don't have a very good low-post presence, their bigs are more screen-and-roll guys, they don't offensive rebound, and they don't throw the ball on the block. They're not a great defensive team, they're not good in transition defense. A team who pushes the tempo on them, I think they would struggle. And they struggle to guard off the bounce."
Key to beating the Wolverines: "Take their transition away, don't allow transition 3s. That's where Glenn Robinson flourishes. He's not very good in the half-court, relies on his athleticism in transition. He's the one guy who hasn't gotten a lot better. It's also a situation where the games Stauskas has struggled, they've struggled. People have had success with smaller, quicker guards, either face-guarding him or denying him the basketball."