Night Court: Cincinnati, Michigan State get momentum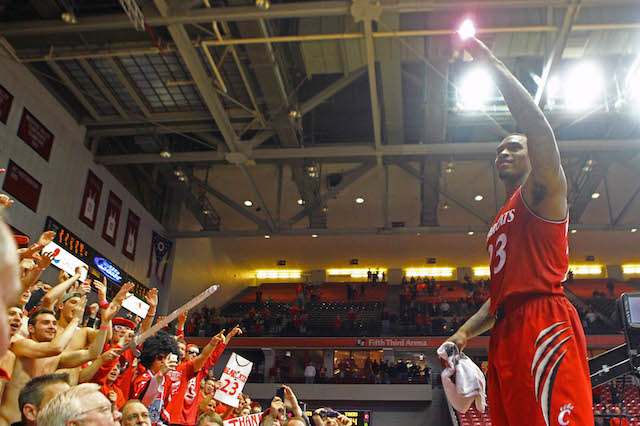 Latest in hoops: Top 25 (and one) | Bracketology | Bubble Watch
Here's everything you need to know from college basketball's Thursday …
For a complete breakdown of the bubble happenings, check out our daily Poppin' bubbles feature.
Game of the Day: Sean Kilpatrick scores 34 points to lead Cincinnati to a win over Memphis.
Kilpatrick made his case for All-American honors and the AAC Player of the Year award by lighting up Memphis in a 97-84 win. Kilpatrick was 11-for-18 from the field, and made big shot after big shot to help the Bearcats pull away in the second half. Cincinnati's defense gave up more than 80 points for the first time this season, but the Bearcats forced Memphis to shoot too many 3-pointers, not allowing the Tigers to get consistent dribble penetration when the game was in the balance. Offensively, they pushed the ball in transition, beating Memphis down the floor.
Cincinnati has forged a tie at the top of the AAC standings, sitting at 14-3 with Louisville. The Bearcats head to Rutgers this weekend, while Louisville hosts Connecticut.
What else we'll be talking about in the morning: The crazy fan that ran onto the court and confronted Hawaii head coach Gib Arnold.
Just finished Hawai'i/UCSB game, student who ran onto the court was arrested. He will go before UCSB judicial affairs & could be expelled.

— Kara Lawson (@karalawson20) March 7, 2014
That's a good win: Michigan State bounces back with win over Iowa.
Things were starting to get worrisome in East Lansing. The Spartans had just scored 46 points in a home loss to Illinois, bringing their 10-game record to 4-6. Keith Appling was hampered by a wrist injury, and they were far from hitting on all cylinders.
But Michigan State looked just fine on Thursday, handling Iowa, 86-76. Denzel Valentine had 13 points, six rebounds and nine assists, leading five players in double-figures. Travis Trice had 17 points off the bench, but Appling was also solid, with 12 points and three assists, while knocking down two 3-pointers. Roy Devyn Marble had a big first half for Iowa, and did finish with 24 points and five assists, but the Hawkeyes just couldn't stop the Spartans in the second half.
And that's a bad loss: Xavier stumbles at home to Villanova.
It's obviously not a bad loss, since Villanova is the outright Big East regular-season champion, but the Musketeers missed a big chance to lock up an NCAA Tournament bid. We broke it down in Poppin' Bubbles, but Xavier head coach Chris Mack did not agree with my assessment.
"Maybe we haven't won the PR battle but I do know this: I coached in the A-10. And I coach in the Big East now," Mack said. #Xavier

— Shannon Russell (@slrussell) March 7, 2014
"And I'm telling you right now, Georgetown would be a Top 2 or 3 team in the Atlantic 10. And it's not even close," Mack said. #Xavier

— Shannon Russell (@slrussell) March 7, 2014
"But to think that the Big East may only get two teams in and people are trying to put that out there - it's foolish," Mack said. #Xavier

— Shannon Russell (@slrussell) March 7, 2014
This is wild: St. Peter's beat Fairfield in the MAAC tournament on a 3-pointer by Desi Washington in the final seconds. That's noteworthy in itself, but it's already happened twice this season. Desi Washington. Three-pointer in the final seconds. To beat Fairfield. Three times.
Players with impact
Texas-Arlington's Brandon Edwards really filled up the stat sheet on Thursday, going for 33 points and 19 rebounds.
Elfrid Payton hasn't been in the headlines as much as expected this season, but he went for 31 points and 13 boards against Western Kentucky.
Niagara's Antoine Mason continues to light up the scoreboard; he had 38 points on Thursday.
Jalan West only played 20 minutes for Northwestern State, but that's all he needed: 9-for-10 from the field, 6-for-6 from 3-point range, 26 points, three rebounds, five assists.
An efficient night for UCLA's Jordan Adams: 31 points on 11-for-15 shooting. The Bruins beat Washington.
Numbers to figure
25: Stephen F. Austin has now won 25 games in a row after beating Oral Roberts. The Lumberjacks are 17-0 in the Southland.
31: Southern Utah had lost 31 consecutive games to Division-I opponents dating back to last season. But the Thunderbirds took down North Dakota on Thursday.
@jeffborzello Tonight: Sean Kilpatrick 34 points, Northwestern 32 points

— Stuart Millstein (@ChiefofResearch) March 7, 2014
Other outcomes of note
Conference-USA ended with a four-way tie atop the standings, with all four winning road games on Thursday night. Louisiana Tech gets the No. 1 seed, with Tulsa, Middle Tennessee and Southern Miss following.
LSU went to Vanderbilt and picked up a much-needed win, with Johnny O'Bryant getting 25 points and 10 rebounds.
Weber State missed a chance to clinch the Big Sky title with a loss at Portland State. Montana is within one game with one game left.
UC-Irvine clinched at least a share of the Big West regular-season championship. The Anteaters lead UC Santa Barbara by one game with one left.
VCU won its rivalry game against Richmond, 56-50. Treveon Graham had 18 points, 10 rebounds and four assists.
Conference tournament updates
Ohio Valley: Morehead State beat Tennessee Tech, while Eastern Kentucky took down Southeast Missouri State. Both teams advance to the semifinals to face Belmont and Murray State, respectively.
Atlantic Sun: The championship game is set for Sunday: No. 1 Florida Gulf Coast vs. No. 2 Mercer. The second-seeded Bears needed double overtime to get past USC-Upstate.
Missouri Valley: Evansville beat Drake, and Loyola-Chicago knocked off Bradley on Milton Doyle's 3-pointer at the buzzer.
MAAC: We touched on St. Peter's above, but Niagara beat Marist and Rider beat Monmouth.
West Coast: Loyola Marymount beat Portland, Santa Clara beat Pacific.
Notebook:
-- South Carolina suspended head coach Frank Martin for one game due to "inappropriate verbal communication" with an athlete.
-- This is weird. For two days last fall, the entire Florida Gulf Coast basketball team was declared ineligible.
-- UNLV's Bryce DeJean-Jones is suspended through Saturday for conduct detrimental to the team.
-- Disturbing: New Hampshire fired its director of basketball operations after school officials alleged he "secretly took pictures of male athletes in a locker room."
-- UCLA's attendance has dropped this season.
-- Iona extended head coach Tim Cluess through the 2018-19 season.
-- Sad news out of St. Bonaventure: assistant SID Brian Moretti died unexpectedly of apparent cardiac arrest.