Tiny Dancers: Albany is going back to the NCAA Tournament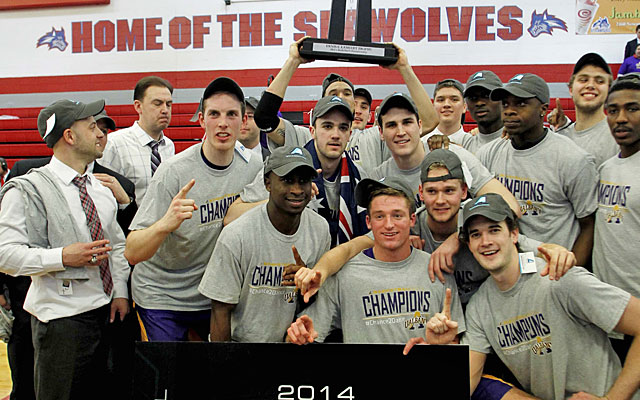 More: Updated bracket projection | Bubble Watch | Live Blog Updates
STONY BROOK, NY -- Everything was on Stony Brook's side to break through and get to the NCAA Tournament for the first time.
No. 1 seed Vermont had been bounced in the semifinals, meaning the Seawolves got to host the championship game against Albany. It was the program's last game at Pritchard Gymnasium before moving into new facilities. Moreover, Stony Brook had won the America East three of the previous four years, but lost in the title game twice and semifinal twice.
This should have been Stony Brook's year.
"They were the higher seed, we were playing in their gym," Albany guard DJ Evans said. "Everything was on them."
And Albany had other ideas.
The Great Danes went into the north shore of Long Island and came out with a 69-60 win in the America East championship game. Sam Rowley led the way with 18 points, but timely shooting down the stretch from Peter Hooley (15 points) helped the Great Danes pull away late.
"It's not our birth right," Stony Brook head coach Steve Pikiell said when asked about falling short again. "We have to win that game."
Albany continues to play its best at the right time. In three of the Great Danes' four NCAA Tournament appearances under head coach Will Brown, they finished second or worse during the regular season. Last season, Albany went 9-7 in the regular season before winning the automatic bid -- and they followed that same exact routine this season.
What's Brown's secret?
"I don't know," he said, jokingly. "Rope-a-dope?"
Player to know: Peter Hooley. The sophomore from Australia was fantastic in the America East tournament, averaging 28.0 points in the first two games -- including shooting 9 of 16 from behind the 3-point line. His shot wasn't falling in the title game against Stony Brook, but he still managed to finish with three 3-pointers and 15 points, while also hitting a dagger 3-pointer with one minute left to extend Albany's lead to five points.
Hooley was the team's leading scorer during the regular season, while shooting 40 percent from 3-point range.
The Vitals:
Record: 18-14 overall, 9-7 in the America East
Most recent tournament appearance: 2013 (lost to Duke in the Round of 64 as a No. 15 seed)
Jerry Palm predicts: 16 seed
RPI: 211
KenPom ranking: 195
Sagarin ranking: 199
Best wins: vs. Vermont, vs. Yale
Worst losses: at UMBC, at New Hampshire
Notable stat: No. 5. That's where Albany ranks nationally in defensive free-throw rate. The Great Danes play some of the most disciplined defense in the country, and that helped them against Stony Brook. They committed just 14 fouls in the championship game, after committing 17 in the semifinal upset win over Vermont.
Closing quip: Albany has won six of its last seven games heading into the NCAA Tournament, after winning just four of its previous 10 games. The Great Danes are playing their best basketball at the right time. "We developed a sense of urgency," head coach Will Brown said. With that said, the Great Danes are going to have their work cut out of them in the NCAA Tournament. They could be heading to Dayton for the First Four and then would face a No. 1 seed with a victory. They do have experience from playing in the dance last season, but it's a tall task.