Viewer's Guide: Iowa and Tennessee capable of Round of 64 win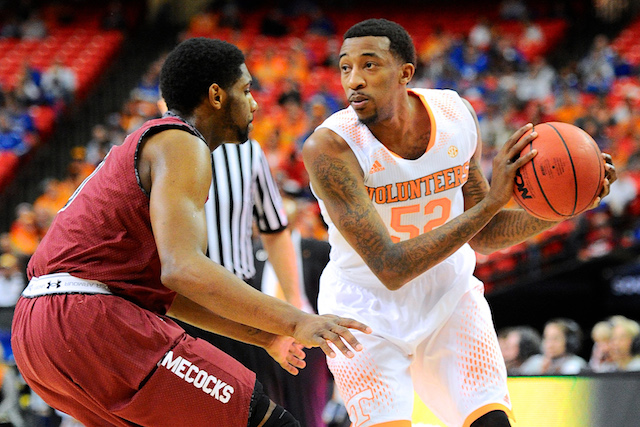 More NCAA hoops: Tournament bracket | Complete coverage of NCAAs | Latest news
The NCAA Tournament got off a very solid start on Tuesday, with Albany and Mount St. Mary's exchanged 21-2 runs in the first half before the Great Danes pulled away down the stretch for the win. Then North Carolina State and Xavier battled back and forth, with the Wolfpack overcoming T.J. Warren's early foul trouble to get a victory. Wednesday will hope to feature more of the same.
Note: All times are Eastern.
No. 16 Cal Poly vs. No. 16 Texas Southern (6:30 p.m., truTV): The lone sub-.500 team in the field, Cal Poly has only won 11 Division-I games this season -- but three of them were in the Big West tournament, meaning the Mustangs are dancing. Meanwhile, Texas Southern enters the NCAA Tournament on a nine-game winning streak, taking the SWAC conference tourament title after finishing second in the regular season. This is the third team head coach Mike Davis had led to the big dance. Tempo could be a factor in this one. Texas Southern likes to speed it up, while Cal Poly would love to play in a half-court affair. TSU has the best player on the floor, though, big man Aaric Murray, a supremely talented player who was dismissed from both La Salle and West Virginia. With that said, he's capable of dominating on Wednesday -- as evidenced by his 48-point performance against Temple earlier this season. The winner faces Arizona.
No. 11 Iowa vs. No. 11 Tennessee (9:00 p.m., truTV): I don't think either team thought they would be in this position. Iowa started the season at 15-3, with the only losses coming to Villanova, Iowa State and Wisconsin. However, the Hawkeyes ended the season with six losses in seven games -- including a loss to Northwestern in the Big Ten tournament. On the other side, Tennessee came into the season as a top-25 team, but inconsistency left the Volunteers in a dangerous spot down the stretch of the season. A five-game winning streak before losing to Florida in the SEC semifinals was necessary to get them in the dance. The battle on the glass will be key, as both teams love to attack the offensive boards and get second-chance points. One of the better individual matchups of the week will also take place when Iowa's Roy Devyn Marble faces Tennessee's Jordan McRae. Marble is a difficult matchup for most teams, while McRae can flat-out score. The winner will face Massachusetts in the Round of 32 -- and both teams can win that one.