INFOGRAPHICS: NCAA Tournament history of 12 seeds over 5 seeds
You know you have to pick one every year. So who'd you go with? You falling for that Ivy League charm in the East region? Or do 28 wins in a row for Stephen F. Austin scream "must pick" to you? NC State certainly seems to have a lot of momentum, too.
If you're wondering, I took three 12 seeds to beat fives this year. You can view my bracket here and pick against all the CBSSports.com experts here.
It's certainly amazing how a No. 12 seed beats a No. 5 seed almost each season. We have two infographics below related to this phenomenon. The first shows the history of 12s over fives, dating back to 1985, when the field expanded to 64 teams.
Amazingly, only three times in the past 29 years has there not been a 12-over-five upset. Those years were 1988, 2000 and 2007. We've had just as many tournament see three 12s beat fives as no 12s beat fives. In 2013, 2009 and 2002, the dozen-seeded squads took 75 percent of the games.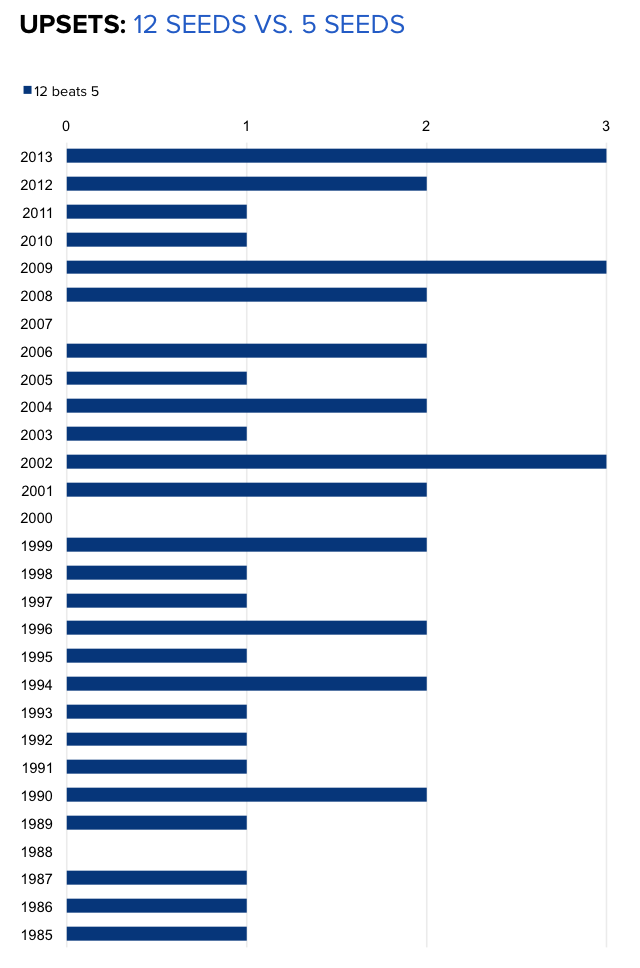 Below, we've got a look at the four 5/12 games. Right now, Harvard is the most popular choice to win on CBSSports.com, bringing in 32.2 percent of the vote. Stephen F. Austin, although last at 21.8 percent, is still finding a lot of faith in plenty of pools. In fact, SFA it's the 12 seed that's the crowd favorite to reach the Sweet 16. Interesting trend there.
Even more bizarre: Harvard dips in Sweet 16, but is the favorite among CBSSports.com users for 12 seeds to reach the Elite Eight.