Rothstein Top 25: Can Arizona reload for another run?
It's never too early to look ahead to next season.
While my colleague Gary Parrish and the team broke out their Top 25 (and one) last week, I figured I'd take a crack at my own version of a Top 25 ranking.
Check out below for an early look at next year's Top 25 along with "five teams on the cusp." You'll find that Gary and I agree about a lot, disagree about just a little, and fall somewhere in between on some other issues:
1. ARIZONA (Top 25 (and one) rank: 2)
This ranking is based upon the premise that both Nick Johnson and Aaron Gordon will leave for the NBA. With that said, the Wildcats will still return T.J. McConnell as a fifth-year point guard along with Rondae Hollis-Jefferson, Brandon Ashley and Kaleb Tarczewski up front. Gabe York and Elliott Pitts will return at shooting guard and 6-foot-7 Stanley Johnson is primed to be an instant starter. A Southern California native, Johnson has star written all over him and will be an immediate factor in Tucson. First-year power forward Craig Victor will add depth behind Ashley while other freshmen like Parker Jackson-Cartwright and Dusan Ristic will also be contributors off the bench. Expect junior-college transfer Kadeem Allen to add scoring pop as well.
2. KANSAS (Top 25 (and one) rank: 4)
The Jayhawks will lose both Andrew Wiggins and Joel Embiid after this season but like usual, the cupboard is still full in Lawrence. Naadir Tharpe returns as a senior point guard and he'll be joined in the backcourt by sophomores Frank Mason, Brannen Greene, Conner Frankamp and Wayne Selden. Freshman Kelly Oubre should immediately step in for Wiggins at small forward, and first-year power forward Cliff Alexander will be in the mix up front with veterans Perry Ellis, Jamari Traylor and Landen Lucas. Look for Arkansas transfer Hunter Mickelson to also be a factor in the pivot as well after red shirting this past season.
3. DUKE (Top 25 (and one) rank: 1)
College basketball's ultimate blue blood will blend an elite recruiting class with a strong core of proud veterans. The Blue Devils bring in the nation's top center in Jahlil Okafor along with the nation's top point guard Tyus Jones and a pair of impact wings in Justice Winslow and Grayson Allen. Mike Krzyzewski will also return a pair of experienced lead guards in Quinn Cook and Rasheed Suliamon, and Amile Jefferson and Marshall Plumlee will also be back in Durham as juniors.
4. WISCONSIN (Top 25 (and one) rank: 3)
Expectations will be sky high in Madison next season as the Badgers will return everyone of significance with the exception of Ben Brust. Sam Dekker, Nigel Hayes and Frank Kaminsky will form a frontcourt triumvirate that can match up with any baseline in America, while Traevon Jackson, Josh Gasser and Bronson Koenig will all bring seasoning and ball control on the perimeter. This group has a chance to be a special team and will be the favorite in the Big Ten heading into next season.
5. NORTH CAROLINA (Top 25 (and one) rank: 6)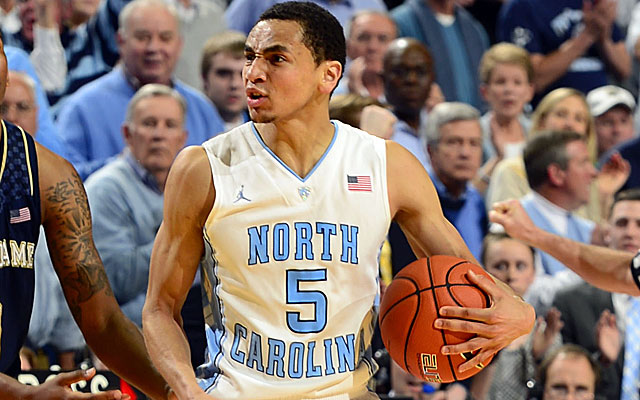 Help is on the way for Marcus Paige. The Tar Heels bring in a pair of blue chip small forwards -- Theo Pinson and Justin Jackson -- that should immediately take scoring pressure off Paige. First-year point guard Joel Berry will be another option at the 1 alongside Nate Britt. J.P. Tokoto also returns as a junior, and North Carolina's frontcourt will be as deep as any in 2014-15. The Tar Heels lost James Michael McAdoo but Brice Johnson, Desmond Hubert, Isaiah Hicks and Kennedy Meeks will all be more seasoned after expanded roles during last season.
6. VILLANOVA (Top 25 (and one) rank: 11)
The Wildcats will again be the favorite in the Big East and have a strong returning core highlighted by seniors Darrun Hilliard and Jayvaughn Pinkston. Ryan Arcidiacono and Daniel Ochefu should be ready to expanded roles as juniors, and expect Josh Hart to take a major step forward after a strong freshman year. Kris Jenkins and Dylan Ennis will also be much better in their second season in the Wildcats program. Freshman point guard Phil Booth and first-year forward Mikal Bridges are two solid pieces that should able to blend right into Villanova's hard-working culture.
7. MICHIGAN (Top 25 (and one) rank: 20)
Does it really matter who John Beilein has on his team anymore? The Wolverines won the Big Ten this past season after losing Trey Burke and Tim Hardaway Jr. to the NBA as well as Mitch McGary to a back injury. Even if Michigan loses Nik Stauskas as expected, Beilein will still return two quality point guards in Derrick Walton and Spike Albrecht along with two capable wings in Caris LeVert and Zak Irvin. McGary's return along with another year of season for Glenn Robinson III should once again make the Wolverines one of the favorites in the Big Ten. Expect 6-foot-7 freshman Kameron Chatman to potentially have an immediate role in Michigan's rotation because of his craftiness. Fellow freshman D.J. Wilson has the perfect frame at 6-8 for Beilein's system and should have a terrific four-year career in Ann Arbor.
8. FLORIDA (Top 25 (and one) rank: 5)
Billy Donovan doesn't get enough credit for how well he annually replenishes talent. The Gators will lose four starters but will be more than ready to maintain their national perch. Kasey Hill will take over for Scottie Wilbekin at point while Michael Frazier will be one of the best shooters in college basketball as a junior. Rutgers transfer Eli Carter will be a quality third guard for Florida, and Dorian Finney-Smith will be primed for a breakout year. The Gators also bring in three quality freshman in Devin Robinson, Brandone Francis and Chris Chiozza. Also keep an eye on big man Chris Walker, who should be more polished after going through a full offseason in Gainesville.
9. SMU (Top 25 (and one) rank: 12)
If you thought the buzz was big last season in Dallas surrounding the Mustangs, it's going to reach an entirely new level in 2014-15. Larry Brown will welcome in arguably the best freshman point guard in college basketball in 6-foot-5 Emmanuel Mudiay, and he will join a strong core of returning veterans in Nic Moore, Markus Kennedy and Sterling Brown. Versatile forward Ben Moore could be in position for a breakout year if he becomes SMU's starting power forward. The Mustangs are the clear favorite in the American. And it's not even close.
10. LOUISVILLE (Top 25 (and one) rank: 21)
Even without Russ Smith and likely Montrezl Harrell, the Cardinals will still have one of the most prolific backcourts in America. Chris Jones returns as Louisville's starting point guard and he'll be joined on the perimeter by Anton Gill, freshman Quentin Snider and Terry Rozier. Wayne Blackshear also returns as a senior, and Rick Pitino will also bring in a high-level wing in 6-foot-6 freshman Shaqquan Aaron. Pitino also brings in three highly rated first-year post players in Chinanu Onuaku, Jaylen Johnson and Anas Osama Mahmoud. 6-10 big man Mangok Mathiang will also return in the pivot.
11. SYRACUSE (Top 25 (and one) rank: not ranked)
The calendar changes but the level of talent in Jim Boeheim's program does not. Even with the loss of C.J. Fair and Tyler Ennis, the Orange will still be loaded in 2014-15. Freshman point guard Kaleb Joseph will slide in next to Trevor Cooney in the back court, and Jerami Grant will be one of the better players in the ACC as a junior. Michael Gbinije, B.J. Johnson and Tyler Roberson will all vie for reserve minutes on the wing while Rakeem Christmas and DaJaun Coleman return to anchor the paint. Freshman Chris McCullough has freakish length at 6-10 and should be a menace in Syracuse's 2-3 zone. Expect him to play an immediate role.
12. WICHITA STATE (Top 25 (and one) rank: 8)
The Shockers are set up to sustain success. Gregg Marshall will return an elite perimeter in Fred VanVleet, Tekele Cotton and Ron Baker while Darius Carter figures to have an expanded role on the interior. Freshman power forward Rashad Kelly will be an immediate major contributor, and Evan Wessel will be a quality perimeter reserve. Redshirt freshman Zach Bush and 7-foot junior-college transfer Bush Wamukota will add frontcourt depth off the bench.
13. COLORADO (Top 25 (and one) rank: not ranked)
The Buffaloes could be the top team in the Pac-12 next season assuming Spencer Dinwiddie comes back healthy from a knee injury. Colorado returns everyone of significance from this season, headlined by Askia Booker, Xavier Johnson and Josh Scott. Power forwards Wesley Gordon and Dustin Thomas will be more effective in their second year of college basketball, and Tre'Shaun Fletcher should emerge as a legitimate scoring threat off the bench. Keep an eye on local product Dominique Collier, who should provide quality insurance at point guard behind Dinwiddie.
14. TEXAS (Top 25 (and one) rank: 9)
Rick Barnes returns everyone of significance from this past season's squad that finished third overall in the Big 12 and adds a high-level recruit in 6-foot-7 small forward Jordan Barnett. Javan Felix, Jonathan Holmes and Cameron Ridley should all be All-Big 12 players. The Longhorns are also very much in the mix for Myles Turner, the top uncommitted player in the Class of 2014.
15. VIRGINIA (Top 25 (and one) rank: 10)
Tony Bennett will return five of the Cavaliers' top seven players from this past season's team that won the ACC championship. Expect London Perrantes to be one of the better point guards in the ACC as a sophomore, while 6-foot-6 wing Justin Anderson could be primed for a breakout season due to expanded minutes. Malcolm Brogdon, Anthony Gill and Mike Tobey all return as guys who are familiar with Bennett's system, and Evan Nolte and Darion Atkins should also see an increase in their respective roles. Keep an eye on red shirt freshman Devon Hall, a 6-5 guard who sat out this past season.
16. KENTUCKY (Top 25 (and one) rank: 7)
The Wildcats will always have blue chip talent under John Calipari but it will be interesting to see how this group meshes together coming off an and up down season in Lexington. Julius Randle, James Young, and Willie Cauley-Stein are likely bound for the NBA, but Kentucky will return a strong and talented core if Andrew and Aaron Harrison opt to return to school for their sophomore seasons. Alex Poythress, Dakari Johnson and Marcus Lee will be back and as usual, Calipari has also assembled a typical five-star recruiting class headlined by big men Karl Towns and Trey Lyles along with 6-5 shooting guard Devin Booker. Tyler Ulis is a solid, heady point guard will be a very good program guy for the Wildcats.
17. OREGON (Top 25 (and one) rank: not ranked)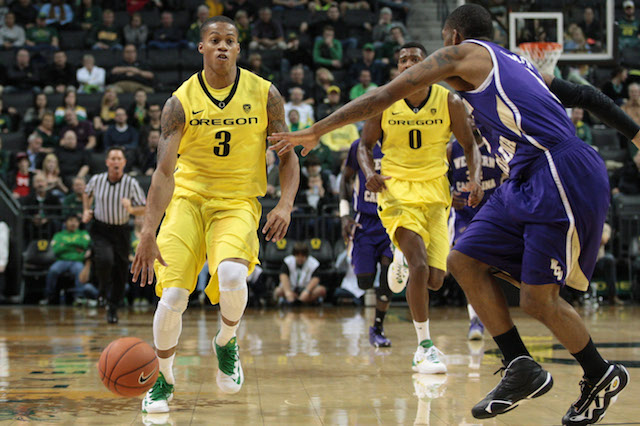 The Ducks will easily have one of the most lethal perimeters in college basketball in 2014-15. Dominic Artis will get the keys to the car from the first day of practice and Joseph Young and Damyean Dotson should both be borderline All-Pac-12 players on the wings. Freshman PG JaQuan Lyle will be an impact player from the start as well. But the real wild card for this group is Providence transfer Brandon Austin. I've heard Austin has been terrific so far in practice for Oregon and he could very well be one of the better freshmen in the country next season. Dana Altman also returns a solid role player up front in Elgin Cook along with an impact big in 6-foot-10 junior-college transfer Michael Chandler.
18. OKLAHOMA (Top 25 (and one) rank: 16)
The Sooners will return everyone from this past season's team except for stretch power forward Cameron Clark. Oklahoma's perimeter quartet of Jordan Woodard, Isaiah Cousins, Jelon Hornbeak and Buddy Hield will anchor Lon Kruger's team while rugged forward Ryan Spangler will again be a major factor in the paint. Look for 6-foot-8 big man D.J. Bennett and freshman Dante Buford to share minutes at power forward.
19. IOWA STATE (Top 25 (and one) rank: 14)
Transfers have been a way of life in Ames since Fred Hoiberg took over at his alma mater and next season will be no different. Abdel Nader (Northern Illinois) and Jameel McKay (Marquette) are two impact additions in the front court that will join a loaded Cyclones' baseline that already features veterans Georges Niang and Dustin Hogue. Sophomore guards Monte Morris and Matt Thomas will be significantly more polished in their second season of college basketball and junior Naz Long could very well emerge as one of the better "Glue Guys" in college basketball. Expect UNLV transfer Bryce Dejean-Jones to start for Iowa State at shooting guard. The 6-foot-5 guard led the Runnin' Rebels in scoring last season at 13.3 points per game.
20. OHIO STATE (Top 25 (and one) rank: 22)
Offense won't be a problem for the Buckeyes next season like it was this past year. Freshman shooting guard D'Angelo Russell is a 6-foot-4 lefty who will immediately provide scoring, and first-year wings Keita Bates-Diop and Jae'Sean Tate should be good enough to become immediate members of Ohio State's rotation. Thad Matta's team loses three key pieces in Aaron Craft, Lenzelle Smith Jr. and LaQuinton Ross but still returns a strong veteran core of Shannon Scott, Sam Thompson, Amir Williams, Marc Loving and Trey McDonald. Like usual, expect the Buckeyes to be in the mix at the top of the Big Ten standings.
21. SAN DIEGO STATE (Top 25 (and one) rank: 13)
Steve Fisher may have to use hockey-like substitutions next season due to the Aztecs' incredible depth. San Diego State has a bevy of wings -- Winston Shepard, Dwayne Polee, Dakari Allen, JJ O'Brien -- who return along with sharpshooting forward Matt Shrigley and point guard D'Erryl Williams. Arizona transfer Angelo Chol will add rim protection next to Skylar Spencer, and the Aztecs' freshmen class should also push for instant playing time. Versatile forward Malik Pope is one of the best high school players in the country and 6-foot-4 shooting guard Trey Kell brings a feathery touch from deep. The wild card in this group is 6-2 point guard Kevin Zabo, who could be a factor in the back court.
22. UCLA (Top 25 (and one) rank: not ranked)
Even with the losses of both Kyle Anderson and Zach LaVine to the NBA, Steve Alford has more than enough capable pieces in Westwood. Bryce Alford, Jordan Adams, Norman Powell and Isaac Hamilton will comprise UCLA's perimeter, while the Bruins' bring in a major talent in 6-foot-8 Kevon Looney, who will likely start at power forward next to Tony Parker. Fellow freshman Thomas Welsh (6-11) and Jonah Bolden will add frontcourt depth along with sophomore Wanaah Bail.
23. VCU (Top 25 (and one) rank: 18)
The Rams lose two big pieces in Rob Brandenberg and Juvonte Reddic but they'll be more than ready to keep the VCU brand at a national level. Briante Weber will pair with lightning-quick point guard JeQuan Lewis to form an ultra-quick backcourt, while Melvin Johnson will instantly become this team's go-to perimeter scoring option as a junior. Burly forward Treveon Graham could very well be the Atlantic 10's Preseason Player of the Year, and Mo Alie-Cox will be ready to slide into the pivot as the Rams' starting 5-man. Shaka Smart will have great frontcourt depth with veterans Jarred Guest and redshirt freshman Antravious Simmons along with first-year forward Justin Tillman. The Rams also beat out several high profile schools to land 6-foot-7 forward Terry Larrier, a versatile talent that can play multiple positions and thrive in Havoc. Look for a potential breakout year from 6-5 wing Doug Brooks, who could be VCU's best reserve scorer.
24. GONZAGA (Top 25 (and one) rank: 15)
Another year, another loaded cupboard for Mark Few in Spokane. The Bulldogs will have one of the best backcourts in the country in Kevin Pangos and Gary Bell, as well as two capable perimeter reserves in Kyle Dranginnis and Gerard Coleman. Blue chip freshman floor general Josh Perkins will help spell Pangos, and Kentucky transfer Kyle Wiltjer should replace Sam Dower's production at power forward. Center Przemek Karnowski (7-foot-1) should take another step forward as a junior.
25. MICHIGAN STATE (Top 25 (and one) rank: 24)
The Spartans will lose Keith Appling, Adreian Payne and likely Gary Harris after this season but still return the core to have them competitive in the Big Ten. Travis Trice, Denzel Valentine and Branden Dawson will form a very capable perimeter and big men such as Matt Costello, Kenny Kaminski, Alex Gauna and Gavin Schilling will all have opportunities to anchor Michigan State's frontcourt. A wild card for this team could be freshman point guard Lourawls "Tum Tum" Nairn, who could take immense pressure off Trice if he's able to instantly play 15-20 minutes per game. Also keep an eye on 6-foot-4 wing Alvin Ellis, who should have an opportunity to have an expanded role.
FIVE ON THE CUSP:
UCONN (Top 25 (and one) rank: 19)
The Huskies will obviously miss Shabazz Napier in end of game situations but Kevin Ollie still has enough perimeter pieces to remain extremely competitive in the American. Ryan Boatright will anchor the backcourt as a senior, and he'll be joined by JUCO transfer Sam Cassell Jr. and NC State transfer Rodney Purvis. Freshman wing Daniel Hamilton -- the brother of former Texas star Jordan Hamilton -- also comes to Storrs with a big-time pedigree, and Terrence Samuel should be a quality role player as a sophomore. DeAndre Daniels will need to return to school for his senior year for UConn to remain a Top 25 contender.
UNLV (Top 25 (and one) rank: not ranked)
There will be no shortage of talent with the Runnin' Rebels. Dave Rice will return one of the best centers in the country in Khem Birch, and Chris Wood could be in for a breakout year at power forward. UNLV also brings in two blue chip freshmen in Dwayne Morgan and Goodluck Okonoboh, while first-year shooting guard Rashad Vaughn has great size at 6-foot-5. San Francisco transfer Cody Doolin should compete with Deville Smith for the Runnin' Rebels' starting point guard spot.
IOWA (Top 25 (and one) rank: not ranked)
Fran McCaffery loses three key pieces in Devyn Marble, Melsahn Basabe and Zach McCabe, but don't be shocked if this team's role allocation is better next season. The Hawkeyes have four terrific frontcourt players in Aaron White, Jarrod Uthoff, Adam Woodbury and Gabe Olaseni, and that quartet should comprise most of this team's minutes on the baseline. Mike Gesell returns as a three-year starter at point guard and he'll be backed up by Anthony Clemmons. Expect Josh Oglesby to make a jump as Iowa's starting two guard and Peter Jok to then fill Oglesby's role off the bench. Freshman Dominic Uhl (6-foot-7) could find a way into the rotation thanks to his length and athleticism.
MARYLAND (Top 25 (and one) rank: not ranked)
This should be the year that the Terps return to the NCAA Tournament. Maryland brings back everyone of significance from this past season and adds three high-level freshmen in Romelo Trimble, Dion Wiley and Jared Nickens. The Terps' first year in the Big Ten should be a strong one considering this team's depth, talent and experience. Mark Turgeon will have a strong seasoned back court in Seth Allen and Dez Wells along with a veteran baseline of Jake Layman, Evan Smotrycz and Charles Mitchell.
DAYTON (Top 25 (and one) rank: not ranked)
Fresh off a deep run in the NCAA Tournament, the Flyers are ready to again be a major factor nationally. Matt Kavanaugh, Devin Oliver and Vee Sanford will all be lost to graduation, but Archie Miller returns a strong nucleus headlined by Jordan Sibert. Dayton will also return four quality juniors in Khari Price, Jalen Robinson, Devon Scott and Dyshawn Pierre. Scoochie Smith, Kyle Davis and Kendall Pollard will all be better as sophomores than they were as freshmen, and Detroit native Darryl Davis is a first-year combo guard that could have an immediate impact.