Michigan's Stauskas, Robinson say they're going to enter NBA Draft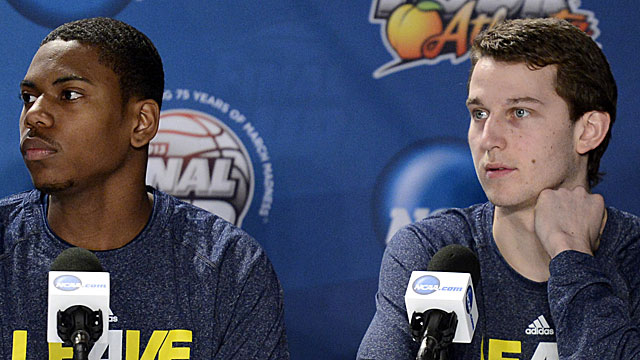 Michigan sophomores Nik Stauskas and Glenn Robinson III formally announced on Tuesday that they will forgo their final two years of eligibility and enter the 2014 NBA Draft.
"It's incredible the amount of work they've done," said Michigan coach John Beilein, who is losing two underclassmen for the second straight year. "Our coaching staff is very proud."
Stauskas was a borderline top-75 recruit coming out of high school who blossomed into a legitimate NBA prospect inside of two years. The 6-foot-6 guard averaged 17.5 points this season while shooting 44.2 percent from 3-point range and leading the Wolverines to the Big Ten title. He was named the Big Ten's Player of the Year, and is now projected to be selected in the top 20 of June's NBA Draft, perhaps in the lottery.
Glenn Robinson III averaged 13.1 points and 4.4 rebounds this season.
He's considered a borderline first-round pick.
This development means Michigan will next season be without its top two scorers from this season's team, and the school is still waiting on sophomore Mitch McGary to make a decision about his future. McGary only played in eight games this season before having season-ending back surgery. He's reportedly still trying to decide whether to stay at Michigan or join Stauskas and Robinson in the NBA Draft.