Michigan's Mitch McGary to enter NBA Draft after failed drug test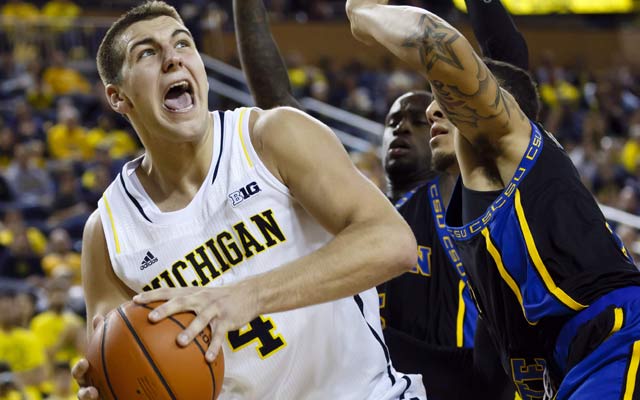 Michigan sophomore Mitch McGary is forgoing his final two years of eligibility to enter the 2014 NBA Draft in a decision that was made after he received a one-year suspension for failing an NCAA-administered drug test during last month's NCAA Tournament.
"I tested positive for marijuana during the NCAA Tournament," McGary said via a release emailed to reporters Friday morning. "We were notified of that result after the Final Four. I regret thoroughly disappointing my family, coaches and administration. Despite all of this they have been understanding and helpful over the last couple of weeks. ... I take full responsibility for this poor choice and want to apologize to everyone, especially those I have grown close to during my fabulous two years at the University of Michigan."
McGary was projected as a lottery pick after helping the Wolverines make the national title game as a freshman. But the 6-foot-10 forward instead decided to return to school, at which point he became a preseason All-American before suffering a back injury and missing all but eight games this season. The Indiana native was randomly tested by the NCAA after Michigan's game against Tennessee in last month's Sweet 16 even though he hadn't played since December. He told Yahoo! Sports' Dan Wetzel that the NCAA's automatic one-year suspension that accompanies the failed drug test influenced his decision to leave college despite having no guarantee that he'll be picked in the first round of June's NBA Draft.
"Mitch has had a tremendous impact on our program from the moment he committed to us," said Michigan coach John Beilein. "He has injected an enthusiasm that cannot be matched ...[and] his willingness to face a personal issue head on and his positive work ethic during his recent injury have helped him to grow in many ways. We know that he will put all of his energy and effort toward achieving his goals. We will continue to assist and support Mitch as he pursues a career in the NBA."