CBS Sports Classic capsule: North Carolina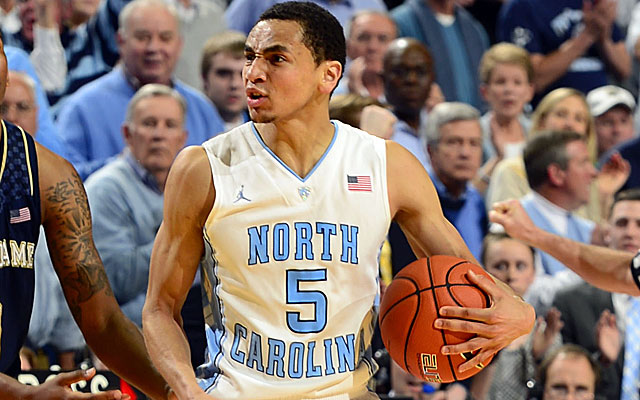 CBS Sports Classic: More on event | Kentucky | North Carolina | Ohio State | UCLA
Team: North Carolina Tar Heels
NCAA Titles: 5
Final Fours: 18
Coach: Roy Williams (724-190, 306-89 at UNC)
2013-14 record: 24-10
2014 NCAA Tournament result: 85-83 loss to Iowa State in Round of 32
Current Top 25 (and one) rank: 7
All-Time Record vs. Ohio State: 10-2
Projected lineup:
G: Joel Berry
G: Marcus Paige
F: J.P. Tokoto
F: Brice Johnson
F: Kennedy Meeks
(Reserves: Nate Britt, Joel James, Justin Jackson, Theo Pinson, Isaiah Hicks, Desmond Hubert)
Early scouting report/how they match up vs. Ohio State: It is too early to know exactly what to expect from freshman guard D'Angelo Russell, but the five-star anchor of Thad Matta's Top 10 recruiting class should quickly become a top offensive option after the departures of LaQuinton Ross, Aaron Craft and Lenzelle Smith Jr.. North Carolina has its own star-studded group of freshmen, led by Justin Jackson and Theo Pinson, but there is less pressure (and scoring responsibility) for the youngest Tar Heels.
The trio of Paige, Johnson and Meeks will make UNC the odds-on favorite against most opponents in 2014-15, and Ohio State is likely no different. But don't forget it took the Tar Heels nearly 20 games to find their footing last season, and this new influx of talent will create another shake-up in the rotation. If the Buckeyes can match up inside with 6-11 senior Amir Williams and former Temple forward Anthony Lee (13.6 points per game, 8.6 rebounds per game for the Owls in 2013-14), the Class of 2014 could become the deciding factor for these two conference title hopefuls.