Data suggests top-10 prospects are virtually guaranteed to make NBA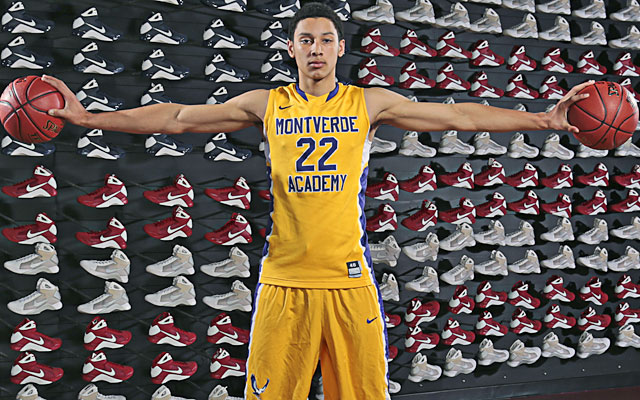 Latest in hoops: Latest News | Coaching Changes | Recruiting
The July evaluation period gets underway this week, meaning I'll again be bouncing around the country watching the nation's best high school prospects, which is always interesting and usually fun. And when I bump into Class of 2015 stars Ben Simmons, Diamond Stone and Malik Newman, among others, I plan to congratulate them, I think, because I already know two things about them even if they might not realize those things yet.
Here are those two things:
They're not going to spend much time in college.
They're going to one day soon play professionally in the NBA.
Oh, I know. I know.
I can hear you screaming.
They haven't accomplished anything yet! Nothing is guaranteed!
On one hand, I get that; honestly, I do. But what you need to understand is that those three players are top-10 national prospects, according to 247Sports, and a top-10 national prospect has statistically been about as close to a sure thing as there is in sports since the NBA adopted the so-called one-and-done rule that first affected the Class of 2006. The top 10 prospects in that class (again, according to 247Sports) were Greg Oden, Kevin Durant, Brandon Wright, Spencer Hawes, Thaddeus Young, Chase Budinger, Ty Lawson, Wayne Ellington, Javaris Crittenton and Brook Lopez. On average, those players spent just 1.5 seasons playing college basketball, and all 10 of them made the NBA.
I would call that a remarkable hit-rate except it's not really remarkable.
It's typical.
There are five high school classes that have exhausted their college eligibility since the one-and-done rule was put into place, and those classes produced 50 top-10 recruits. Now guess how many of those 50 eventually played in the NBA? Answer: 46. That's 92 percent.
It breaks down like this:
2006: Ten of 10 played in NBA after spending an average of 1.5 years in college.
2007: Nine of 10 played in NBA after spending an average of 1.8 years in college.
2008: Ten of 10 played in NBA after spending an average of 1.5 years in college.
2009: Eight of 10 played in NBA after spending an average of 1.4 years in college.
2010: Nine of 10 played in NBA after spending an average of 1.5 years in college.
Top-five prospects from those classes made the NBA literally 100 percent of the time.
The highest-rated prospect from those five classes not to make it?
Renardo Sidney.
Obviously, Class of 2011, Class of 2012 and Class of 2013 prospects could still theoretically be in college. But it should be noted that only one top-10 prospect from the Class of 2011 (Oklahoma State's LeBryan Nash) remains in school. And only two top-10 prospects from the Class of 2012 (Arizona's Kaleb Tarczewski and Kentucky's Alex Poythress) remain in school. And five top-10 prospects from the Class of 2013 entered the NBA Draft after just one season of college basketball, and this is pretty much how it goes for top-10 prospects.
They rarely stay in college long.
Nearly all of them make it to the NBA.
So remember that, going forward, when you hear somebody insist that recruiting rankings in basketball don't mean a thing, and blah, blah, blah. Granted, there's not much difference between the prospects ranked 40th and 60th, or 70th and 90th; so those recruiting rankings might not mean much. But top-10 recruiting rankings absolutely mean something, and what they mean is that the prospects rated that way are going to leave college early and play in the NBA, almost without exception.