Charleston under pressure to hire minority to replace Doug Wojcik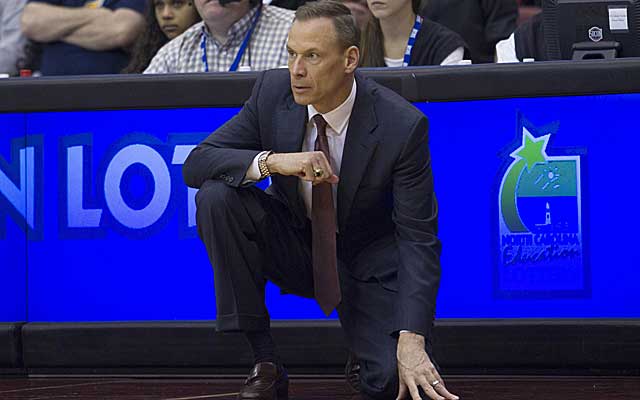 More offseason news: Grading early-season tournaments | Latest hoops news
While Charleston prepares for a certain legal battle with Doug Wojcik and tries to find his replacement, one unreported aspect of this story worth noting is how first-year president Glenn McConnell is facing internal and external pressure to hire a minority as his next men's basketball coach, multiple sources told CBSSports.com.
"He has no choice," is the way one source described the situation.
A quick history lesson is required to understand what McConnell is dealing with.
He was appointed the 22nd president of Charleston last March in a move that drew heavy criticism from students, faculty and the NAACP -- mostly because of McConnell's record of promoting Confederate history. As detailed previously at InsideHigherEd.com, McConnell once owned a shop that sold memorabilia of the South's rebellion, is a supporter of flying the Confederate flag on the statehouse grounds, and has been photographed dressed as a Confederate general. All of this -- combined with how the school's trustees reportedly ignored its own search committee, which did not recommend McConnell for president -- led to protests on campus and an unfavorable spotlight on the school.
"I'm worried about what is going on in the mind of [prospective students] when we see someone of the Confederate battle flag is now president," Joe Kelly, an English professor at Charleston, told InsideHigherEd.com in March. "There are a lot of subtleties to how you commemorate the Old South and a lot of those subtleties can be lost when you're deciding what college you're going to."
McConnell has essentially attributed the controversy of his appointment to politics as usual. Regardless, he's undeniably been cast a certain way in certain people's minds, and that's why multiple sources told CBSSports.com McConnell is facing pressure to replace Wojcik with a minority. The hope is that it would alleviate some of the criticism.
Charleston great Anthony Johnson -- an African-American who played 13 seasons in the NBA but has no known experience as a paid assistant or head coach -- is considered among the leading candidates, though one source told CBSSports.com that McConnell might try to lure an experienced coach first. Either way, sources remain convinced McConnell is leaning toward hiring a minority, one way or another. Classes begin at Charleston on Aug. 19.
Wojcik was fired Tuesday after two investigations into allegations of abuse.
He coached two seasons at the school.