Bruce Pearl already has Auburn recruiting at highest levels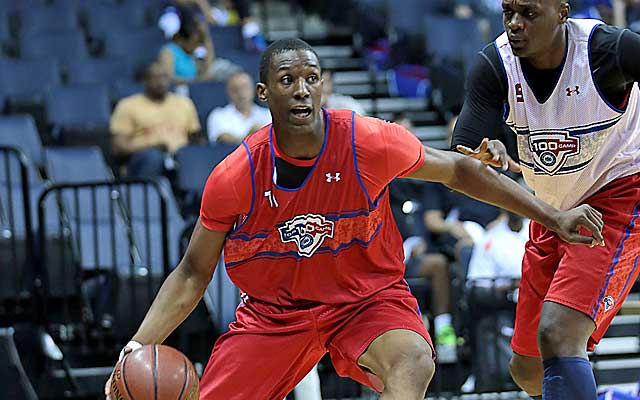 By now you've probably heard about the weekend Bruce Pearl put together, and you likely know he secured commitments from two top-60 national recruits (Danjel Purifoy, Horace Spencer) and an elite junior college talent (T.J. Dunans). That's clearly impressive. But it's even more remarkable when you realize Auburn is now one of only eight programs with multiple commitments from prospects 247Sports ranks in the top 60 of the Class of 2015.
The first seven schools on that list were Arizona, Duke, Florida, Louisville, Ohio State, Syracuse and UCLA ... otherwise known as well-established national brands. Auburn became the eighth early Sunday when Spencer committed roughly 40 hours after Purifoy publicly pledged to the Tigers. Jerry Meyer, director of basketball scouting for 247Sports, summarized things this way:
Other than getting some time off, doesn't look like NCAA penalties had much affect on Bruce Pearl. Certainly didn't affect ability 2 recruit

— Jerry Meyer (@jerrymeyer247) August 24, 2014
That certainly appears to be the case, doesn't it?
I've talked with Pearl enough over the years -- and extensively earlier this summer, when I visited him on Auburn's campus -- to know the penalties affected him in lots of real ways, most notably by effectively keeping him out of coaching for three years. But it's all mostly been a non-issue when it comes to significantly upgrading Auburn's talent.
The good developments started in the spring, not long after Pearl was hired, when Auburn added a top junior college prospect (Cinmeon Bowers), a three-star high school prospect (T.J. Lang) and three Division I transfers (K.C. Ross-Miller, Antoine Mason, Kareem Canty) all while Pearl was still dealing with that three-year show-cause penalty that prevented him from contacting recruits. Pearl and staff then turned their attention toward the Class of 2015, and the recent commitments of Purifoy, Spencer and Dunans ensures Auburn will end up with one of the SEC's best recruiting classes, if not one of the nation's best.
Did you catch that?
Auburn, of all places, will have one of the SEC's best recruiting classes.
In men's basketball.
And that's why, when folks look back on March 2014, athletic director Jay Jacobs' decision to target and quickly hire Pearl despite lingering NCAA issues will be viewed as the offseason's most important transaction. Other coaches in new jobs will do well, I'm certain. But nobody will impact a program as significantly as Pearl will ultimately impact Auburn.
His reputation as a motivator and "coach" has long been established, and his wikipedia page is the best reminder that Pearl has done unprecedented things at three different schools and three different levels. Simply put, he's always been good regardless of the place or parts. Now, already at Auburn, he's proving he's going to enroll nice parts, meaning it's hardly a stretch to expect the Tigers to a be a perennial top-25 team within three years.
>> Want more Auburn hoops? Borzello breaks down Pearl's recruits