NIT will feature 30-second shot clock, four-foot restricted-area arc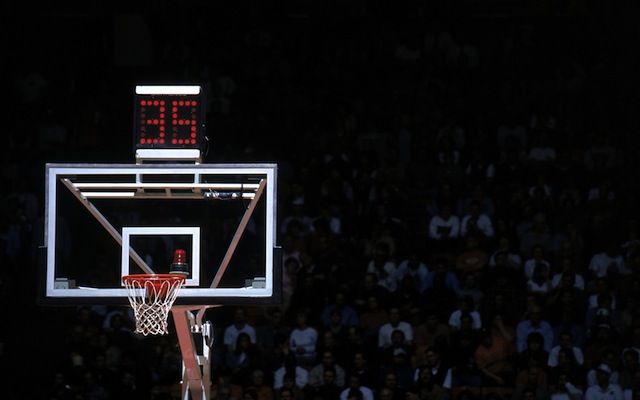 The NCAA announced Friday the men's 2015 postseason NIT will be played using experimental rules, including a 30-second shot clock and a four-foot restricted-area arc. The rules will be in effect for all 31 games of the tournament.
The shot clock in men's basketball has been at 35 seconds since the 1993-94 season. The restricted-area arc currently extends three feet from the center of the basket.
The restricted-area arc rule has been in place since the 2011-12 season. It stipulates a secondary defender cannot establish initial legal guarding position in the restricted area for the purpose of drawing a charge while defending a player who is in control of the ball -- either dribbling or shooting -- or who has released a pass or shot. When contact occurs within this restricted area under these circumstances, a blocking foul should be called unless the contact is a flagrant foul.
The 30-second shot clock being used in the NIT will show what effect it might have on the pace of play and scoring. The restricted-area arc being extended is an experiment in determining whether it will reduce the number of collisions under the basket.
"The committee discussed both of these potential rule changes during its May 2014 meeting, knowing that the May 2015 meeting would be the committee's next opportunity to make a change to either of these rules," said Rick Byrd, who is the coach at Belmont and chair of the NCAA men's basketball rules committee. "Although the committee will discuss a number of potential rules changes at the meeting, having specific data on these two rules should help the committee make a decision about whether such potential rule changes might further improve the flow and competitiveness of college basketball."