Nike EYBL Boo Williams recap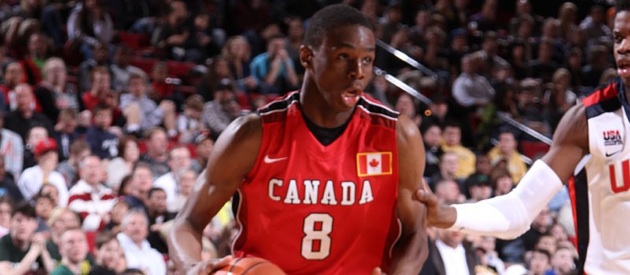 2014 prospect Andrew Wiggins might be the best player in all of high school basketball. (Five-Star Basketball)
HAMPTON, Va. – Arguably the best AAU event of the spring season occurs annually in Hampton, Va., at the Boo Williams Sportsplex. Formerly known as the Boo Williams Invitational, it has been part of the Nike EYBL series for the last two years – and is perfect due to its eight-court set-up. It's obviously completely loaded with talent, as 40 of the best U-17 AAU programs attend the event, as well as dozens of the best U-15 and U-16 Nike-affiliated teams. There was no championship, as that will take place at the Nike Peach Jam in July, but teams still battled to grab one of the 16 berths in North Augusta, S.C. Plenty of standout performers caught our eye, but here were the 10 best:
James Young, 2013, The Family: Young had a ton of buzz after a big first weekend in Minneapolis, and he showed why in Virginia. He's a big-time scorer who knocked down 3-pointers with consistency, and was a menace in transition because of his athleticism.
Andrew Wiggins, 2014, CIA Bounce: Wiggins might be the best player in high school basketball, regardless of class. He's head-and-shoulders above the rest of 2014, and his ceiling is through the roof. Wiggins has unbelievable athleticism and can knock down shots.
JaJuan Johnson, 2013, Bluff City Legends: Johnson was one of the breakout players of the weekend. He knocked down shots throughout the weekend, and his length and athleticism made him a factor off the dribble. He also forced turnovers defensively.
Sindarius Thornwell, 2013, Team United: Despite being only 6-foot-4, Thornwell does most of his damage within 10 feet. He is deadly in the mid-range and is extremely aggressive going to the rim. He can finish through contact, and has improved his perimeter stroke.
Jarquez Smith, 2013, Georgia Stars: Smith has all the tools to be a big-time prospect. He knocks down shots from the perimeter and is a matchup nightmare due to his 6-foot-9 stature. His length and athleticism make him a factor on the defensive end, and he can score inside as well.
Trevon Bluiett, 2014, Spiece Indy Heat: In a loaded game between Houston Hoops and Spiece Indy Heat, Bluiett stood out the most. At 6-foot-6, he proved to be a tough matchup for most opposing wings. Bluiett knocked down 3-pointers with consistency and also went off the dribble.
Jimmie Taylor, 2013, Alabama Challenge: Taylor didn't dominate, but his soft touch from the mid-range and the perimeter was impressive. The 6-foot-10 big man likes to face-up and hit tough shots in the lane. Taylor, a lefty, was also solid on the glass and defensively.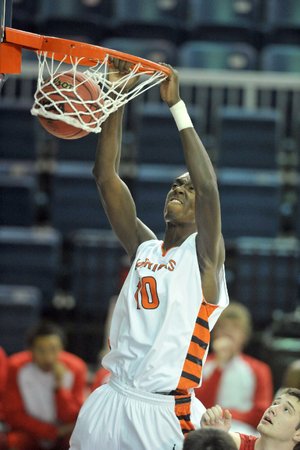 Arkansas commit Bobby Portis was one of the more impressive all-around players. (AR Preps)
Bobby Portis, 2013, Arkansas Wings: Portis was one of the more impressive all-around prospects we saw in the early stages of the weekend. He showed off a versatile offensive game, scoring in transition, off a jump hook, from the perimeter and off the dribble.
Duane Wilson, 2013, Wisconsin Playground Elite: Wilson is almost impossible to keep out of the lane with the dribble. He got to the rim at will throughout the weekend, blowing past his defender for finishes at the rim. He has great speed and gets from end-to-end quickly.
Jordan Matthews, 2013, California Supreme: He was overshadowed by Marcus Lee and Parker Jackson-Cartwright, but Matthews was a shot-maker all weekend for Supreme. The son of UCLA assistant coach Phil Matthews, he hit tough mid-range shots and was lights-out from behind the arc.
Other players worth noting: It's easy to see why Marcus Lee blew up last weekend. He's long, plays at both ends and has a ton of potential . . . Kendrick Nunn looked slimmer than the school season – and that was a good thing. He's still a knock-down shooter . . . Parker Jackson-Cartwright will certainly have limitations due to his 5-foot-8 size, but he hits mid-range shots and doesn't get fazed . . . 2014 point guard JaQuel Richmond is difficult to defend. He gets by defenders and can shoot . . . Theo Pinson continues to improve his all-around game, and is a top-five guy in the class . . . Because of his size and skillset, 6-foot-4 point guard Emmanuel Mudiay is a nightmare to guard . . . New York guard Jon Severe is an aggressive scorer . . . Still waiting for Shane Rector to develop a jump shot, but if he ever does, look out . . . Was very impressed with the aggressiveness of Anthony "Cat" Barber, and his ability to knock down shots has improved . . . We didn't see much perimeter game from Nick King, but he did plenty of damage going to the basket . . . The battle between Kennedy Meeks and Jahlil Okafor featured a couple of big bodies going at it. Meeks might have won the head-to-head matchup, but Okafor later broke a rim . . . Trey Lyles is unbelievably skilled for a 6-foot-10 sophomore . . . I like the way Bryson Scott has gotten better. He uses his body more effectively, and got to the rim . . . Reggie Cameron has improved his body and is still a very good 3-point shooter . . . Don't let Keith Frazier get his feet set. He has deep, deep range and is not afraid to shoot it . . . Stevie Clark's range is simply unbelievable for someone his size . . . Love E.C. Matthews' handle and ability to get into the lane . . . It wasn't the most impressive weekend for Jabari Bird, Jonathan Williams III or Troy Williams . . . The roles on Team Final seem to be undetermined, which is part of the season they are struggling, but Rondae Jefferson is still a nightmare to defend as a 6-foot-7 point forward . . . Julius Randle gets most of the attention for Team Texas Titans, but Damian Jones was a breakout player over the weekend. He is a very good shot blocker and is active down low.