Five-star James Young rises into top 10, likes Kentucky
HAMPTON, Va. – James Young was the talk of the recruiting world during the two live weekends in late April, standing out during both of the EYBL sessions in Minneapolis and Virginia.
Young averaged 18.7 points (sixth in the EYBL) and 8.0 rebounds (fourth) over the first nine games, helping lead The Family to a 7-2 record and a first-place spot in Division B.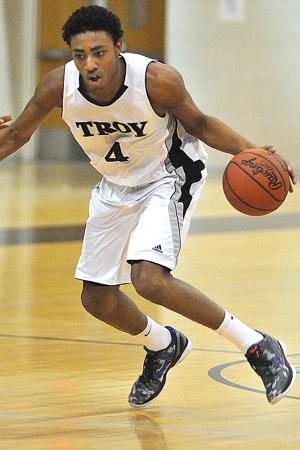 Five-star small forward James Young ascended into the top 10 in his class after his play in April. (NationOfBlue)
"The offseason was big for me," Young said. "I lifted weights, trained, got shots up. I'm doing alright. I'm passing the ball a lot, getting good looks."
Young, a 6-foot-6 small forward from Troy (Mich.), was ranked No. 15 in the country by CBSSports.com heading into the spring, but that is way too low after watching him in Virginia. He might rise to as high as No. 7 when the rankings are updated before the summer period.
The left-hander's athleticism is off the charts, and he's been very difficult to defend in a half-court setting as well. Young has been knocking down 3-pointers with consistency, and his ability to get to the rim or finish in transition is impressive.
"My strongest point is getting to the hole," he said. "Guys don't know how to guard left-handed."
In terms of recruiting, Young mentioned Kentucky, Michigan State, Ohio State and Providence. Kansas is also in the mix. Young said he wants to visit Kentucky and Ohio State during the summer.
As he has said in the past, Young named Kentucky as his favorite.
"I love their offensive system," he said. "[John] Calipari is a good coach. I like the way they play offense and defense; they get up and down the floor. It's a good educational school too."
Calipari was in the stands to watch some of Young's games last weekend at the Boo Williams Sportsplex.
"It means a lot, it's a blessing. Not every kid gets that," he said. "I watched them growing up. They like to win and that's something I like to do. I just always liked Kentucky."
On the other side, Michigan State is squarely in the running as well. The Spartans are close to home and will likely be under consideration for the duration of Young's recruitment.
There is certainly a pull to East Lansing from people around Young.
"A lot of my friends, family, they want me to stay home and attend Michigan State," he said. "But I don't know."
There is no timetable for a decision from Young.
"I'm keeping my options open."