St. John's lands senior Chris Obekpa, arguably best player left in 2012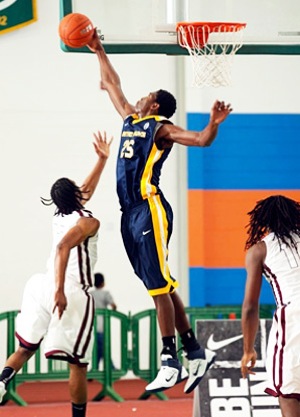 Chris Obekpa is one of the best shot-blockers in the class of 2012. (ESPN)
St. John's had one of the top recruiting classes in 2011, signing nine players to rebuild the Red Storm program. Their class for 2012 might not be as loaded, but it is deep and has several weapons.
On Monday, coach Steve Lavin added the missing piece to next season's roster when Chris Obekpa committed to the Red Storm after visiting the campus.
"Keeping my talent in the MECCA," Obekpa tweeted, along with a photo of him in a St. John's hat and T-shirt, in front of a "We Are St. John's" sign.
Obekpa, potentially the top-ranked player left on the board in the class, chose St. John's over Cincinnati, although Oregon, Providence, DePaul and Connecticut were also in the mix in the past few weeks.
The 6-foot-8 big man from Our Savior New American (N.Y.) is ranked No. 63 in the class of 2012 and will be an immediate impact player on the defensive end of the floor. Obekpa is a tremendous shot-blocker who uses his athleticism and length to be an absolute force in the paint. Offensively, he has improved his finishing around the basket and moves well.
"Chris plays every possession like it's his last," OSNA assistant coach Eric Jaklitsch told us in January. "He wants to get his triple-double."
Obekpa is the second top-100 player in the Red Storm's class, joining forward Jakarr Sampson. Guards Darrick Wood and Felix Balamou (Obekpa's teammate at OSNA) are also in the fold, as are junior college prospects Orlando Sanchez and Marco Bourgault. Transfers Jamal Branch (Texas A&M) and Max Hooper (Harvard) also pledged to the Red Storm.