Five-star 2014 prospect Jaquan Lyle diving into recruitment
CHARLOTTESVILLE, Va. – Last Friday marked the first day college coaches could send text messages to players in the classes of 2013 and 2014. Going into the period, Jaquan Lyle was expected to be one of the most-contacted players.
That expectation turned out to be true, as Lyle woke up on Friday morning with 27 texts from college coaches.
"It's crazy, but I'm blessed to be in this situation," Lyle said.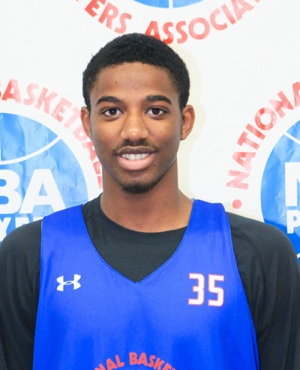 Talented prospect Jaquan Lyle is a five-star guard in the class of 2014. (Davide DePas)
Lyle, a 6-foot-4 guard from Bosse (Ind.), is ranked No. 14 in CBSSports.com's class of 2014 rankings. Not surprisingly, several schools are in pursuit of Lyle, with him specifically naming Louisville, Indiana, Purdue, Illinois, Xavier, Ohio State and Michigan State. Kansas State, UCLA, Butler, Kentucky and Kansas are also showing interest.
At the NBPA Top 100 camp, Lyle roomed with Louisville-commit Quentin Snider – and Snider and fellow Cardinal pledge Anton Gill didn't waste any time trying to woo Lyle to Louisville.
"When we were shooting around, they both were like, 'You better get on board or get run over," Lyle said. "It's a great school, coach [Rick] Pitino is a great coach. They get out and run and that's what I like to do."
His most recent offers were from Texas and Georgetown, both coming about two weeks ago. Lyle has a visit set for Tennessee, and he also wants to trip to Indiana, Purdue and Texas. The recent Longhorn offer was special.
"It's always been my dream school," Lyle said. "[Kevin] Durant, Damian James, D.J. Augustin. It's a great school."
Kentucky is also making a push for the five-star guard, as assistant Orlando Antigua contacted him last Friday, and head coach John Calipari called him earlier on Monday.
"Coach Orlando is a good dude," Lyle said. "Coach Calipari produces players."
While Lyle is clearly interested in many of his suitors, he's not ready to make any sort of decision. However, he does want to trim down his list in the coming weeks – if only to organize and simplify his recruitment.
"When I get home, I'm going to talk to my grandmother and my high school coach, and I'll tell some schools that I'm not interested," Lyle said. "I'm just taking my time, enjoying the process."
Lyle has plenty of potential. He has good size for his position, and is able to play both guard spots in the backcourt. Lyle creates opportunities for himself and teammates by getting into the lane, and he has good vision to dump it off or kick it out. His smooth demeanor on the court is also an asset.
In Virginia last weekend, Lyle showed a solid ability to play on or off the ball.
"It's a great camp," he said. "You have to play your 'A' game or you'll get exposed every game. I'm just going to play my game and show them."
Based on Lyle's phone log, college coaches are already convinced.