Notebook: Top-five 2014 Noah Vonleh keeping things open
With a strong upper body and a nose for the ball, 2014 prospect Noah Vonleh is one of the best rebounders in the country, regardless of class. To take his game to the next level, though, Vonleh is looking to expand his offensive repertoire.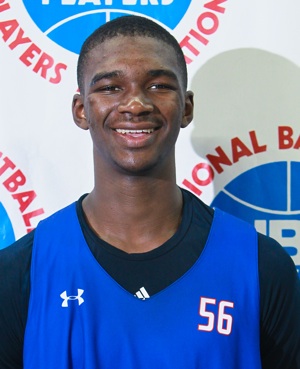 Noah Vonleh averaged 12.2 points and 6.5 rebounds at the NBPA Top 100 Camp two weeks ago. (Davide DePas)
The 6-foot-8 New Hampton Prep (N.H.) forward has been working on his perimeter game and ball-handling ability in an effort to become tougher to guard. It worked well at the NBPA Top 100 Camp, where Vonleh was one of the more impressive players, averaging 12.2 points and 6.5 rebounds. The NBA player he's looking to model his game after?
"Kevin Durant," Vonleh said. "He can score the ball and he can handle."
Vonleh, ranked No. 3 in the class of 2014, is hearing from Boston College, Providence, UCLA, Auburn, Syracuse, Pittsburgh, Arizona, Ohio State, Indiana, Connecticut and North Carolina.
He said Indiana, Ohio State, Boston College and Louisville were pursing him the hardest.
"Right now, I'm not making any visits," Vonleh said. "Just keeping it open."
Jackson-Cartwright handling recruiting process
Despite standing just 5-foot-8, 2014 prospect Parker Jackson-Cartwright is one of the best point guards in his class. He still finds ways to get into the lane and has an exceptional floater that he uses to finish over bigger players.
"I'm shorter, so I'm a little different than most other point guards," Jackson-Cartwright said. "But I'm pretty proud of my performance."
Ranked No. 19 in CBSSports.com's top 50, Jackson-Cartwright is hearing primarily from Arizona, Arizona State, San Diego State, USC and UCLA.
North Carolina State also checked in earlier this year, but overall it's been a relaxed recruitment focused mainly on the West coast.
"It hasn't been so hectic," Jackson-Cartwright said. "Academics are big in my family. I need a family-oriented team with a good coach."
News and Notes: Two highly-touted 2013 forwards trimmed their list this week. Jarrell Martin is down to 10: Alabama, Arizona, Kansas, Louisville, LSU, Oklahoma State, St. John's, Texas A&M, Tulane and UCLA. Rondae Jefferson has seven: Arizona, Florida, Memphis, Rutgers, Syracuse, Temple and Texas . . . Iowa State nabbed its second top-100 guard in as many weeks with the addition of Monte Morris . . . Two-sport star Drake Harris is headed to Michigan State to play football and basketball . . . Wisconsin picked up 2014 forward Ethan Happ . . . 2013 guard Rian Holland committed to Wichita State . . . Three-star prospect Steven Haney chose UCF . . . Mississippi State got a head start on the class of 2014, with guard Maurice Dunlap . . . Junior college forward Marcus Holt is off to Colorado State . . . Another junior college decision: Zach Reynolds to Northern Arizona . . . Jeremy Morgan committed to Northern Iowa . . . South Carolina State picked up 2012 guard Terrence Linton.