Notebook: Kennedy Meeks getting body in shape for summer
It's no secret that Kennedy Meeks is one of the top two or three centers in the class of 2013. But it's also not a secret that Meeks could be even more productive if he improved his body and was able to stay on the court for longer stretches.
Even Meeks knows that it's his biggest weakness.
"I'm working on my conditioning, been doing water aerobics and the bike," he said. "I just had been hearing so much about it."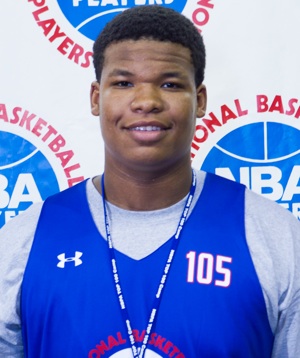 Once Kennedy Meeks improves his conditioning, he will be even more difficult to stop down low. (Davide DePas)
At 6-foot-8 and 297 pounds, Meeks is big enough to simply overpower smaller opponents in the post. But when he goes against players at the next level, he will need to rely on something else besides pure size.
"I prepare myself and I play hard," Meeks said. "I'm playing good, better than before."
Indiana offered Meeks recently, joining a long list of schools that includes North Carolina, Georgetown, Louisville, North Carolina State, Florida State, Florida, Maryland, Notre Dame, Pittsburgh, West Virginia, Boston College, Auburn, Tennessee, South Carolina and Xavier.
He said he wants to visit Georgetown, North Carolina, Louisville, Indiana and NC State.
"Probably in a couple of months," Meeks said. "I'll make a spring decision."
Jermaine Lawrence continues to raise stock
Talent was never an issue with Jermaine Lawrence. The skilled forward from New York has been touted for several years, but there always seemed to be something missing with his game.
If Lawrence could just bring effort every game, everyone knew he would be a highly-ranked prospect. And that's exactly what happened during the spring. Lawrence demonstrated a versatile and well-rounded game, and could move into five-star status when the 2013 rankings are updated next week.
"My shooting got better," he said. "I was just working out a lot, showing my skills."
Despite having a bone bruise and mild sprain in his right wrist at the NBPA Top 100 camp, Lawrence decided to fight through the injury and make an impact on the final day. That show of toughness certainly didn't slow down a recruitment that has continued to heat up in recent weeks.
A couple of weeks ago, Lawrence mentioned that Florida, Syracuse and Rutgers are doing a very good job with him, while he wants to visit the Scarlet Knights and UNLV later this summer.
Cincinnati, Baylor, Xavier, Kansas, Virginia Tech, Villanova, Connecticut, St. John's, Louisville and Hofstra have also each extended offers to Lawrence.
News and Notes: Top-10 prospect Anthony "Cat" Barber trimmed his list to Kansas, Alabama and Louisville . . . St. John's picked up a 2012 commitment from IMG Academies (Fla.) forward Christian Jones . . . 2014 guard Troy Spears has decommitted from New Mexico and reopened his recruitment . . . Major Canady committed to South Florida . . . Grant Evans committed to Wright State. He's a 2014 guard . . . 2013 point guard Zack Denny popped for Bowling Green . . . Reuben King is headed to Coastal Carolina . . . Cornell nabbed big man David Onuorah . . . UNC-Greensboro received a commitment from Randy White . . . Sources told CBSSports.com that Logan Hovey committed to Florida Gulf Coast.