Elite group separates itself at the top of 2013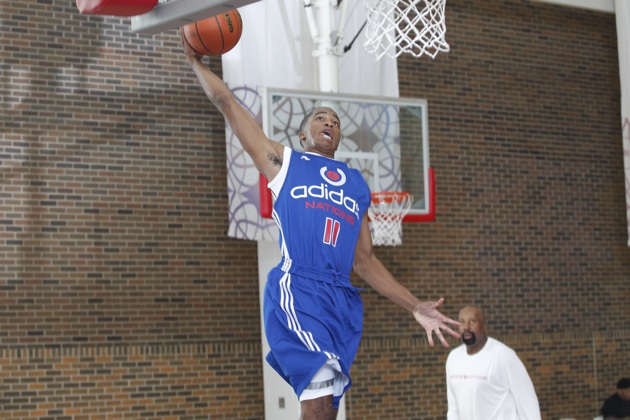 Montverde Academy (Fla.) product Kasey Hill is one of the best point guards in the class of 2013. (Adidas)
While Jabari Parker is more of a clear-cut No. 1 than Shabazz Muhammad was last summer, the dust is not completely settled at the top of 2013. Could Parker be passed for the top spot?
The CBSSports.com college basketball team is starting features on the top five players in the class Tuesday with James Young. We will count down from No. 5 to No. 1 the rest of the week.
The players:
In the class of 2013, an elite group of eight players have separated themselves from the pack. The aforementioned quintet comprises the top five heading into July, but who else can make a run at No. 1?
Kasey Hill, PG, 6'1, Montverde Academy (Fla.): One of the quickest players in the country, Hill can get by his defender as well as anyone in the country. He's difficult to contain off the dribble and is a dynamite playmaker.
Aaron Gordon, PF, 6'8, Archbishop Mitty (Calif.): Gordon missed some of the spring AAU and camp scene with an injury, but his work ethic and energy make him a factor. When healthy, Gordon can dominate inside.
Chris Walker, PF, 6'10, Holmes County (Fla.): Given his size and skillset, Walker is a future lottery pick. He runs the floor like a gazelle and is a matchup nightmare. If he brings consistent effort, he's sure to rise up the rankings.
Second tier:
Anthony "Cat" Barber, PG, 6'2, Hampton (Va.): Had a tremendous spring; aggressiveness and quickness are terrific.
Jarrell Martin, PF, 6'8, Madison Prep (La.): Rose up the charts after starring in camp formats; can do a little of everything.
Keith Frazier, SG, 6'5, Kimball (Tex.): Might have the deepest range and can get hot in a hurry. Simply a big-time scorer.
Bobby Portis, PF, 6'9, Hall (Ark.): Combination of size and athleticism is tough; great rebounder and inside-out scorer.
Jermaine Lawrence, PF, 6'9, Pope John XXIII (N.J.): Finally brought 100 percent effort every game; skilled offensive player.