Devin Williams continues to work on offensive game
INDIANAPOLIS – With his developed upper body and tremendous strength, rising senior Devin Williams is a load to handle for most opponents.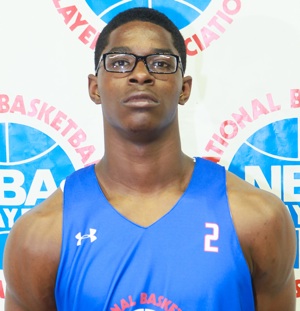 Four-star forward Devin Williams is ranked No. 82 in the class of 2013. (Davide DePas)
Because of Williams' somewhat raw offensive game, though, there was a question on how well he would do against players with similar size and talent. He answered many of those with his play at the NBPA Top 100 Camp and Adidas Invitational, finishing inside and controlling the glass.
"I've been playing well, competing with the top recruits in the country," Williams said. "I've been competing every time I come out, rebounding. I've had good evaluations my past few events."
Offensively, Williams still lacks a wide array of back-to-the-basket moves, but he has a good motor and outworks opponents in the paint. His strength is enough to overpower players and get second chance opportunities and putbacks. He continues to work on his scoring ability.
"I played well, but I could have played better," Williams said. "Coming off the camps, I'm a little bit tired. But I'm going to start picking it up."
Williams, a 6-foot-8 power forward from Ohio, is headed to Montverde Academy (Fla.) next year. Beyond that, though, the big man is still uncommitted. Virginia Tech, Ohio State, Xavier, UCLA, USC, Louisville and Seton Hall are all in hot pursuit.
"All of those schools text me almost everyday," Williams said.
He wants to visit Ohio State and Xavier before the school season starts in the fall.
"I want to just be happy and get developed," Williams said. "Some place I can play and fit in."
He is ranked No. 82 in the class of 2013.