USC gets another commitment: Top-100 swingman Roschon Prince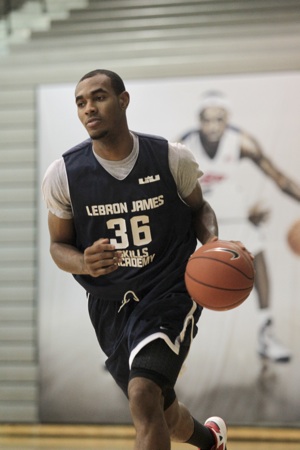 Roschon Prince is one of the more aggressive scoring wings from the West coast. (Nike)
It's been a tremendous couple of weeks for USC and its 2013 recruiting class.
It started a week and a half ago, when scoring guard Kahlil Dukes pledged to the Trojans. On Saturday, coach Kevin O'Neill nabbed his point guard of the future with four-star prospect Kendal Harris.
Turns out, though, O'Neill was saving his best for last. Tuesday afternoon, the Trojans accepted a commitment from top-100 swingman Roschon Prince.
"Just committed to USC," Prince tweeted. "#fighton."
Prince took a trip to USC in June, and previously visited Oregon, Washington and San Diego State. Arizona and Arizona State were under consideration down the stretch, while Colorado, Miami (Fl.) and Gonzaga were also in the mix at one point.
Prince, a 6-foot-6 scorer from Poly (Calif.), is ranked No. 97 in the class of 2013 by CBSSports.com. He can get to the rim and knows how to finish in a variety of ways, through defenders and absorbing contact. He attacks the basket effectively, and stays composed. Moreover, due to his strength, Prince is a solid defender.
During 20 EYBL games with ICP Elite this spring and summer, Prince was one of the best all-around players. He averaged 16.0 points, 5.4 rebounds and 2.5 assists.
With multiple seniors on this year's roster, O'Neill will be counting upon the 2013 class to make an immediate impact in two seasons. Harris and Prince have the ability to play major minutes right off the bat, while Dukes can provide scoring punch off the bench. USC isn't done yet, either. The Trojans still have multiple scholarships left to give, and some holes on the inside to fill.