Markel Crawford decides to stay home, commits to Memphis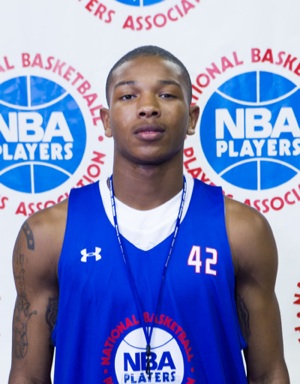 Markel Crawford is Memphis' first recruit in the class of 2013. (Davide DePas)
With all the talent in the city of Memphis nowadays, Josh Pastner's Tigers merely need to keep a couple prospects home each year in order to field an excellent recruiting class.
Pastner is off to a good start, as Markel Crawford committed to Memphis on Wednesday.
"Basically I was just praying, and God told me what to do when I woke up this morning," Crawford told the Memphis Commercial Appeal, which first reported the commitment. "[Assistant coach Damon Stoudamire] had a whole [to do with the commitment]. He showed great support and he was on me the whole time."
Crawford, a 6-foot-4 guard from Melrose (Tenn.), was ranked No. 83 in CBSSports.com's Top 100 heading into the summer. While he can score effectively, it was his defense that stood out during the spring. Crawford plays aggressively at that end of the floor, forcing turnovers and deflections, and turning those into transition opportunities.
He suffered a knee injury during the July evaluation period, missing the final session of the month. It was revealed last week that the injury was a torn ACL, and Crawford will miss several months.
Crawford chose the Tigers over Tennessee, Florida State, Mississippi, Arkansas, Auburn and others. He is Memphis' first commit in the class of 2013, although there are five other in-state prospects in the top 100 with which Memphis is involved.