Jay Henderson spends summer making his own reputation
Playing alongside Joel Berry in the backcourt at Lake Highland Prep (Fla.) could be a blessing or a curse for Jay Henderson. On one hand, Berry attracts media and college attention to the games. On the other, Henderson might have trouble getting noticed while standing in the shadow of Berry.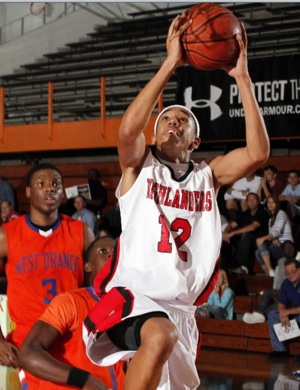 Playing without Joel Berry, Jay Henderson boosted his stock over the spring and summer. (Provided to CBSSports.com)
For Henderson, though, he loves lining up next to the five-star Berry at the guard position.
"When Joel brings in big schools to our games or practices, I make sure I'm on my game to make a good impression on them," Henderson said.
This spring and summer, though, Henderson was on his own. Playing for Nike Team Florida in the EYBL – Berry was on Each 1 Teach 1 – Henderson started 16 games, carving out a niche without his high school backcourt mate.
The 6-foot-4 junior was aggressive offensively, looking to create shots for himself and his teammates. Henderson feels he brings a lot to the table – from shooting and defense to basketball IQ, work ethic and coachability.
Plenty of colleges noticed his increased confidence.
"I think [my stock] rose a lot," Henderson said. "I played against a lot of top players in the country and I held my own against them."
After a successful summer, Henderson holds offers from Florida State, Memphis, Mississippi State, Stanford, Murray State, Seton Hall, Purdue, Saint Joseph's and George Mason. He also has interest coming from Florida , Miami (Fl.) , UNLV, Colorado and St. John's .
Henderson said he has no favorites and everyone is coming at him equally hard.
"I'm open to all my options right now," he said, "as long as they have good academics, a stable coaching staff and I can have a good playing career."