Recruiting roundup: Nearing the finish line for top two prospects?
The world of recruiting takes a back seat to the NCAA tournament when March rolls around, but as we know, the world of recruiting never sleeps. Plenty has happened since Selection Sunday, so let's play catchup.
Noel trims list to three
Nerlens Noel, the nation's No. 1-ranked prospect in the class of 2012, told Scout.com that he is down to three schools: Kentucky, Syracuse and Georgetown. He visited Georgetown last week, and the Hoyas remain squarely in the mix. Both Kentucky and Syracuse are schedule to have in-home visits with Noel this week. The Wildcats are in on Monday, and the Orange will visit on Wednesday. He also said he would likely make his decision in the next few weeks.
Muhammad sets timeline
Shabazz Muhammad, who was ranked at the top of his class prior to Noel reclassifying, has planned an official visit to UCLA for the first week of April. SNY.tv reported that Muhammad would then decide after his visit. The Bruins have been thought of as one of the frontrunners throughout his recruitment, with Kentucky in there as well. UNLV, Duke, Arizona and Kansas are also in pursuit.
Red Storm reel in two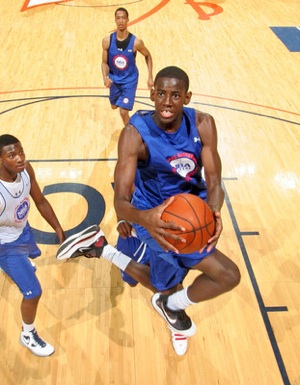 St. John's picked up a big piece for 2012 when JaKarr Sampson recommitted to the Red Storm.(NBA Camp)
St. John's has plenty of scholarships available for next season, especially after freshman Moe Harkless declared for the NBA draft on Monday afternoon. Fortunately, the Red Storm began restocking the roster last week, nabbing commitments from top-50 forward JaKarr Sampson and athletic wing Felix Balamou. Sampson has the ability to start immediately for Steve Lavin, while Balamou is developing. Lavin would like to get five recruits in the class.
Harvard breaks through with top-100 recruit
Right before Harvard heard its name chosen in the NCAA tournament for the first time since 1947, the Crimson also received some great news on the recruiting front. Zena Edosomwan, a top-100 forward from California, committed to Harvard for 2013. He was originally in the class of 2012, but decided on Selection Sunday that he would reclassify to the class of 2013. Harvard has made great inroads in terms of high-level prospects, but Edosomwan might be the best so far.
Commitments:
Corey Heyward, Georgia Tech
Marshall Henderson, Ole Miss
Jason Carter, Ole Miss
DeAndre Burnett, Miami (Fl.) (2013)
Julian Jacobs, Utah (2013)
Bryan Harris, Duquesne
Brenton Scott, Indiana State
Avery Holmes, San Francisco
Donte Pretlow, Morgan State
Kayel Locke, UNC-Greensboro
Kori Babineaux, Drake
Jake Bittle, South Dakota State
Brandon McDonnell, Dartmouth
Quadir Walton, St. Peter's (2013)
Trey Dickerson, Seattle
Decommitments:
Josh Gray, Mississippi State
Larry Lewis, USC (2013)
Coaches leaving, recruits leaving?
With the coaching carousel picking up the past couple of weeks, we could see several recruits reopen their recruitments and look at some other options. Here are some of the higher-profile vacancies that could lead to decommitments:
Illinois: Michael Orris, Jalen James (2013), Malcolm Hill (2013)
Mississippi State: Fred Thomas, Craig Sword, Gavin Ware, P.J. Hardwick
South Carolina: Tyrone Haughton
Nebraska: Shavon Shields, Benny Parker, Keith Coleman, Jerran Young, Fahro Alihodzic
Rhode Island: Jordan Hare
SMU: Blaise Mbargorba, Brian Bernardi, Uche Ofoegbu
Southern Illinois: Bobo Drummond, Travis Wilkins
Tulsa: James Woodard, D'Andre Wright, Zeldric King
UAB: Cameron Golden, Chris Jones, Jerome Harris