Nerlens Noel, nation's No. 1 prospect, commits to Kentucky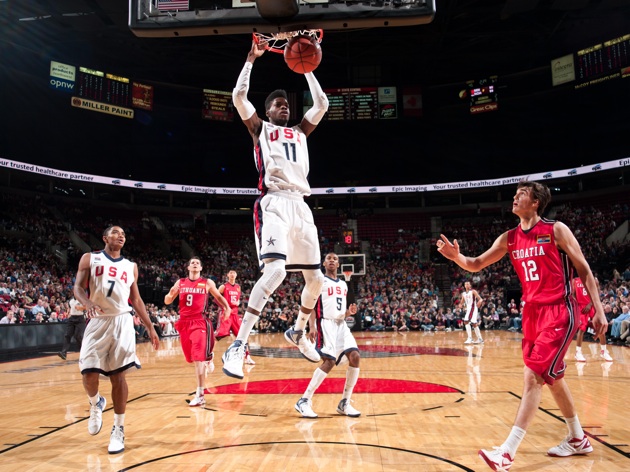 Nerlens Noel, the No. 1-ranked prospect in 2012, announced his commitment to Kentucky. (NBA)
Nerlens Noel turned the recruiting world upside-down on February 1, when he announced he was moving out of the junior class and reclassifying to 2012. Noel has jammed a full recruitment into 10 weeks, culminating on Wednesday night.
Noel said via Twitter on Monday that he was going to shock the world with his commitment.
It wasn't a shock, per se, but Noel did surprise some by getting a logo cut into his hair. It was the UK of Kentucky.
"I'll be taking my talents to...," he said in an announcement on ESPNU, before turning around his head and revealing the UK.

RELATED: No. 2-ranked prospect Shabazz Muhammad picks UCLA
RELATED: Who else is left on the board?
Georgetown and Syracuse were the other finalists for Noel, who had also considered Providence, Florida, Connecticut and North Carolina in the early stages of his recruitment. Syracuse had been involved the longest, while Georgetown had all the buzz over the final 24 hours.
Noel, a 6-foot-10 center from Tilton (N.H.), immediately became the nation's No. 1 player when he reclassified to 2012. He had been behind Jabari Parker in 2013, but only Shabazz Muhammad even came close in the senior class. Noel is already being projected as the No. 1 pick in the 2013 NBA draft.
Defensively, Noel is one of the best prospects to come across the landscape in recent memory. He's a tremendous shot-blocker who changes games with his length and ability to alter shots. Noel is also capable of blocking shots with both hands, making him difficult to shoot over. He has also improved his offensive game over the past year, developing an ability to make passes out of the post or go off the dribble and finish at the rim.
Kentucky likely now has the No. 1 class in the country, adding Noel to a group that also has five-star prospects Archie Goodwin and Alex Poythress, as well as top-40 big man Willie Cauley.