Top-five junior Chris Walker aiming for No. 1 in class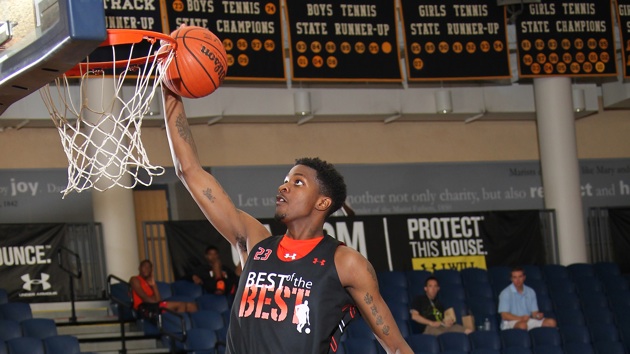 Top-five 2013 prospect Chris Walker wants to finish as the No. 1 player in the class. (Five-Star Basketball)
Ranked in the top six or seven by nearly every recruiting outlet, Chris Walker is clearly one of the most talented players in the class of 2013. He's not content with his current standing, though.
Walker, a 6-foot-10 power forward from Holmes County (Fla.), wants to move up a few spots – to the top of the rankings.
"I think I will be number one by the end of this summer," Walker said. "I'm going to play harder than everybody on the court. I'm going to go out with a blast. After this last AAU season, Chris Walker is going to be a household name."
It might be already -- he's ranked No. 5 in the new CBSSports.com's Top 100.
Walker has tremendous potential because of his size, athleticism and skill set. His ability to run the floor and make plays in transition is exceptional for someone at his height. He has the ability to face-up and knock down short jumpers, and also is improving his ability to take defenders off the dribble. Defensively, he blocks shots and rebounds effectively.
During the school season, Walker said he averaged 32 points, 15 rebounds, six blocks and three assists. He said he has improved his jumper, adding another dimension to his offensive game, but there's one main thing he's looking to bring into his repertoire: muscle.
"The main is strength," Walker said. "The second is strength. And the third thing is strength."

MORE: Updated Top 100 for the class of 2013
On the recruiting front, six schools are standing out for Walker: Kentucky, Ohio State, Florida, Kansas, Syracuse and Baylor. The only school in that group not to extend an offer has been Kentucky, although he said that he "loved" that the Wildcats won a national championship. Walker has taken one unofficial visit so far, to Kansas.
Walker isn't looking to make a decision anytime soon, hoping to take trips to all the schools before he makes a choice. However, he has thought about each of the six schools and knows what he likes about each one.
Kentucky: "How [John] Calipari puts people into the pros."
Kansas: "The pick and roll scenario."
Baylor: "How coach [Scott} Drew lets his players play one-on-one."
Ohio State: "How the post gets ball first."
Syracuse: "The zone."
Florida: "How me and coach [Billy] Donovan's relationship is."
Overall, Walker is looking for a nice balance in his future destination.
"Great relationship, great fanbase, great academics," Walker said. "And a school that's used to winning."
With no visits on the horizon, and a decision at least several months away, Walker is ready to focus on the AAU circuit. He will suit up for the Florida Rams, and is hoping to play well enough to end up on top of the rankings.
In general, Walker is just looking to have fun over the next few months.
"I just want to go out there and keep a smile on my face whether I'm playing good or bad," he said.