Top-five sophomore Jahlil Okafor standing out down low
HAMPTON, Va. – Against the St. Louis Eagles on the final day of the EYBL Boo Williams event, Mac Irvin Fire big man Jahlil Okafor landed very strangely after going for a rebound.
The entire crowd of coaches watching the game went eerily silent.
"I just slipped, it felt awkward," Okafor said afterward. "But I'm OK."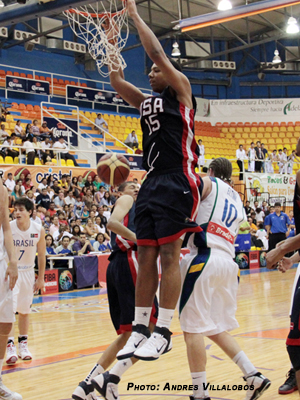 Sophomore big man Jahlil Okafor is shooting 70.5 percent from the field through nine EYBL games. (USA Basketball)
Okafor was better than OK, finishing with 12 points and five boards in just 18 minutes of playing time. Overall, Okafor is shooting 70.5 percent from the field through nine games, dominating the interior against all foes.
Ranked No. 2 in the class of 2014 heading into the spring, Okafor is looking to make a statement.
"I think I'm one of the top players in my class," he said. "My goal is to be better than everyone."
Okafor, a 6-foot-9 center from Whitney Young (Ill.), has tremendous hands and is adept at finishing down low. He does need to become more aggressive with his back to the basket, but he has a good set of post moves and simply overpowers many defenders.
There are a ton of high-level prospects coming out of Chicago in 2013 and 2014, so Okafor is simply trying to find ways to contribute.
"I made a few adjustments from high school," he said. "I'm surrounded by a lot of great players. I'm just looking to play my role."
Okafor is hearing from a long list of colleges, with North Carolina, Duke, Connecticut, Georgetown, Michigan State, Ohio State, Illinois, DePaul, Arizona, North Carolina State, Arkansas and others offering a scholarship. Kentucky is also showing interest.
He has taken trips to Ohio State, Duke, North Carolina, North Carolina State and Arizona.
"I'm looking for a place that has good players. I want to win a lot of games," Okafor said. "And my focus is on education."
While there are no favorites right now, he said Duke, Michigan State, Ohio State and Arizona are coming at him the hardest.
"I'll probably cut it down next year," Okafor said.