SI puts Jabari Parker on cover, calls him best HS player since LeBron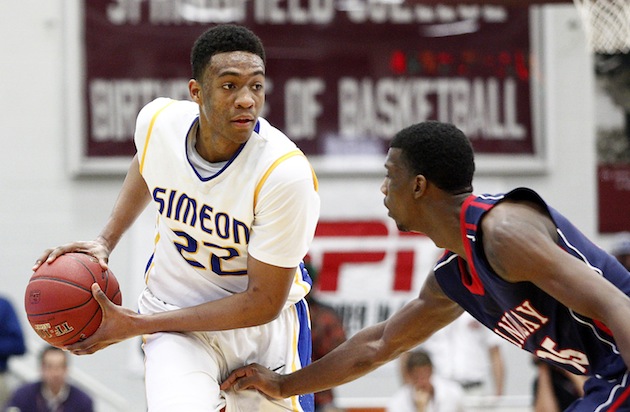 Sports Illustrated called Jabari Parker "the best high school basketball player since LeBron James." (US Presswire)
As the No. 1 player in the class of 2013, Jabari Parker is in some good company.
But he took that to a new level this week when Sports Illustrated put Parker on its cover and anointed him as the "best high school basketball player since LeBron James."
The last high school athlete on the cover of Sports Illustrated was Bryce Harper, while the last player SI compared to James was Demetrius Walker. Clearly, there are some mixed results. Overall, though, very few high school basketball players have graced the cover: Sebastian Telfair; Richie Parker (after being charged with sexual assault); Kevin Garnett (right before he was selected in the NBA draft); Tom McMillen; and Rick Mount.
Whether he lives up to the hype won't be decided for several years, but is the cover completely on point? Is Parker the best high school basketball player since LeBron?
First, it's hard to judge players in the past recruiting classes because we have professional careers to cloud our judgment. Since LeBron was the consensus top player in the class of 2003, only two players have held the same title. Dwight Howard was the top player in 2004, while Greg Oden led the way in the class of 2006. In the last six classes, there has not been one player who finished No. 1 in the rankings at Rivals.com, Scout.com and ESPN.com.
Is Parker better than Oden was in high school? That's a difficult comparison to make, of course, as is comparing Parker to any other prospect he never played against.
However, here's the problem with the Sports Illustrated cover and declaration: he's not even the best high school basketball player right now. Andrew Wiggins, the No. 1 player in the class of 2014, is better suited to wear the "next LeBron" hat. The Canadian forward has a ceiling that is out of this world, as he continues to expand his game and utilize his unbelievable athleticism in different ways.
There are rumors that Wiggins might reclassify to the class of 2013; if he does, I would guess that most of the major services and rankings would put him No. 1 ahead of Parker. As a result, it's difficult for me to agree with Parker being the best since LeBron.
Would Parker be in the conversation for top three since LeBron? Without a doubt. He has won state titles, individual awards, the Gatorade National Player of the Year as a junior, USA Men's Basketball Athlete of the Year. The list goes on and on. There is a case to be made for him – in the top three.
With that said, however, if Parker isn't the best high school basketball player right now, it's tough to call him the best since LeBron.