Now in 2013, Wayne Selden turns eye toward recruitment
Wayne Selden made headlines in early June when he announced that he was reclassifying back to the class of 2013, his original graduating class. Selden was ranked No. 7 overall in 2014, but schools suddenly needed to turn up the heat on his recruitment.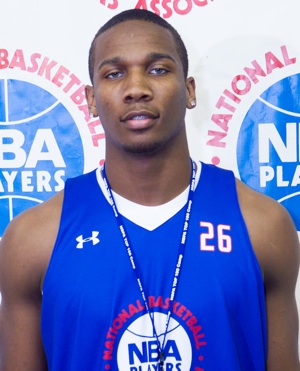 Wayne Selden is still a top-20 player in the class of 2013 after reclassifying. (Davide DePas)
Selden has no reservations or regrets about his decision to go back to 2013.
"I'm physically ready and my grades are good," he said. "I'm physically ready for the college level."
At a strong 215 pounds, his physicality and athleticism was never a question. Selden overpowered most players in his class with his natural talents, and it will be interesting to see if that changes at all with the move. The 6-foot-5 prospect from Tilton (N.H.) has been working on his point guard skills in an attempt to develop a more well-rounded offensive game.
As far as academics, Selden was ahead of most people in his 2014 graduating class, as he had been taking high school classes since eighth grade. Selden had been a member of 2013, but he repeated ninth grade at Tilton because he didn't know how he was going to adjust academically.
With the move complete, it's time for Selden to start thinking about colleges. Ohio State, Florida, Harvard, UCLA, Kansas, Connecticut and Missouri are all coming at him hard.
"I'm still wide open," he said. "It's going to come down to where I feel comfortable."
Kentucky has often been mentioned with Selden, but he said he has never talked to coach John Calipari and doesn't have much contact with the Wildcats. Selden's high school and AAU teammate, Nerlens Noel, is headed to Lexington next season, but that won't much of a factor on Selden's decision.
"Kentucky is going to be Kentucky, regardless of who goes there," Selden said.
Expect Selden to wait until the fall to make a decision.