Adidas Invitational: Day One Recap
INDIANAPOLIS – With his Atlanta Celtics up by eight with fewer than 15 seconds left, Tim Quarterman could have let Mass Rivals score and it wouldn't have made a difference in the result of the game.
But that's not Quarterman's style. Instead, he stole the ball from Noah Vonleh and ran the clock out himself. It wasn't a major turning point in the game, but it was indicative of the way Quarterman operates on the court.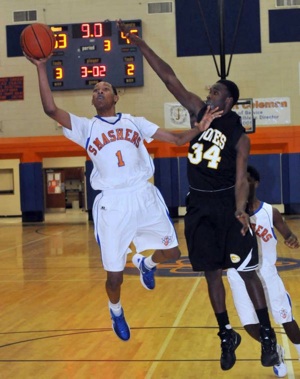 Athletic 2013 wing Tim Quarterman reminds some of lottery pick Jeremy Lamb. (Savannah Now)
"Our coach believes in defense, so I tried to pick it up," Quarterman said after the game. "I wanted to turn it up a little bit."
Quarterman, a 6-foot-5 shooting guard from Johnson (Ga.), was one of the more impressive players on the first day of the Adidas Invitational. He was active at both ends of the floor, using his length and athleticism to force turnovers as well as get out in transition.
Because of his body and stature, Quarterman is compared by some to Jeremy Lamb, the Georgia native who blew up before his senior season and went on to become a lottery pick out of Connecticut.
"It's a great comparison, he's a great player," Quarterman said. "He's got good leadership, and I like to lead my team."
Quarterman is hearing from a number of schools, including George Mason, Georgia, Georgia Tech, Miami (Fl.), Wake Forest, Missisisppi State, Murray State, Oklahoma, Massachusetts, Florida and Florida State.
He has taken trips to Georgia and Georgia Tech, but hopes to make more visits in August.
Top Performers
Solomon Poole, 2013, Atlanta Celtics: The future Georgia Tech guard can really fill it up when he gets going. He was aggressive going to the rim, and was also able to knock down pull-up jumpers and shots from behind the arc. His athleticism sets him apart from his peers.
Tim Quarterman, 2013, Atlanta Celtics: As mentioned above, Quarterman made plays at both ends of the floor. He was extremely active defensively and in the passing lanes, and he also showed an ability to handle the ball and create players for others if needed.
Noah Vonleh, 2014, Mass Rivals: It wasn't Vonleh's best effort, but he still showed why he is such a highly-touted prospect. The combo forward has expanded his perimeter game and ball-handling ability, but he did settle for too many outside jumpers. In general, Vonleh is a matchup nightmare.
Mark Donnal, 2013, Indiana Elite South: The Michigan-bound big man is known for his inside-outside ability on the offensive end. On Wednesday, however, Donnal did a very good job of getting second chances on the offensive glass and converting putbacks. Uses his body well.
Ahmaad Rorie, 2014, Team Bradley Northwest Panthers: Rorie committed early to California this spring, and it's easy to see why the Golden Bears jumped on him early. The 6-foot-1 guard is an aggressive player who loves to take the ball to the rim. He absorbs contact and can finish.
Tre'shaun Lexing, 2013, Team Bradley Northwest Panthers: Lexing proved to be a matchup problem on Wednesday, as the 6-foot-6 lefty showed an ability to pull-up and knock down 3-pointers, or take defenders off the dribble to the basket. Showed solid ball-handling ability.
News and Notes: The Atlanta Celtics have a potential football stud in Johnathan Howard. He's extremely athletic, but is likely to play solely on the gridiron in college . . . Reginald Singletary woke the entire gym up during the last game session with a thunderous dunk . . . If Emmanuel Eze-Chinoso can develop some offensive moves, he can be tough. He's 6-foot-11 and moves well up the floor . . . Andrew Dakich looks more like a lacrosse player, but he's a smart point guard who makes the right play offensively . . . It wasn't Kahlil Dukes' best game for CBC, but he showed an ability to play both guard spots . . . David Crisp isn't the quickest of guards, but he has a strong body and can finish with contact . . . Mass Rivals have two big men with great potential in Matt Cimino and Jeremy Miller. Cimino struggled to get anything going on Wednesday, while Miller just needs to bring consistent production . . . Former Florida Rams guard Brannen Greene, a Kansas commit, played for Atlanta Celtics.