Nick King fighting through injuries and frustrations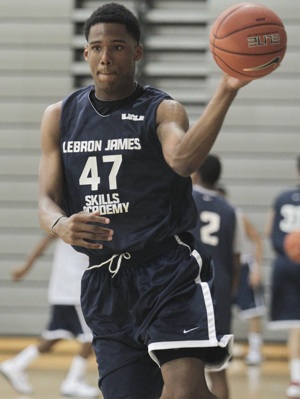 Five-star forward Nick King has been limited throughout the spring and summer by injuries. (Nike)
NORTH AUGUSTA, S.C. – It hasn't been an easy spring and summer for Nick King.
The No. 14-ranked player in the class of 2013 struggled in April, as his Bluff City Legends AAU team went 0-5 to start the EYBL. During that weekend, King turned an ankle and averaged fewer than 10 points per game.
Once healthy, he started producing during the spring – and then injured his knee. King seemed to be getting his groove back earlier this month, putting up consistent double-doubles during Nike events in Washington D.C. last week.
That didn't last long, either, though, as King suffered a concussion when he was elbowed in the head going up for a rebound.
"It's been crazy," he said. "I got my rhythm going last week, but then I got a concussion. I can't find my rhythm. My head is spinning."
King clearly hasn't been himself this week at the Peach Jam, shooting just 2-for-13 and finishing with six points and six rebounds in a 15-point loss to CP3 All-Stars on Thursday night. King said it was the worst game he's ever played.
Because of the concussion, Bluff City Legends coach DuJuan Taylor didn't even want King to play this week.
"We came back Monday, and I had to sit two days for the doctors," King said. "I hadn't touched a ball until the first game here.
"I'm frustrated. I was talking to myself: just stay focused. So much frustration."
His recent struggles haven't slowed his recruitment, as King named a top four of Tennessee, Memphis, Texas and Vanderbilt. He is looking for a fifth school to round out his top five, with Arkansas, North Carolina, Georgetown, LSU and others showing interest.
Don't expect a decision anytime soon from King.
"Next spring," he said.