Notebook: Brandon Austin reassesses recruitment after decommitment
LAS VEGAS – Brandon Austin made waves right after the second evaluation period in July ended, announcing his decommitment from Penn State – one day before the football program was hit with unprecedented sanctions.
Austin, though, has maintained the NCAA's punishment didn't affect his decision.
"I just wanted to take my time," he said.
UCLA, Ohio State, Baylor, Florida, Temple, Rutgers, Georgetown, Xavier and Kentucky have all reached out to Austin since his decommitment. After a stellar spring and summer, Austin's stock has continued to rise.
"I've just been more aggressive," he said.
Austin, a versatile 6-foot-6 small forward from Imhotep Charter (Pa.), is ranked No. 71 in the class of 2013.
Kyle Davis brings nonstop energy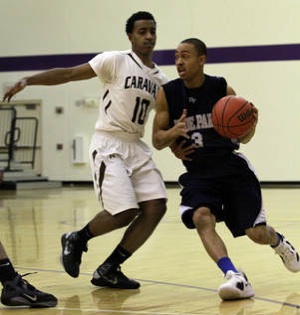 Kyle Davis' energy and athleticism has opened eyes. (Chicago Sun Times)
The U-17 group in the Mac Irvin Fire program is clearly highlighted by Jahlil Okafor, the No. 2-ranked player in 2014. DePaul-commit Billy Garrett Jr. and four-star center Tommy Hamilton also get plenty of praise.
It's Kyle Davis, though, who seems to make plays no matter the opponent or score margin. The 6-foot-2 guard is relentless in transition and has tremendous athleticism.
Right now, he lists six schools: LSU, Northwestern, Marquette, Dayton, Nebraska and Virginia Tech.
Dayton is coming at Davis the hardest, he said.
Potential sleeper emerges in Justin Tillman
As the day wound down in Las Vegas last week, Gary Parrish and I were taking in a relatively quiet game at Bishop Gorman (Nev.). Most coaches had already left, and we weren't paying much attention – until one player began putting on a dunk show and waking people up with his outstanding transition play.
Parrish asked if I knew who he was – and I'll be honest, I had no idea. It turned out to be Justin Tillman, a 6-foot-7 forward from Pershing (Mich.) who runs with the REACH Legends on the AAU circuit.
Right now, Tillman only holds offers from Oakland and Detroit.
Expect that to change in the coming weeks, though, as Xavier, Iowa State, DePaul, Tennessee, Michigan State and Indiana have all shown varying levels of interest.