Former 2012 UTEP commit Anthony January sees plenty of new interest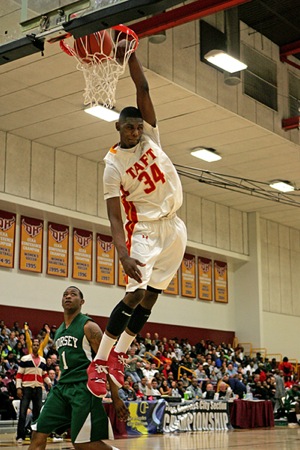 When he plays to his potential, Anthony January is extremely difficult to defend. (LA Sentinel)
LAS VEGAS – Anthony January was busy in the spring, decommitting from UTEP and reclassifying into the class of 2013. Since opening his recruitment, though, January has been pretty quiet.
During July, January made an impact with the Dream Vision AAU team alongside five-star rising senior Isaac Hamilton. His athleticism and scoring ability were on display throughout the AAU circuit.
"I've been playing real good," January said. "I'm getting better at everything, running up and down. I can play big, inside-outside, make plays."
Talent-wise, the 6-foot-7 January has the potential to be among the top players at his position. He can score in so many different ways, and creates matchup problems with his length and ability to finish at the rim.
Consistency and maturity have been the issues with January.
"I feel like I'm doing a little better. I don't pay attention [to rankings]," he said. "I'm trying to get to the highest level possible, taking every step."
Since decommitting, January has heard from a long list of schools. USC, Long Beach State, Memphis, UNLV, Kansas, Oregon, Oregon State, Florida, Utah are all showing varying levels of interest, with UTEP also still in the mix.
He has no favorites.
"Location-wise, the Pac-12 would be great," January said. "But I have to go wherever fits me."