2014 big man Payton Dastrup brings inside-outside game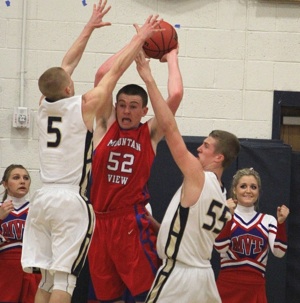 Payton Dastrup's perimeter shooting touch makes him a difficult matchup for most opponents. (AFN)
LAS VEGAS – At 6-foot-9 with excellent touch, 2014 prospect Payton Dastrup is known more as a finesse big man than one who can bang with opponents in the paint.
As a result, his battle with Jahlil Okafor – arguably the best low-post prospect regardless of class – was undoubtedly intriguing. Dastrup's Arizona Select team took the loss, but he was able to get his own shot and didn't get dominated defensively.
"I took all the time I needed to prepare," Dastrup said. "I need to work on my footspeed and back to the basket moves to catch up [with Okafor]."
For now, Dastrup's ability to step out and knock down shots creates numerous matchup problems for opponents, while he is also highly effective along the baseline and in the mid-range area. He is also not afraid of contact and can finish at the rim.
Most of the Pac-12 is interested, along with Utah State, BYU , UC-Davis , Kansas, Oklahoma, Texas Tech, Oklahoma State, Michigan, Virginia, Florida, Boston College and Georgetown.
While Utah , USC and Stanford are coming at him hard, Arizona State and Arizona – the in-state schools – are making the most progress so far.
"I'm more familiar with their campuses," Dastrup said.
The Mountain View (Ariz.) product is ranked No. 36 in the class of 2014.