Four-star guard Kendal Harris commits to USC
The return of Jio Fontan is one of the major reasons for excitement at Southern California this season, as his preseason injury a season ago spiraled the Trojans into a 6-26 campaign – with just one Pac-12 win.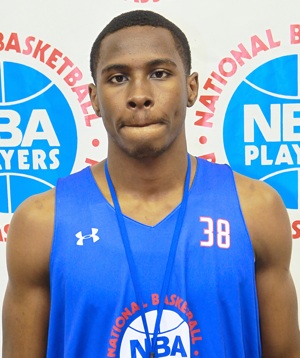 Kendal Harris could replace Jio Fontan when he arrives at Southern Cal in 2013-14. (Davide DePas)
After this year, though, Fontan is gone.
No worries. On Saturday, head coach Kevin O'Neill secured his point guard of the future, as four-star prospect Kendal Harris committed to USC.
"Coach KO, he seemed like he got a plan for me," Harris said in a video announcement at Scout.com. "There's a wide-open spot at the point guard position. I can see myself doing big things, and they see myself doing big things also, so I like that."
Harris, a strong 6-foot-5 point guard from Richardson Berkner (Tex.), visited the USC campus while at the Adidas Nations event in Los Angeles.
"It was nice," Harris said in the video. "It was pretty much what I pictured. Nice weather, it's in LA, can't really go wrong with that. Campus was real nice. I loved it."
He is at his best when attacking the rim, using power and athleticism to finish consistently in the lane. Harris can also knock down outside shots, but he handles the ball well and can distribute effectively. Moreover, he is a dynamite defender because of his size and strength.
Harris, the younger brother of Miami Heat guard Terrel Harris, chose USC over Missouri, Oklahoma State, LSU and Creighton.