Watch the entire Illinois-North Carolina game from April 4, 2005
It was the title game fans wanted -- the nation's most talented team (North Carolina) vs. the team that nearly finished the regular season undefeated (Illinois). The Tar Heels and Illini were placed on opposite sides of the bracket and picked in office pools to meet on the first Monday in April. And though things rarely go as planned -- the win-or-go-home format of the NCAA tournament usually derails at least one favorite -- they somehow went as planned in 2005, which produced one of the great championship game matchups, and then one of the great championship games.
Coming in at No. 9 on the list of the "10 Best NCAA March Madness games from this decade" is ...
North Carolina vs. Illinois (2005)
Roy Williams was the best coach to never win a championship.
That was his unofficial title.
It was a stupid title, sure. But it was the one he wore, against his wishes, and it wasn't going away until he made it go away. So here was his chance, his third trip to the title game, just two years after telling Bonnie Bernstein of CBS Sports that he "could give a s--- about North Carolina" right after he lost the 2003 title game to Syracuse while still coaching at Kansas.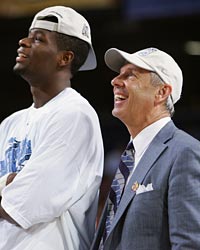 As you know, Williams subsequently moved to UNC.
He inherited a nice roster, made it to the second round of the NCAA tournament in his first season, then rolled through the ACC in his second season and beat Oakland, Iowa State, Villanova, Wisconsin and Michigan State to advance to the title game to face the Big Ten champions, led by the dynamic backcourt of Deron Williams, Dee Brown and Luther Head.
North Carolina began on a 9-2 run, moved it to 35-25 and led 40-27 at the break. But the Illini rallied thanks to 12 points in the first 14 minutes of the second half from Head, and they tied the score 65-65 on Brown's two free throws with 5:34 remaining.
Fast-forward four minutes.
Game tied at 70.
North Carolina had the ball, less than 100 seconds to play, and Jim Nantz was explaining that "these are the possessions that you'll replay the rest of your life." Couple of seconds later, Rashad McCants drove to the basket and attempted a layup that missed. But a talented freshman named Marvin Williams was there, which led to Nantz's call of "Tipped up and in by Williams."
That was the game winner.
UNC went on to win 75-70.
And just like that, Roy Williams had his national title and no longer had the frustrating label he yearned to shed for many years.
"For Coach to be able to say that the first team to get him a championship was the 2005 team is an honor," said Sean May, whose 26 points matched the total his father, Scott May, scored for Indiana in the 1976 title game. "He'll win a few more before he's done."
He's got one more already.
Top 10 March Madness games of the decade
Date
Game
Date
Game
Wed., Jan. 6
No. 10: Ohio State vs. Xavier (2007)
Wed., Feb. 10
No. 5: Connecticut vs. Duke (2004)
Wed., Jan. 13
No. 9: North Carolina vs. Illinois (2005)
Wed., Feb. 17
No. 4: George Mason vs. UConn (2006)
Wed., Jan. 20
No. 8: Villanova vs. Pittsburgh (2009)
Wed., Feb. 24
No. 3: Illinois vs. Arizona (2005)
Wed., Jan. 27
No. 7: Davidson vs. Georgetown (2008)
Wed., March 3
No. 2: UCLA vs. Gonzaga (2006)
Wed., Feb. 3
No. 6: Syracuse vs. Kansas (2003)
Wed., March 10
No. 1: Kansas vs. Memphis (2008)