Tom Izzo has an easy decision to make.
He's just lacking the proper information to make it.
That's the bottom line on the conversations taking place about whether Izzo should or will leave Michigan State to coach the Cleveland Cavaliers, because this really shouldn't be much of a debate. If he can coach LeBron James in his prime for $6 million a season, Izzo would be insane not to do it. On the other hand, he would be even more insane to leave Michigan State for Cleveland if James is playing in New York, New Jersey, Chicago or anywhere other than Cleveland.
So that's it.
Will James be in Cleveland next season?
That's what Izzo has to figure out.
Problem is, there's no indication that it's possible to figure such out for at least another four weeks, and it might take more than a month considering free agency doesn't begin until July 1. So the questions are whether Cleveland will let Izzo wait to see what happens with James -- it's worth noting, by the way, that new general manager Chris Grant told the Cleveland Plain-Dealer on Tuesday that he's willing to wait at least six weeks for the "right guy" -- and, if so, does Izzo want to drag this out that long now that the whole thing has gone public?
That's the toughest part, that Cleveland's interest is now public. It would've been much better for Izzo if Cavs owner Dan Gilbert vacationed through the month of June and didn't even broach the subject with Izzo until after the future of James was known. Alas, Gilbert is not a patient man, or at least that's not the order in which he wants to do things. Gilbert would like to have Izzo on board before free agency begins to, presumably, help recruit James. That makes sense for Gilbert. But deciding between Michigan State and Cleveland without knowing what's going to happen with James is an impossible task for Izzo, and so we find ourselves in a bit of a holding pattern.
Izzo can't make the call before James makes the call because though the 55-year-old icon can make a lot of money in Cleveland regardless, he won't win a lot of games without James. That's just the truth. The NBA, perhaps more than any other professional sports league, is a players' league. You might outcoach somebody in the final three minutes of a specific game, but you're not outcoaching anybody to the Eastern Conference finals. Larry Brown is the best example. He won an NBA title in 2004, then won 23 games two years later. Why? Because he went from coaching a great roster (with the Pistons) to a woeful roster (with the Knicks), and the number of men who can win in the NBA with a woeful roster is zero.
I don't care if it's Izzo, Phil Jackson or the ghost of Red Auerbach, nobody is winning in Cleveland over the next few years without James, and coaches who go a few years without winning in the NBA end up fired regardless of whether they're geniuses. Plus, Izzo is a winner who hates to lose. He has never had a losing season, much less a 50-loss season. But that's what would be waiting for him if he took the Cleveland job and James signed elsewhere. Why walk into that with a preseason top five college team? Why walk into that, period?
Money?
I guess you can never have too much, but Izzo already has an awful lot. My guess is that his quality of life would be more affected by losing game after game than by an extra $3 million per year, and not in a good way. So doing this without James on board makes no sense whatsoever. That's why I would be shocked if Izzo accepted any offer without a commitment from the NBA's reigning two-time Most Valuable Player.
Can Izzo get that commitment?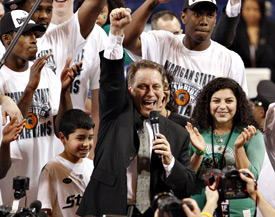 About Tom Izzo
Record: 364-146 in 15 seasons, all at Michigan State.
Education: Graduated from Northern Michigan in 1977.
Coaching: Head coach, Ishpeming (Mich.) HS (1977-78); assistant coach, Northern Michigan (1978-83); assistant coach, Michigan State (1983-95); head coach, Michigan State (1995-present).
Accomplishments: Six Final Four appearances are third among active coaches behind Mike Krzyzewski (11) and Roy Williams (7) ... Three consecutive Final Fours (1999-01) are third-best all-time behind John Wooden (11) and Krzyzewski (5) ... Winningest coach in Michigan State history.
Detour: Left Michigan State in 1986 to become an assistant coach and recruiting coordinator at Tulsa, but returned a month later.

- AP
Izzo's record season-by-season
Again, probably not until after July 1.
That's the issue.
But if he could, he should go to Cleveland. And if Cleveland will let him wait to make a decision until after James makes a decision, then Izzo should wait and make a decision after James makes a decision because -- and I can't stress this enough -- the only thing crazier than taking the Cleveland job without assurances from James would be passing on the Cleveland job if it included James. I wouldn't pass on that to stay at Michigan State, and I don't think Izzo would either because -- despite the current relatively low opinions of James and his heart -- I still believe there is no better job in coaching over the next five years than being James' coach. It would give Izzo a chance to break the trend of college coaches failing in the NBA, and he would likely break that trend by winning an NBA title.
Or two.
Or five.
Beyond that, what more can Izzo really accomplish at Michigan State? Sure, he could win another national championship, go to some more Final Fours, but his reputation is cemented. He's widely considered to be one of the best coaches, if not the best coach, in all of college basketball, and he's a Hall of Famer if he never coaches again. Nothing he would accomplish at Michigan State going forward would change his reputation. The numbers would change, his Wikipedia page would change. But Izzo's reputation wouldn't change with another Final Four (he already has six) or national championship (he already has one) any more than John Wooden's reputation would've changed if he had 11 titles instead of 10. Thus, Izzo sticking around to "build his legacy" doesn't make sense to me, especially when I would argue he's more likely to build his legacy and win championships coaching James than he is coaching the Spartans because it's much simpler to win it all in the NBA with the NBA's best player than it is to win it all in college, period. Though I realize Mike Brown didn't do a great job proving my theory true.
Either way, let's stop pretending this is a tough decision for Izzo.
There should be nothing tough about it.
If he can coach James and double his salary, he should do it.
If not, he shouldn't.
It really is that simple.
Which is why I don't believe Izzo has a decision to make.
I just think he has some information to gather.