Jimmer Fredette is the CBSSports.com National Player of the Year.
That's what he gets for leading the nation in scoring, taking BYU to a Mountain West Conference title, and routinely tearing apart defenses designed to stop him and only him. The 6-foot-2 guard made people care about college basketball who wouldn't otherwise care and made me spend more time on the Mountain West Sports Network than I ever would've imagined. In fact, I watched multiple games in normal definition, which is something I rarely do anymore because I'm spoiled by HD. But I did it for Jimmer. And I'd do it again.
More on college basketball
Columns

Gary Parrish
Nolan Smith and Jared Sullinger are among our conference players of the year. Read More >>
Related links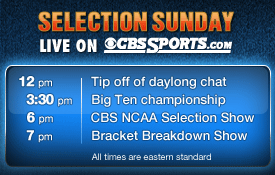 Fredette was the story of the 2010-11 regular season. That why he headlines the CBSSports.com National Awards.
(Awards were the results of ballots submitted by Gary Parrish, Eric Angevine, Jeff Borzello, Matt Jones and Matt Norlander.)
National Player of the Year
Winner: Jimmer Fredette (BYU)
Reason: Fredette averaged 27.9 points and 4.3 assists per game during the regular season while leading BYU to a 28-3 record and MWC title. He made ridiculous shots look easy and 30-point games seem normal, and he had BYU in a position to earn a No. 1 seed in the NCAA tournament until Brandon Davies' Honor Code violation cost the Cougars an important piece. Granted, the absence of Davies might put a ceiling on what can be accomplished in the NCAA tournament. But a teammate having premarital sex shouldn't cost Fredette the individual honors he spent months earning.
National Coach of the Year
Winner: Mike Brey (Notre Dame)
Reason: Notre Dame's starting lineup consists of a player who began his career at Mississippi State, a player who began his career at Purdue, two three-star recruits and one two-star recruit. On the surface, that's not the stuff of a Big East power, but Mike Brey has taken this experienced group and turned it into exactly that. The Irish finished the regular season 25-5 and ranked fourth in the Associated Press poll despite receiving zero AP votes in the preseason. They're clearly better than the sum of their parts, which is why Brey edged Purdue's Matt Painter in the voting.
National Freshman of the Year
Winner: Jared Sullinger (Ohio State)
Reason: Sullinger is the best player on the nation's best team -- a 6-foot-9 big man who averaged a team-best 17.3 points and a team-best 9.7 rebounds during the regular season. He used his unique combination of physical and mental tools to dominate the Big Ten and lead the Buckeyes to a league title that'll almost certainly result in a No. 1 seed in next week's NCAA tournament. He now seems equipped to do what Ohio State's Mike Conley and Greg Oden didn't quite do in 2006, i.e., become the first freshman since Syracuse's Carmelo Anthony to lead a school to a national championship.
| | |
| --- | --- |
| Second Team | Third Team |
| Guard: Jordan Taylor, Wisconsin | Guard: Tu Holloway, Xavier |
| Guard: Kemba Walker, Connecticut | Guard: Charles Jenkins, Hofstra |
| Guard: Ben Hansbrough, Notre Dame | Guard: Jacob Pullen, Kansas State |
| Forward: Kawhi Leonard, San Diego State | Forward: Jordan Hamilton, Texas |
| Forward: Marcus Morris, Kansas | Forward: Kenneth Faried, Morehead State |