This is me being mean to Thad Matta. This is me being as mean as I will ever be to Thad Matta, because I like the guy.
So in honor of our special friendship, a friendship he probably knows nothing about -- but trust me, one that exists -- I've written the following piece of cruelty that I must address at Matta and his Ohio State basketball team:
| | |
| --- | --- |
| | |
| We hope Thad Matta doesn't mind when we say his squad will be celebrating a national title next month. (AP) | |
I'm saying he has the best team in the country.
I'm saying, it's not even close.
So OK, that's not the bravest stand you'll ever see a sportswriter take. No. 1 Ohio State is the best team in the country? Wow. Bold. For my next trick, I'll decide not only that Auburn was the best team in college football last season, but I'll go out on a limb and say Cam Newton was the best player.
Thing is, that's how obvious this story feels to me, today, after watching Ohio State demolish Wisconsin on Sunday. That game sort of ticks me off, because I've been feeling this way for weeks, telling it to radio shows far and wide but never getting around to writing it. And then along comes Sunday, when the Buckeyes attempted 15 3-pointers and made 14 of them -- read that again -- to beat the Badgers by 28.
Still it needs to be said, with the NCAA tournament approaching, that this college basketball season does in fact have the one thing it was said to be lacking: greatness.
For most of the season, with teams acting allergic to the No. 1 ranking, March Madness approached with an enormous hole at the top of the bracket: Who were the No. 1 seeds? Were there any No. 1 seeds? Maybe, seeing how tournament selection committee members already are handing out extra seeds all over the oblong 68-team bracket, they could give out eight No. 2 seeds. Just this one time.
Maybe they still can, but they'd need to make it seven, because Ohio State has separated itself from the pack of contenders, and not just by a little bit. That Wisconsin game wasn't the declarative sentence we've been waiting to see written by some team, any team, whether it was Duke or Kansas or Ohio State or Pittsburgh or BYU. Nope, that was no sentence. That was the exclamation mark on a story Ohio State has been writing all season.
Seems like nobody's been noticing, nobody but me -- promise, I noticed weeks ago -- but this Ohio State team isn't just great. It's damn near perfect. (Sorry for that bull's eye, Thad. Really. No pressure!)
More on college basketball
Columns

Gary Parrish
Ohio State freshman Jared Sullinger is honored as one of our conference players of the year. Read More >> | All-Americans
Related links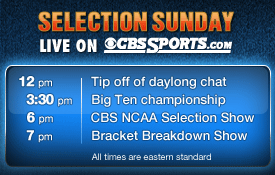 Critics have said Ohio State isn't deep enough, with a rotation of seven players, but Duke won a title last season with seven, and anyway, seven is plenty when all seven are starter-quality.
The Buckeyes' sixth man, point guard Aaron Craft, is sixth in the Big Ten in assists and leads the league in steals. The Buckeyes' seventh man, small forward Deshaun Thomas, could average 15 points a game for a lot of teams -- and he could do it easily. That's not hyperbole, but fact. For the deceptively deep Buckeyes, Thomas is limited to eight points in 14 minutes a game. That's a point every 108 seconds, which leads the team.
Yes, Thomas scores at a faster clip (just barely) than National Player of the Year candidate Jared Sullinger, who averages 17.3 points in 31.2 minutes. Sullinger is a 6-foot-9, 280-pound planet down low, and he's orbited by four players who can shoot from the perimeter.
As a team the Buckeyes are shooting 41.9 percent on 3-pointers. William Buford makes 45.5 percent from beyond the arc, which means he's no Jon Diebler -- who's making 51.1 percent from out there. David Lighty is at 39.6 percent. Craft is at 38.3 percent. That's two very good shooters, one exceptional shooter and then Diebler, who's simply absurd. And they're surrounding Sullinger.
This Ohio State team is almost perfect, I tell you. It has four guys who hit 3-pointers. It has three (Craft, Lighty, Buford) who can play the point. It has two monsters down low (6-8, 255-pound Dallas Lauderdale is the other one). It has one of the best coaches in the country, probably the best coach in the country whose resume doesn't have a national championship on it.
Yet.
Oops. Sorry, Thad. Someday we'll laugh about this. Like on April 4, when you're cutting down the nets in Houston.