KANSAS CITY, Mo. -- In another team's jersey, they'd be bullies.
That's the first thing that comes to mind when you meet the dual presence that is Markieff and Marcus Morris. Both are power forwards. Both are intimidating. Both wear what seems like a perpetual scowl. Both have matching tattoos that read "Death is a Promise." You might have figured out by now that they're twins. To look at them, these are not guys you'd want to trade insurance cards with after a fender bender. So why was Bill Self smiling Friday night when confronted with the reputation of his two most intimidating players?
"They are the sweetest-hearted kids there are," the Kansas coach said.
Maybe he's greasing the officials. It's going to be a long month, Jayhawks everywhere hope, and the Morris twins, you see, have this rep.
"They're not dirty players," Self said.
Conference tournaments
Related links
Video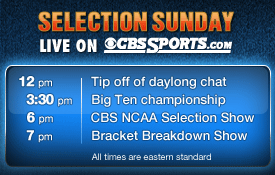 No, they're not. So they might throw an elbow or two. Yes, Marcus was ejected for a game at Cal for throwing one. Yes, he got a technical against Nebraska. It's true that Markieff was whistled for flagrant fouls in consecutive games. But maybe that jersey has saved them from any further damage to their reputations. This is Kansas, not Tark-era UNLV or Huggins' Cincinnati. If they were on those teams they would have cultivated their own brand of swagger. At Kansas, the twins walk a line between being reputable and lighting up suckers who get too close to the rim.
"I don't want to take away anybody's attitude or energy, but I would like to take away ignorant play," Self added. "Some of the things going on with them was pure stubbornness."
At Kansas -- a place that oozes class and championships -- such rough patches are smoothed over when they gain too much attention. The jersey -- the one that Wilt and Danny and Paul Pierce wore -- or at least the history it signifies, may have saved them from further scorn.
"I didn't know until he got here, how big he was at Kansas," Markieff said of Wilt Chamberlain. "He made the way for us to be here."
That might be overdramatic but the twins do share a hometown with Wilt, Philadelphia. No one is comparing them to the Big Dipper, but there was only one of him. Forget the obvious genetic link, how many teams have two big guys with the same length, height, bulk and attitude? How many teams could lose one of those guys to foul trouble and still have enough reliable parts elsewhere be a national power?
"I would hate to see a team like that," Markieff said after Kansas' 90-83 win over Colorado in one Big 12 tournament semifinal.
Marcus is 6-feet-9, the Big 12 Player of the Year. Markieff, 6-10, is the Jayhawks' leading rebounder. The brothers average 30 points and 15 rebounds. On Friday, they combined for 40 points -- 20 each for the first time in their careers -- and 21 rebounds. In a 4½-minute first-half stretch, they scored all 17 of Kansas' points. Deep into the second half the twins alone had outrebounded the Buffs. Both are listed as NBA first-rounders on various draft boards.
With Kansas starting and ending slowly Friday, they once again were the main reason KU won and is a lock for another No. 1 seed come Sunday. The win puts the Jayhawks in line for their fifth Big 12 tournament title in six years. That's only the jumping off point. It has to be a long month. The twins arrived a season after the 2008 national championship. Their burning tournament memory is a bitter two-point loss to Northern Iowa in the second round last year.
"The entire thing is on us," Marcus said. "We have a core of players but we find ourselves in a position to lead. We have to perform every night."
They don't play together all the time. They can't. There can be foul trouble. Sophomore sixth man Thomas Robinson has to get time. T-Rob, at 6-9, 240 pounds, looks like he could make it the Morris triplets. Still ...
"I hate seeing him out there by himself," Markieff said of his brother. "We've got other bigs but if I'm not in the game with him, I don't have that same vibe."
"Around the country," Marcus added, "you don't have really two big guys like us playing the same style."
If you talk to them long enough and get kidding around, you can see those frowns that could melt titanium curl into a slight smile. Self believes he has smoothed over the rough parts, sanded off the points on those elbows, perhaps. The brothers? They just play, and still talk. As Texas was taking the court for Friday's second semifinal, Markieff made sure to tell the Longhorns, "I want ya'll next."
"Why not want to play the guys that beat you?" he added.
Two teams, Kansas State and Texas, have defeated Kansas this year. The Wildcats were beaten in Thursday's quarterfinals. Texas is waiting in Saturday night's championship game. So are the officials.
"They pay attention so much to us," Markieff said. "I get hit with elbows four or five times a game."
It's good to think that way, Self says. It means his bigs are self-aware, maybe more mature. It also means there are more suckers to light up.
"If they have that reputation," the coach said smiling, "I think they've done a real good job of earning it."