NEW YORK -- Rick Pitino was behind and frustrated and searching for the same thing Big East teams have been searching for all week -- a way to stop, or at least slow, the most dynamic player on Connecticut's roster and one of the best to ever play for Jim Calhoun. So when the whistle blew to signify that somebody guarding Kemba Walker had just committed another foul on Kemba Walker, the Louisville coach decided to work the officials a little and remind them of a very important thing: K.W. is not M.J.
"He's not Michael Jordan!" Pitino yelled -- point being that Walker shouldn't be getting every call even if he was in the process of smashing almost every offensive record in the Big East tournament record book.
Conference tournaments
Related links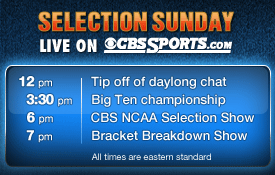 Walker was later informed of Pitino's comments.
Pitino will be glad to know he agrees.
"I'm not Michael Jordan," Walker said. "I'm Kemba Walker. That's it."
And that's enough.
Walker scored 19 points and caused the defensive breakdown that led to Connecticut's game-winning basket in Saturday's 69-66 victory over Louisville that gave the Huskies the most improbable Big East tournament title in Big East tournament history. They started as the No. 9 seed, rode Walker from start to finish and did something that had never been done before -- get five wins in five days to earn a major-conference championship.
The run started Tuesday with a victory over DePaul and continued Wednesday with a win over Georgetown. Then came Thursday, which is when things really got fun ... for everybody except Pittsburgh's Gary McGhee, who got twisted and crossed so badly that he ended up on the Madison Square Garden floor while Walker buried the game-winning step-back jumper that was immediately and will forever be the definitive highlight of this five-day event featuring 11 teams that'll soon be playing in the NCAA tournament.
It was a New York kid making a New York move to wow a New York crowd.
It was a preview of the subsequent two days.
Walker never made another play that'll be viewed on YouTube quite as often as that ridiculous play that closed the Pitt game, but he kept making plays, for himself and his teammates, until the final buzzer of the final game sounded roughly 18 hours before the start of the Selection Show. He was exhausted and his face showed it. But the toll that playing nearly every minute of every game took on his body was rarely evident during live action -- not in Friday's win over Syracuse or Saturday's win over Louisville.
| | |
| --- | --- |
| | |
| Kemba Walker holds up the Big East tournament's Most Outstanding Player award after UConn's win. (US Presswire) | |
"Now that the tournament is over I can tell you that I was definitely tired," Walker said. "With about two minutes left, I was gassed. But I just wanted to win this game so bad that, you know, my heart took over."
Lots of people commented afterward that UConn's run was impressive because it featured four wins over schools ranked in the latest Associated Press poll, but that doesn't quite capture how improbable the Huskies' net-cutting ceremony really was. To understand things properly consider that Connecticut was actually the underdog in the Big East quarterfinals, semifinals and championship game and thus expected to lose Thursday, Friday and then again on Saturday, too.
But it never happened.
Because Walker wouldn't allow it happen.
With Connecticut trailing Louisville by a point in the final 40 seconds and Pitino determined to run as many people at him as possible to prevent an open jumper like the one that eliminated Pittsburgh, Walker drove right, then cut back left and split Peyton Siva and Preston Knowles to get into the lane. It was a tremendous display of ball-handling, a sequence that would've been unreal even if it ended with a missed shot or even a charge, which seemed likely when Walker left his feet and was surrounded by four Cardinals with an odd angle to the rim. But what came next was an out-of-nowhere pass that only a handful of amateurs could make. Walker drew Jeremy Lamb's defender toward him, then fired an I-can't-believe-that wrap-around pass to the freshman wing for an easy layup with 33.4 seconds remaining.
Lamb's bucket gave the Huskies a 67-66 lead they would never relinquish.
Yes, they needed Louisville to commit one turnover, miss two 3-pointers and a free throw in the final 25 seconds to allow them to never relinquish that lead. But they never relinquished it, regardless, and their reward for holding on could be a No. 2 seed in the NCAA tournament.
"I assume we will be placed well," Calhoun said. "But I don't care. I'm just looking forward to taking these guys to a national tournament."