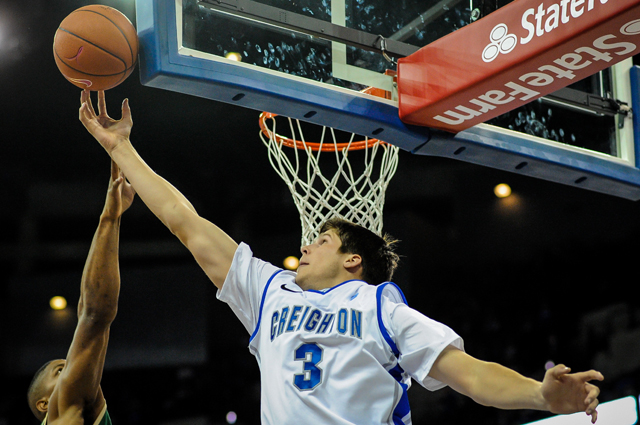 By Jeff Goodman and Gary Parrish | College Basketball Insiders
The newest edition of the National Player of the Year Race has a trio of newcomers, but those near the top of the list remain. Indiana sophomore Cody Zeller entered the season as the consensus front-runner, but we're one month into the college basketball campaign and he's playing catch-up after a solid start. Four seniors highlight the Top 10 and there are three players that don't hail from big-time leagues currently in the equation.
National Player of the Year Race
Week 3
PF | 6-10 | SR | Duke

Duke remains unbeaten and Plumlee remains the frontrunner for the NPOY Award. He had two more double-doubles this past week, a 21-point, 17-rebound performance in a win over Ohio State and 18 points and 11 boards in a victory against Delaware. He's averaging 19.6 points, 11 rebounds and 1.9 blocks per game while shooting 66 percent from the field and 76 percent from the line.

F | 6-8 | JR | Creighton

McDermott started to get going on the offensive end a week ago and now his perimeter shot has returned after being M.I.A. over the first couple weeks of the season. He had 21 points in a home loss to Boise and 23 points in a rout over St. Joe's. Was 9-of-12 from deep in the two games and is shooting 47 percent from long distance for the season. McDermott is averaging 21.3 points and 7.1 rebounds per contest through the first eight games of the year.

G | 6-4 | FRESH | Oklahoma State

The Cowboys came up short on the road against Virginia Tech, but it had nothing to do with Smart's performance. In fact, he was sensational -- yet again. Smart scored 18 points, grabbed 11 rebounds, dished out six assists and didn't commit a single turnover. Smart's season numbers: 14.2 points, 7.7 rebounds, 5.8 assists, 2.3 steals and 1.2 blocks.

C | 7-0 | SR | Kansas

His offensive game is coming along, but his impact is always felt on the defensive end as one of the elite shot-blockers in the country. Withey had 17 points, five rebounds and three blocks in a win over Oregon State and is putting up 14.6 points, 8.1 boards and 5.7 blocks per game this season.

C | 7-0 | SOPH | Indiana

Has started to pick it up after a slow start, at least by his standards and expectations. Zeller had 20 points, eight boards and four blocks in a rout over North Carolina and then had nine points and seven rebounds in another easy win against Coppin State. He's averaging 15 points, 7.6 rebounds and 1.4 blocks this season on a loaded Hoosiers team.

C | 7-1 | SOPH | Maryland

The big Ukrainian continues to thrive this season. His breakout game came against Kentucky in the season-opener, but the skilled 7-footer has been consistent. He averaged 12.5 pints and 11 boards in a pair of wins last week against Northwestern and George Mason and is averaging 14.7 points, nine boards and 2.6 blocks this season.

PG | 6-1 | SR | Murray State

Canaan and the Racers had the week off, but the senior scoring guard is averaging 22.5 points, 3.5 assists and 3.5 rebounds per game this season while shooting 50 percent from the field and 43 percent from long range.

G | 6-3 | SR | Virginia Tech

The Hokies are undefeated, largely because of their senior point guard's play this season. Green averaged 26 points and six rebounds in a pair of wins over Oklahoma State and Iowa this past week and is putting up 24.9 points, 4.4 assists, 4.0 boards and 1.7 steals per contest while shooting 52 percent from the field and 38 percent from long distance.

G | 6-6 | SOPH | Syracuse

The long and versatile combo guard barely played last season, but has quickly emerged as a star for the Orange this year. He's averaging 11.6 points, leads the nation in assists (9.2), pulls down 6.4 rebounds, and is among the national leaders in steals (3.8). He nearly had a triple-double in a road win against Arkansas with 17 points, 10 rebounds and nine assists and finished with 11 points, 11 assists and seven boards against Eastern Michigan.

G | 6-5 | JR | San Diego State

He's not a great perimeter shooter, but Franklin does everything else well. He's a guard who is averaging 10 boards per game, and is also putting up 20.2 points per contest. He had 28 points and seven rebounds in a win against UCLA this past week.
Dropped out: Aaron Craft, Tim Hardaway Jr., Archie Goodwin