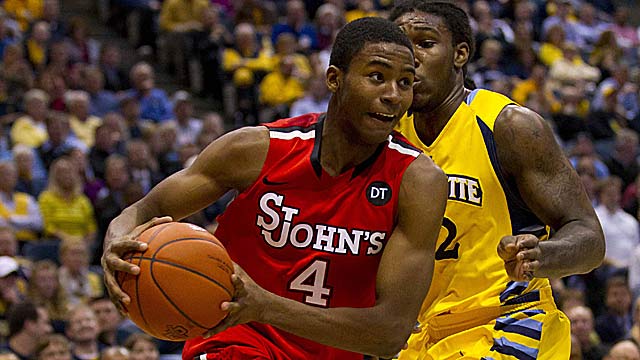 Utter confusion, chaos and uncertainty reside in the Big East. Fans of the seven Catholic, non-FBS basketball schools -- Georgetown, Villanova, Marquette, Seton Hall, Providence, St. John's and DePaul -- aren't the only ones sitting idle with anticipation, wondering and worrying where they will wind up as the realignment dominoes continue to fall.
"We have no clue what's going to happen," said one Big East head coach. "And there's nothing we can do about it."
"The landscape is changing," another told CBSSports.com. "And nobody has the answer."
Those seven schools are close to a consensus on what they will do, according to an ESPN.com story.
More on Big East
Column

Jeremy Fowler
As numbers from the playoff revenue distribution in 2014-15 begin to trickle out, it's becoming clear the Big East has the most to lose in revenue.
Read >>
Related links
Big East commissioner Mike Aresco met with the presidents and athletic directors this past Sunday to get the pulse of the key decision-makers moving forward. Poor Aresco. The former CBS television executive walked into a difficult situation when he was hired this past August, because there's just no way that Dave Gavitt or even Mike Tranghese would have ever had the league in this situation -- where there's speculation (and that's all it is) that Big East schools are contemplating a move to the Atlantic 10.
"Gavitt would be rolling over in his grave right now if he knew what was going on," one coach said.
However, former commissioner John Marinatto now has the league in a reactive mode instead of a proactive one.
"This meeting should have happened six months, a year or 18 months ago," one Big East coach said. "This wasn't an unpredictable place to be. It was highly predicted. We didn't know who was going to end up where, but we knew who was going to be left behind."
No one quite knows what the ideal scenario is for this league going forward. Obviously, the seven schools aren't just going to up and leave because there's just too much on the table. There's the millions of dollars due them from the exit fees that will be recouped from West Virginia, Syracuse, Pittsburgh, Notre Dame, Rutgers and Louisville. There are the NCAA tournament shares, which are substantial -- also millions of dollars -- due to the success of the league in recent years. There's also the Big East name and the deal with Madison Square Garden.
"The elephant in the room is the exit fee money," a Big East coach told CBSSports.com. "Seven presidents aren't going to throw that kind of money away. It's going to be really hard for them to walk away from that."
But if they stick around, the complexion of the league is set to alter. Instead of owning the room, as is currently the case, the "Hardwood Seven" as we'll deem them, could soon find themselves in the minority with football schools such as Central Florida, Houston, SMU, Tulane, Boise State and San Diego State, along with Temple and Memphis, set to join this league.
"Time is now of the essence," one coach said. "You have to be proactive."
The easiest solution would be for the seven schools to split, keep the name and the deal with MSG, and then go out and try and lure anywhere from three to five basketball schools. Xavier, Butler and Saint Louis were discussed, according to one source, at Sunday's meeting. Then the hope would be to go out and negotiate a television deal, one that wouldn't command the same finances as the current contract, but would provide enough resources, exposure and give the league long-term sustainability.
"It's all about the TV package," said one coach. "That's the bottom line. If you make it an all-basketball league and go get Xavier and Butler, it becomes a really good league."
Can it generate the $1.5 million or so that each school in the league currently brings in annually? Not a chance, but Aresco might be able to pull off a deal that could still generate enough dollars to make it feasible.
If those seven schools do branch off, it leaves a pretty solid league -- even in terms of basketball schools. There's UConn, Cincinnati, Memphis and Temple -- four teams that can consistently compete for NCAA tournament bids -- along with South Florida, Central Florida, Houston, SMU and Tulane.
"It's still clearly better than Conference-USA," said one coach who is leaving C-USA for the Big East. "And that's still pretty good markets. It's still got a lot of really good teams in it -- even if we lose those seven schools."
The Hardwood Seven are upset with the addition of UCF, Houston, SMU and most recently, Tulane. These are schools that are built on basketball, generate a large chunk of money from home games each season, and now it's more difficult to sell those tickets when Syracuse, Louisville and Pittsburgh aren't coming to town. In addition, coaches are worried about essentially being forced to ramp up their non-conference schedule because the league slate won't have as many quality opponents.
"If you lose at Syracuse or West Virginia, it's not a bad loss," one coach said. "If you lose at SMU or Houston, it'll kill you. So now you have to play a brutal non-conference schedule."
For now, though, there are questions -- and few answers. Coaches are dealing with negative recruiting. One coach received a call recently from a high school star telling him his summer coach informed him they won't even have a league. Another forwarded a college coach a story saying they were heading to the A-10.
"It sucks," the coach said. "It's difficult enough to recruit at these type of places -- and now we have to deal with this."
Usually, coaches have an answer for just about everything. But even these guys are at a loss for words right now.
"Something's going to happen," one coach said. "I just don't know what."
"We'll know something sooner rather than later," said another. "Within the next month, I'm told we'll know what direction we're going."