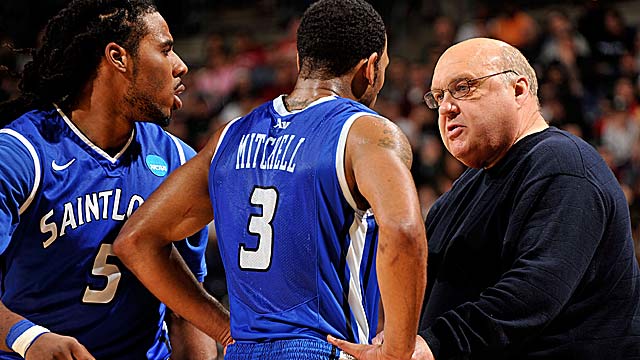 Josh Smith left UCLA and despite his weight issues, there has been no shortage of suitors. There's a terrific matchup this weekend of two of the top mid-major guards in the nation, Saint Louis star Kwamain Mitchell gives an injury update and also talks about dealing with the death of Rick Majerus. Oregon is thriving with a bunch of Dana Altman-type guys and Providence will actually have some players this week. All this and more in this week's edition of Good 'N Plenty.
Kwamain Mitchell will never forget the last time he saw Rick Majerus. It was in the first session of summer school, sometime in June, and Majerus took him to lunch at Lorenzo's on The Hill. The pair talked about basketball, and what the star point guard needed to do in order to be able to play at the next level.
"But he talked more about life," Mitchell said. "That was typical Coach. He was passionate about basketball, but worried more about our future."
Mitchell went back home to Milwaukee after summer school and got the call from someone on the coaching staff that Majerus wouldn't be returning for this season due to health issues. However, he and his teammates, despite hearing the seriousness in nature of his heart problems, were optimistic that Majerus would return to the sidelines. Mitchell spoke to Majerus' girlfriend, Angie, and shortly after Mitchell broke his foot in mid-October, there was a voice mail from Angie.
"His words weren't clear," Mitchell said. "I couldn't understand a lot of them, but it was great to hear his voice for the last time."
Majerus died on Dec. 1 at the age of 64. Mitchell and teammate Cody Ellis spoke at a memorial service in Saint Louis and then the entire team traveled to Milwaukee -- both Majerus and Mitchell's hometown -- for the funeral mass.
"He made me become a man," Mitchell said of his former coach. "It was really emotional. The whole team carried the casket."
Mitchell has been through plenty since arriving at Saint Louis University. He missed an entire season after being accused of sexual assault, lost his coach and a father figure -- and now has to deal with missing the first half of his senior campaign due to a broken foot he suffered the second day of practice.
"It's been difficult," Mitchell said of the injury. "But I've dealt with a lot worse."
Mitchell's return, however, will make the Billikens an instant contender in the A-10 race. Saint Louis has struggled thus far in non-league play, losing three games (to Kansas, Washington and Santa Clara), but that's to be expected when you lose your coach and top two players (Brian Conklin graduated after last season).
Mitchell told CBSSports.com that Monday was the final day he had to wear a boot and X-rays were "great" and the timetable for his return is somewhere between Dec. 28 and Jan. 10.
UCLA transfer still in demand
Josh Smith is worth the risk. There have been dozens of schools that have inquired about the talented former UCLA big man since he decided to leave Ben Howland and the Bruins.
Smith has a year and a half left to make a commitment, one that will result in a weight loss and one that could ultimately result in him making a huge impact for his next college coach and making millions of dollars down the road.
Smith is expected to return home from UCLA after finals, sit down with his family and narrow his decision to a few schools. Sources told CBSSports.com that the current leaders are Kansas, Georgetown and Washington -- depending on whether Smith would be able to transfer within the Pac-12.
The 6-foot-9, 300-plus pound junior has seen his production and playing time decrease each season at UCLA. He averaged 10.9 points and 6.3 boards as a freshman in 21.7 minutes and was putting up only 5.2 points and 4.2 rebounds per game in 13.5 minutes this season before deciding to go elsewhere.
"The key is obviously whether he gets in shape," one source said. "But he's saying all the right things."
Duck call
Dana Altman needed the right type of guys who fit his personality and system. Now he has them.
Top 25 recruit Jabari Brown lasted only two games. Bruce Barron was a Top 100 player who was jettisoned by Oregon. This Ducks group is 8-1, with a victory against UNLV, and has done it with a fairly unheralded bunch. There's E.J. Singler, Kyle's little brother, who has improved each year of his career -- but hasn't even played well thus far this season after recovering from a leg injury that kept him out for two months late in the summer. The team's leading scorer is freshman Damyan Dotson. Who? Dotson is a 6-foot-5 guard out of Yates High in Houston. Then there's senior Carlos Emory, freshman Dominic Artis (one of the few ranked players coming out of high school on the team) and Ben Carter.
Sure, Tony Woods is still on the team. He's the talented, lazy big man who got booted from Wake Forest after an altercation with his girlfriend. But Woods is a reserve with this group. Altman was also fortunate to be able to add Rice transfer Arsalan Kazemi just before the start of school as the native of Iran needed a school -- and Oregon was able to bring him in because the school is on a quarter-system.
"The biggest thing is the freshmen came in with the right attitude," Singler said. "They wanted to work and didn't have any egos. That's huge for us."
This is Singler's final hurrah in Eugene. He's a local kid who wanted to go to Oregon and get the program back to the NCAA tournament. His first season was under Ernie Kent on a talented team with Tajuan Porter, Michael Dunigan, Malcolm Armstead, Joevan Catron, Matt Humphrey.
"We're just playing well together," Singler said. "Our chemistry is so much better than that team -- and better than any team I've been on."
Are the Ducks for real, though? That's the question everyone is asking thus far. With UCLA and USC struggling, there's certainly an opening for someone to emerge near the top of the Pac-12.
Friar reinforcements coming
I'm not dumb enough to call Providence a Big East contender, but what I will say is that Ed Cooley and the Friars will have the talent to stand toe-to-toe with anyone not named Louisville or Syracuse possibly beginning as early as next week against Colgate.
That's when he may add two starters and also a key frontcourt reserve.
Cooley said that McDonald's All-American guard Kris Dunn is expected, barring a last-minute setback, to make his college debut after missing the first nine games with a shoulder injury. Cooley is also optimistic that starting guard Vincent Council, a preseason all-first team Big East pick, will be back from a hamstring injury. Council could return against Colgate, but it sounds as though Dec. 22 at Boston College or Dec. 28 at Brown, are more likely. Arizona transfer Sidiki Johnson, who will start his PC career coming off the bench, becomes eligible for the Colgate game as well.
Cooley's team is 7-2 despite having to play short-handed much of the season. He was without Bryce Cotton for the loss to Penn State and Council has played only five minutes all season. Cooley was so desperate that he had to use Josh Fortune, a natural wing and the fourth option at the point guard spot, as his floor leader against the Nittany Lions. In one game, he had five scholarship players and six bodies overall.
Providence will be improved when Cooley adds reinforcements -- and then the Friars will get more a year from now when talented scoring guard Ricky Ledo, and transfers Carson Desrosiers and Tyler Harris all become eligible.
Cherry vs. Wolters: Mid-major matchup
I had this one circled on my schedule before the start of the season: South Dakota State's Nate Wolters going up against another one of the top mid-major point guards in the nation, Montana's Will Cherry. For a while, it didn't look as though it would happen. Cherry broke his foot in the preseason and was expected to miss anywhere from 2-3 months, but the 6-foot senior told CBSSports.com he intends to make his season debut on Saturday night at 9 p.m. against Wolters and the Jackrabbits.
Wolters is one of the nation's most prolific offensive players, averaging 20.4 points, 6.1 assists and 6.0 rebounds. He missed a couple games earlier this month with an ankle sprain, but returned in a victory against Cal State Bakersfield and finished with 18 points, seven boards and six assists.
Cherry said he was able to go full-contact, five-on-five in practice for the first time on Tuesday and his foot felt great. Montana coach Wayne Tinkle could limit Cherry's minutes, but the Oakland native said he was cleared and intends to play as long as he can on Saturday.
"Unless something else happens, or they tell me I have to sit out, I'm going to play Saturday," Cherry said.
While Cherry won't be at full-strength, it'll still be a barometer for both guards -- who are on the radar of NBA execs. Cherry is considered one of the elite perimeter defenders in the country, and both he and Wolters have made major strides with their perimeter shot over the course of their college careers. Cherry said he feels as though he's right there with Ohio State's Aaron Craft and Louisville's Russ Smith as one of the top defensive guards in the nation, but just doesn't get an opportunity to showcase it in front of the country.
"I watch him [Craft] all the time," Cherry said. "He's a ball-hawking guard. I love watching him. He's so good at putting all that pressure and not fouling. I have taken what he does and tried to use it. He gets his hands straight up when guys are shooting and doesn't foul."
Double dribbles: According to sources, Michael Dixon, set to transfer from Missouri, has handed in requests for permission to contact Cincinnati, Tulsa, Houston and Purdue. ... The status of Marquette guard Todd Mayo remains up in the air for the second semester. Buzz Williams needs the scoring punch from Mayo, who is out due to academics. Sources told CBSSports.com it'll be close whether he qualifies to be cleared for the rest of the season. ... Enough time has passed from the NCAA in regards to the Myck Kabongo situation. Make a decision -- and an announcement -- now. ... I'm still not sold on Illinois. John Groce has done a tremendous job and the Illini are the surprise of the early season, but I wouldn't be shocked if they finish in the bottom half of the Big Ten. ... Rick Pitino said that big man Gorgui Dieng will likely return against FIU, which is coached by Pitino's son, Richard. "I think he's just trying to get a couple of games under his belt before they play Kentucky," Richard said. "With that system, if you're out a couple weeks, it takes a while to get back into the flow." Rick Pitino was down in Florida recruiting and was able to watch Richard's victory against Stetson last week. He spoke to the team in the locker room after the game.