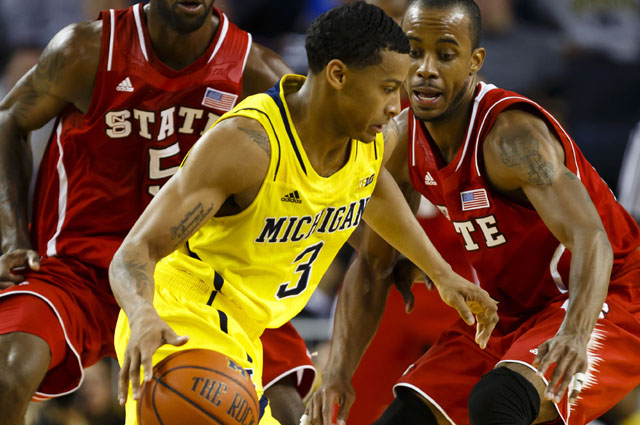 By Jeff Goodman and Gary Parrish | College Basketball Insiders
Mason Plumlee and the Duke Blue Devils didn't play last week and Doug McDermott had another monster game, but he hasn't overtaken the Blue Devils senior big man. At least not yet. Michigan point guard Trey Burke is back in the thick of the race now after a strong last couple of weeks. There's just one newcomer this week, one of the most prolific scorers in the nation.
National Player of the Year Race
Week 5
PF | 6-10 | SR | Duke

The Blue Devils didn't play this past week, yet moved up to the top spot in the AP poll due to Indiana's loss to Butler. Plumlee is the best player on the best team, averaging 19.2 points and 11.3 boards per contest.

F | 6-8 | JR | Creighton

McDermott continues to sizzle, going out to the Bay Area and finishing with 34 points and nine boards in a win over Cal. His numbers are down a bit from last season, but are still extremely impressive at 23.7 points, 6.9 rebounds and 53 percent from beyond the arc.

G | 6-0 | SOPH | Michigan

Burke went through a mini-slump, but he's neck-and-neck with Michael Carter-Williams as the nation's top point guard right now. He had 27 points, eight assists, five rebounds and no turnovers in an easy win over West Virginia in New York. He's putting up 18 points and seven assists for a team that's ranked second in the nation.

C | 7-0 | SR | Kansas

The 7-footer had 14 points, five blocks and four rebounds in a rout over Belmont and is averaging 13.8 points, 7.6 rebounds and 5.6 blocks this season for the Jayhawks.

G | 6-6 | SOPH | Syracuse

He struggled with his shot in Monday night's win over Detroit, one in which his coach won his 900th career game, but MCW has posted five straight double-figure assist games and six consecutive double-digit scoring contests. He's arguably the biggest stat-sheet stuffer in the nation and he runs the show for the No. 3 team in the land.

C | 7-0 | SOPH | Indiana

Zeller's Hoosiers suffered their first loss of the season Saturday afternoon against Butler. He finished with 18 points, five blocks and is averaging 15.7 points, 8.5 boards and 1.4 blocks for the season.

G | 6-4 | SR | Illinois

The senior guard continues to play well -- and the Illini continue to win and shock the nation. Paul had 17 points, nine rebounds and three assists in a win over Eastern Kentucky. His season numbers: 18.8 points, 5.1 rebounds and 3.5 assists while shooting 40 percent from deep.

G | 6-0 | JR | Louisville

Smith finished with 19 points and four assists in the win at Memphis and is averaging 20.2 points this season. He's also a relentless perimeter defender.

F | 6-7 | JR | Ohio State

We had Aaron Craft on here earlier in the season, but now it's Thomas' turn. He's averaging 20.3 points and 6.7 rebounds and is coming off a 17-point, 10-rebound performance in a win over UNC-Asheville.

G | 6-3 | SR | Virginia Tech

The Hokies star hasn't slowed down, but his team has started to struggle. Green had 28 points, seven rebounds and four assists, but Virginia Tech came up short in a loss to Georgia Southern.
Dropped out: Marcus Smart