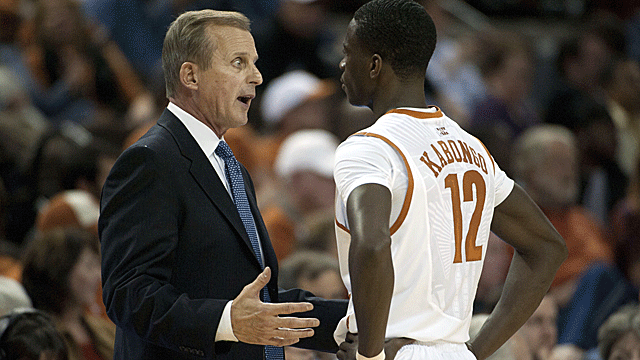 In this week's Good 'N Plenty, we address the Myck Kabongo suspension, talk about a storm brewing down south, hand out a few Christmas presents and also give you odds on which coaching casualty will fall first.
Punishment doesn't fit the crime
I comprehend Texas sophomore point guard Myck Kabongo broke an NCAA rule. I understand he wasn't forthcoming about how he paid for his stay in Cleveland during the summer. But to hammer him with an entire year is excessive, even outrageous.
(Editor's note: Kabongo's suspension was modified to 23 games Friday.)
I understand there's precedent. Dez Bryant got whacked after the then-Oklahoma State wide receiver lied to the NCAA about his relationship with Deion Sanders. Bruce Pearl was hammered with a three-year show-cause after not being honest about a barbecue at his house with recruits that weren't allowed to be there. Former Radford men's basketball coach Brad Greenberg also got a show-cause after he didn't tell the truth about a foreign player who wasn't allowed to go on road trips.
We don't have all the specifics yet, but what we do know -- per a Yahoo! Sports report -- is that Kabongo's season is over before it ever began. He was in Cleveland working out for a Long Island-based trainer who has ties to former CAA agent Rich Paul, who is LeBron James' guy and has recently split from Leon Rose and CAA and gone off onto his own. Kabongo initially, per sources, claimed that his visit was paid for by his buddy and former Texas teammate Tristan Thompson, who is now in the NBA with the Cleveland Cavaliers.
Should Kabongo have been more careful? Sure. But to miss a full season for something that's not exactly egregious? C'mon. He lied. We all did it when we were in college -- at varying degrees. But he's a kid, not a middle-aged man like Pearl or Greenberg -- or former Ohio State coach Jim Tressel.
A 10-game penalty, which is what Kabongo has missed thus far, is plenty. Trust me, he has learned his lesson from all of this. Let the kid play college basketball. He didn't hurt anyone. And by the way, NCAA, if you don't want him hanging around with agents such as Paul, maybe you need to put some restrictions on the shoe companies running summer events. Maybe the NCAA, if it wants to try and put its arms around what has now become uncontrollable, needs to put forth some cash and run events in the summer. Go hire some of the finest ex-coaches in the country, guys like Bob Knight, Dave Odom, Lute Olson, Jim Calhoun, and have them teach and coach these kids in July.
Until you do that, there will continue to be shady people, whether it's agents and runners or shoe company executives who just want to make a buck off these kids, hanging around all summer. Right now, the way it's currently constituted, the LeBron James Camp isn't just an avenue for kids to improve. It's also a way for Nike and LeBron's crew to get plugged into the top players. That's who has been in Kabongo's ear for years, since he attended LeBron James' Camps (which is sponsored by Nike). That's who got Kabongo to re-open his recruitment after he had committed early to play for Rick Barnes and Texas (he later re-committed). NCAA president Mark Emmert has admitted it's time to revisit the organization's mammoth rule book. I've long been a proponent that these kids are amateurs and that a scholarship is a worthy payment, but I'm starting to change my tune. People, whether it's the parents, summer coaches, kids and those in their "inner circle" are getting paid -- and there's no way to stop it. So, now the NCAA takes it out on kids like Kabongo.
Kabongo broke an NCAA rule, but he's just 20 years old. We all make mistakes. Allow him to learn from his. Let him play.
Hurricane brewing
The kids down in Miami needed a mulligan after last season. With an NCAA investigation hanging over their head, a brand-new coach and their best player, Durand Scott, eventually getting hit with a six-game suspension toward the end of the season, the Hurricanes were fortunate just to get an NIT invite. "It definitely affected us," Scott said.
However, now Scott, who finished serving his sentence by missing the first three games this year, is back -- and Miami has proven itself to be a legit player in the ACC race. It's a combination that North Carolina and even N.C. State aren't quite as potent as advertised, and the 'Canes have a starting unit that can play with anyone in the league.
"That's what we think," Scott said after Miami pounded Central Florida over in Orlando. "We've got clear minds now. We're just focused on basketball."
Miami's lone loss came without Scott, the team's most versatile player and vocal leader, against Florida Gulf Coast. The setback allowed just about everyone to write this team off, even though it was just November. Scott is averaging 15.6 points, 6.8 rebounds, 3.4 assists and is shooting 59 percent from the field. He's focused, and so are the rest of the starters on this team. Three of them are seniors -- big men Reggie Johnson and Kenny Kadji, transfer Trey McKinney-Jones -- plus sophomore point guard Shane Larkin.
Remember, Scott missed the final three games last season. Miami was squarely on the bubble and was without Scott for the ACC tourney, where the Hurricanes lost to Florida State in their first game. They finished 20-13 and 9-7 in league play.
Scott's mentally squared away now. All five starters average in double-figures, with Johnson averaging a double-double (12.6 ppg,10.1 rpg) and Larkin (former Cincinnati Reds shortstop Barry's kid) second on the team in scoring at 14.8 points and also first in assists at 4.1.
"Our game can only speak for itself," Scott said. "We have to go out there and continue to prove it. For us, for people to say we're the second-best team in the league, that's a compliment."
Handing out Xmas gifts
I know it's kind of cheesy, but we're going to give a dozen people some much-needed Christmas presents:
Ben Howland -- A group of assistant coaches who know what type of players Howland needs to be successful. Translation: Hard-nosed, defensive-minded kids with chips on their shoulder.
Josh Pastner -- A point guard. Joe Jackson is a terrific kid, but Memphis' overall struggles can be traced back to the lack of a point guard -- and Pastner invested in the local kid, who is more of a two-guard than a point.
Doug McDermott -- A couple more inches. Imagine if Dougie Fresh were 6-foot-9 instead of 6-7. He'd be a lottery pick.
Tom Izzo -- A leader. Michigan State's head man was spoiled with Draymond Green. Sparty has talent; just no natural leader.
Kevin Ollie -- A long-term deal. Ollie is one of the classiest guys around, and the more I think about it, the more he deserves the job in Storrs long-term. It'll help everyone.
Mike Aresco -- His old job back. The new Big East commish just lost seven schools and the former CBS television exec doesn't exactly have job stability these days.
Ryan Harrow -- Swag. Kentucky's little point guard has gone through personal and health issues, but what he needs more than anything else is confidence.
C.J. McCollum -- Exposure. He had one game last March against Duke, but unfortunately he plays in the Patriot League. The only way he gets back in front of the nation is come March -- which is a shame because Lehigh's combo guard is a terrific, terrific player.
Mark Turgeon -- Alex Len's return. Just imagine the Terps a year from now if the big Ukrainian ever chose to come back. It's not going to happen, but Christmas is a time to dream.
Wake Forest fans -- A change in leadership. The Ron Wellman/Jeff Bzdelik Era just isn't working. It's time for a change.
Bill Carmody -- An NCAA tournament appearance. How cool would it be for Northwestern? I know he just lost his best player, but that would make it even sweeter for the program that's never been dancing.
Gary Parrish -- A new pair of glasses. His current pair makes my colleague look like he should be starring in the show "Rent."
Chopping block odds
It happens every year. Someone doesn't make it through the season. Here's our handicapping of who:
30 PERCENT
Kevin O'Neill, USC -- The Trojans are healthy, but haven't been much better than a year ago -- when they won just one Pac-12 game and finished with six victories overall. There were those who felt as though athletic director Pat Haden was going to make a move this past offseason, but K.O. was given another year. He's played a brutal non-conference schedule (I'm still not sure why) and he'll need to fare well in league play to save his job. The other issue comes off the court and if USC continues to lose, the flammable side of O'Neill could spell the end of his tenure.
20 PERCENT
Mike Rice, Rutgers -- When you get whacked with a three-game suspension and are told to stay away from the program for a couple weeks, that's generally not something that screams out job security. Rice is intense, has evidently tossed a ball at player(s) and is now on the firing line. Plus, his team has lost to St. Peter's and Ole Miss -- and is barely beating teams (i.e. BU, George Washington) it should be running away from. One more issue -- and Rice is history.
17 PERCENT
Jeff Bzdelik, Wake Forest -- The natives are restless. Athletic director Ron Wellman hired him to replace Dino Gaudio and Bzdelik has had plenty of issues. The Demon Deacons are 5-5 overall and the wins are lackluster: Radford, Mercer, William & Mary, High Point and Furman. Year 3 of the Bzdelik regime could be the final one, but Wellman is his guy and that could result in one more year in Winston-Salem. Wellman may also be forced to make a move to save his own tail.
15 PERCENT
Ben Braun, Rice -- The Owls have had a mass exodus of talent in the past few months with star Arsalan Kazemi being the most significant blow, transferring to Oregon. Rice is 2-7 and Braun's two victories have come against Houston Baptist and a non-Division 1 team. It's just a matter of time for the former Cal coach.
13 PERCENT
Herb Sendek, Arizona State -- Yes, I'm well-aware the Sun Devils are 9-2 and have a win against Arkansas. I also know that they lost to DePaul and haven't beaten anyone with a pulse beyond a Razorbacks team that is currently on the fast track to the NIT or CBI. Sendek has one of the top freshman in the nation in Jahii Carson -- and ASU will need to do something in league play or else.
5 PERCENT
Ben Howland, UCLA -- This one is a long shot. The Bruins are improving, but if they go into a complete tailspin in league play (which isn't likely) and Dan Guerrero feels he can land a big boy (i.e. Rick Pitino, Brad Stevens, Shaka Smart), Howland won't make it through the end of the year.
Must-see TV
Each week we'll give you the top games for the weekend, along with my pick:
1) Kansas at Ohio State, 4 p.m. ET (CBS) -- Great matchups of Top 10 teams, but I'm not sold that the Buckeyes have earned their ranking. I saw their most impressive win, against a mediocre Washington team in Connecticut. The issue is that Thad Matta had one legitimate offensive weapon on Deshaun Thomas. The Jayhawks, on the other hand, now have multiple weapons with the emergence of Ben McLemore. The Pick: Kansas
2) Illinois vs. Missouri, 6 p.m. ET (ESPN2) -- Illinois is one of eight unbeaten teams left in the country, but throw the records out the window for the Braggin' Rights Game -- which is played in St. Louis each year. The key here will be whether Mizzou can find someone (i.e. Keion Bell or Earnest Ross) to keep Brandon Paul in check. This is where the Illini fall from the unbeaten, especially now that Jabari Brown is eligible for Frank Haith. The Pick: Missouri
3) Florida vs. Kansas State in Kansas City, 8 p.m. ET (ESPN2) -- Billy Donovan's team got off to a torrid start, demolishing everyone in their path before handing over the game this past Saturday night to Arizona in Tucson. Now the Gators will play a group still trying to find themselves and one trying to adjust to a complete 180-degree coaching style alteration. Bruce Weber needs to get Rodney McGruder going -- and Donovan needs for Kenny Boynton to get going as well. The Pick: Florida
Double dribbles
I am still upset I left Michigan's Nik Stauskas off my list of top shooters prior to the start of the season. I only put one freshman on the list, Butler's Kellen Dunham, who is struggling a bit. Stauskas is 29-of-53 from beyond the arc, the most efficient player in the nation from long distance with a minimum of 50 3-point attempts.
Marshall's DeAndre Kane will likely be out a month or so after suffering a hand injury. Talk about a transformation of sorts: Here's a guy who averaged three-plus assists per game over his first two years and was second in the nation at 8.5 this season.
Good to see High Point's Allan Chaney doing well. He's not shooting it as well from the perimeter, but the former Florida and Virginia Tech forward -- who is playing with a defibrillator, is averaging 13.8 points and 8.4 rebounds per game.
Wichita State has been hit hard recently. Three starters are out of the lineup, but the one that'll truly alter the Shockers is senior forward Carl Hall, who had surgery on his thumb earlier in the week. Look for Illinois State to establish itself as the primary competition for Creighton.