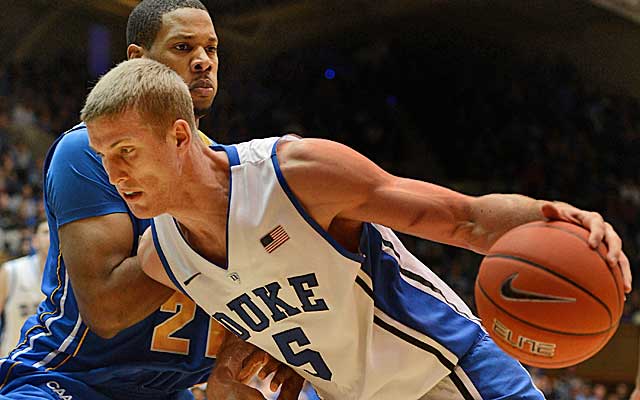 By Jeff Goodman and Gary Parrish | College Basketball Insiders
It's still Mason Plumlee and Doug McDermott in the top two spots, and then there's the rest of the field. There's just one freshman in contention -- and he enters the Top 10 as a legitimate threat.
National Player of the Year Race
Week 6
PF | 6-10 | SR | Duke

Plumlee continues to produce, and holds a slight edge over McDermott after averaging 19.5 points and 12 boards in a pair of home wins over Cornell and Elon. His season averages: 19.3 points and 11.5 rebounds.

F | 6-8 | JR | Creighton

McDermott only took nine shots and finished with a quiet 16 points and five rebounds in an easy win over Tulsa. He's averaging 23.1 points, 6.8 boards and is shooting 51 percent from long distance this season.

G | 6-0 | SOPH | Michigan

Burke is the best player on the No. 2 team in the land. He's averaging 17.4 points and 7.1 assists and finished with 11 points and eight assists in an easy win over Eastern Michigan.

C | 7-0 | SR | Kansas

He's arguably the best defensive big man in the country. He averaged 15.5 points and 11.5 boards in a pair of wins over Ohio State and Richmond and is putting up 14.1 points, 8.3 rebounds and 5.0 blocks per contest this year.

G | 6-6 | SOPH | Syracuse

Carter-Williams and the 'Cuse struggled a bit in their first setback against Temple in New York City, but he's still having one heck of a season. MCW is averaging 12.4 points, 10.3 assists, 4.9 rebounds and 3.4 steals.

C | 7-0 | SOPH | Indiana

Zeller averaged 20 points and six rebounds in a pair of easy wins over Florida Atlantic and Mount St. Mary's this past week. He's averaging 16.4 points and 8.1 boards this season.

G | 6-4 | SR | Illinois

The Illini suffered their first loss of the year to Missouri, but Paul still put up numbers: He finished with 23 points, eight rebounds and five assists and is averaging 19.2 points, 5.3 boards and 3.6 assists while shooting 39 percent from long range.

G | 6-0 | JR | Louisville

Smith averaged 17 points in a pair of easy wins over FIU and Western Kentucky and is averaging 19.7 points while continuing to showcase himself as one of the top perimeter defenders in the nation.

F | 6-8 | FR | UNLV

The versatile Canadian has been terrific this season, averaging 19.5 points and 8.5 rebounds. Bennett averaged 20.5 points and 9.5 boards in wins over Northern Iowa and Canisius this past weekend.

G/F | 6-5 | JR | San Diego State

The Aztecs' athletic wing is back in the Top 10. He had 19 points and grabbed 15 boards in a win over Indiana State and is averaging 17.9 points, 9.9 rebounds and 3.3 assists this season.
Dropped out: Deshaun Thomas, Erick Green